Fact-checked by Vincenza De Falco, Autism & Learning Disabilities Specialist Coach

There's no denying that oral hygiene is essential to leading a healthy and happy life. Unfortunately, most children are not a fan of brushing and flossing, so it is often challenging for parents to encourage children to practice good oral hygiene. This is especially true for children with autism. 
According to research

:
"Most autistic children have problems with their day to day activities such as eating, drinking, sleeping, bathing, and tooth brushing. All these factors could make them more prone to oral disease. Although the caries experience in these children is not high, their oral hygiene is fair. Gingivitis secondary to drug-induced gingival enlargement can be present. Children with autism also commonly have damaging oral habits such as bruxism, tongue thrusting, pricking at the gingiva, lip biting, and pica."
This makes it important to ensure that your autistic child knows how to brush. Keep in mind that while it may take some time, teaching them the right way to brush and ensure good oral health for life is not impossible. 
So, how does one teach an autistic child to brush their teeth? Let's find out!
How to Teach an Autistic Child to Brush Their Teeth
It is important to understand that teaching anything, including brushing, to an autistic child depends on their level of function. High-functioning children can learn to brush their teeth

without much problem. However, low-functioning children need more guidance and usually take longer to develop the habit of brushing daily. 
Choose the Right Brush 
The first thing you need to do is choose the ideal brush. Different types of toothbrushes are available in the market in various colors, styles, and sizes. Choose a soft brush that suits your child the best. Make sure you choose the right size so the brush can reach the back teeth easily. 
Furthermore, the brush must be easy to handle with an ideal grip. Some people prefer to enhance the toothbrush

to make it more ergonomic. If your child is sensitive to a certain color, choose a brush in different color and avoid a brush with eccentric designs or patterns.    
Create the Right Environment 
When trying to teach autistic children to brush their teeth, it is essential to take all measures to make them feel as comfortable as possible

. So, while most people brush their teeth in the bathroom, you can brush your child's teeth in another part of the house where they are more at ease.
While this is a small change, it can help big time! 
Introduce Brushing 
Autistic children often need guidance when brushing, especially when they are still developing the habit. This means that the best way to introduce brushing is to brush their teeth. This will familiarize them with the sensation caused by the brushing action without feeling pressured to learn a new task. 
It is advisable to introduce and practice one thing at a time. So, start slowly. There are various methods that you can adopt. 
For instance, you can start by simply touching the brush to their lips or use the countdown technique to help your child comfortable with brushing. Show them how you brush your teeth by brushing in front of them and explaining each step as you do it.
You can also teach them to "open wide" before you start brushing. This will make sure that you can clean all your teeth. 
Here's how to brush your autistic child's teeth.   
Stand behind your child and rest their face on your chest. 
Let them hold the brush if they want and guide it as if you were brushing your own teeth. 
Brush the teeth at the back on one side. It helps if you do it a certain number of times or for a set time. 
Brush the front teeth and move to the other side of the mouth.
Don't forget to brush the back of your teeth.
It is a good idea to brush for the same time period every day to develop consistency and ensure good oral hygiene. You can use a timer to let the child know when the task will end. Keep in mind the ultimate goal is to help your child learn how to brush as independently as possible.   
Dental Care Tips for Autistic Children 
Brushing is perhaps the most important activity when it comes to dental hygiene. However, there are some other dental care tips for autistic children

that you can follow to ensure oral health. 
Let's take a look at some of them. 
Start early: Don't wait too long to introduce brushing or make the first visit to the dentist. The earlier you start, the better it is. 
Mind the diet: Follow a healthy diet plan that minimizes the chance of cavities. Limit sugary drinks and acidic foods that may damage the teeth. Avoid allowing sippy cups or bottles in bed before going to sleep.
Bedtime brushing: Try brushing the teeth before bedtime to remove plaque to reduce the chance of cavities. 
Develop a routine: Children with autism consistently do better when they know what to expect. So, it pays to develop a morning and bedtime brushing routine.   
Consider desensitization: If your child is not getting accustomed to brushing, you may want to consider using a desensitizer for the beginner to help them get familiar with the sensation. 
Perseverance is the Key!
Now that you know how to teach an autistic child to brush their teeth, you can help your child follow a healthy dental routine. Remember that teaching autistic children to brush teeth will take time and effort, but perseverance is the key. So, remember to take it slow, follow their pace, and plan for appointments with the dentist.

Happy brushing!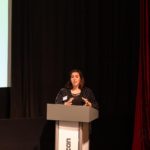 Vincenza De Falco is an Autism & Learning Disabilities (LD) specialist coach with extensive experience working with young people with various needs in different settings. Her passion for Autism & LD started as a volunteer at a multi-functional provision for Autism whilst studying for a BA in Theatre, Education, and Deaf Studies. 
Throughout her career, Vincenza continues her professional development alongside working within numerous support and leadership roles in education and charities. Having gained Level 3 in Speech and Language Support, HLTA qualification, Level 3 Award in Education and Training, and Level 3 CMI Coaching qualification, Vincenza has furthered her expertise in Autism & LD.
Entering the Third Sector as a Project Manager developing and delivering a specialist NEET program, she subsequently joined ThinkForward's newest venture DFN MoveForward, supporting young people with Autism & LD to successfully transition from education into paid employment. Through 1:1 coaching, family support, and training employers to become disability confident, Vincenza builds bespoke programs for young people with work readiness and employment goals. Through Vincenza's passion for creating systemic change in Disability and employment, she forms part of the successful partnership running the DFN Project Search Supported Internship at Moorfields Eye Hospital.
References
Was this article helpful?