Fact-checked by Vincenza De Falco, Autism & Learning Disabilities Specialist Coach

.
Visual timers are a great way to help students with Autism spectrum disorder transition between activities, especially when they have trouble understanding or quantifying time.
The child knows that they are in control. They can see the timer's visual progress, which helps them avoid some of their frustration. You can show them the timer when they want to know how much time is left. This helps them make time a more tangible concept.
At Safe Sleep Systems, we're supported by our audience, and we thank you. We may receive compensation if you purchase products or services through the links provided at no additional cost to you.
Benefits of Using a Timer with Autistic Children
Last update on 2023-09-11 / Affiliate links / Images from Amazon Product Advertising API
The best thing about using visual timers with Autistic students is that it helps them better understand time. There are different situations when this can be helpful. One of the most difficult scenarios for students with Autism is transitioning from one activity to another.
It can be disconcerting for the student to suddenly be told that it is time to stop and move on, and using a timer can help. 
When the child sees the timer showing how much time remains, he or she has time to prepare for the change. This helps to prevent an adverse reaction to the change.
Autistic students can have trouble making the cognitive adjustments that allow them to respond to the transition. This is where a visual timer

can be beneficial.
Another benefit of using an Autism timer is that it can help an Autistic student stay on task. Studies have shown

that the visual timer or other visual aids can help a child with Autism stay focused.
The timer can be set at intervals when the child completes a multi-step task, which will help the child manage his or her time. 
In addition, using the visual timer can help an Autistic student get through a task that he or she dislikes. The timer shows how long it will be until this task is over, which can help the student understand that this will last only a finite amount of time.
This applies to situations with school lessons, chores, and even time-outs. As long as the child can understand that there is a finite amount of time involved, the child may experience less anxiety.
Finally, a visual timer can help Autistic students to become more independent. Rather than the teacher or caregiver giving reminders and letting the child know when it is time to move to the next task, the child can learn to use the timer and move on when it is time.
This is a great way for Autistic children to learn that they can do things on their own. 
How Can a Visual Timer Help in the Classroom?
Visual timers can be very helpful for students with Autism

in the classroom. There are different ways that you can make them work. One everyday use is to set the visual timer when the student begins a task. Let the student know it will be time to transition to a new task when the timer is finished.
The student can learn to check the timer instead of asking how much longer they have to complete a task or having anxiety about a task he or she dislikes. Conversely, if the student likes the task, he or she will know when it is time to stop and move on. 
Another way a visual timer can help is by teaching Autistic students to become patient. If the student is looking forward to an activity, he or she may feel distracted. The timer can help to keep the child focused until it is time.
When autistic students have a visual timer, they may feel less stressed out because the timer shows how much time remains. Even a student who doesn't completely understand the concept of time will follow the timer to know when something is going to happen.
It can also be difficult for students with ASD to wait. The student can become very impatient and start to meltdown, especially if it is something they can see.
Rather than removing the object, you can use a visual timer to help the student start to understand how to wait for something. This can be beneficial, and the student can learn an important skill.
You can also use a visual timer to teach students with Autism how to become more independent. Initially, they may need to get the hang of using the visual timers, but after some time, you can teach them to transition from one activity to the next on their own. This is an important skill that will come in handy later in life.
How Can a Visual Countdown Timer Help at Home? ⏲️
A visual timer can help your Autistic child at home in a number of ways. Your child will have some responsibilities, such as brushing their teeth, getting ready for bed, turning out the light, and more.
You can use a visual timer to help with these activities. The visual timer will help the child transition from one activity to the next, and it will help the child stay focused on the task at hand.
Often autistic children get lost in their thoughts, or they may become consumed with activity. You could tell your child to pick up the toys in the bedroom.
The problem is that the child may become distracted by a toy and interrupt the process. You can use a visual timer to help remind the child that there is a task, and he or she can play when it is finished.
It can also be helpful during the nighttime routine. For example, you can use a visual timer for the shower. Use the timer to help the child learn how long an appropriate amount of time is spent in the shower. 
The certainty that comes with the visual timer can reduce anxiety significantly. It makes events predictable and consistent, which makes it easier for children with autism to understand. It also provides the child with break time, and they know when the break is over.
Managing screen time

can be very challenging, and this is a helpful way of visualizing an end time to an activity that the child would never end on his or her own.
If you homeschool your autistic child, the visual timer can be used the same way in school. You will want to show the child how long a subject will last and how long it is until a break. It will help make transitions easier because the child can see how much time there is before the next transition.
The thing to remember is that time is a difficult concept for many children with Autism to understand. It is hard for them to quantify time. When you say that it will be 10 minutes, those are just words that do not carry a lot of meaning.
This is why a child will often continue asking how much longer. A visual timer helps the child make sense of time. It can help them learn how long something takes, start wrapping up an activity, and much more. 
It can also give your child a feeling of control over his or her life. As your child learns how to watch the timer and transition with greater independence, they will develop confidence and feel more in control. This can reduce anxiety a great deal.
Your child can also learn how to work toward a goal

with the timer. You can use the timer to set goals for activities the child likes to do. Set the timer for 10 minutes, and let the child know they can do the fun activity after 10 minutes of reading.
Conclusion ⏲️
Visual timers can help an autistic student with transitions and with understanding the concept of time. There are a number of different types of timers

that can help with all kinds of activities and tasks.
Using a timer to show the student how long a task will last visually, they will feel less anxiety and have a visual aid to show how long something will take. 
In the classroom, the timers can help autistic students understand an endpoint to a task they dislike. They can also prepare for a transition from something they do like. It can be difficult for them to process the need to stop doing the fun activity, but having this visual reminder can make it much easier. 
Finally, you can use this tool at home for everyday tasks such as showering, brushing teeth, or getting ready for bed. You can use it for screen time to show a reminder of how much longer the child has on the device. Using a visual timer can help an autistic student to understand the concept of time.
How To Teach An Autistic Child To Write Sentences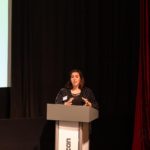 Vincenza De Falco is an Autism & Learning Disabilities (LD) specialist coach with extensive experience working with young people with various needs in different settings. Her passion for Autism & LD started as a volunteer at a multi-functional provision for Autism whilst studying for a BA in Theatre, Education, and Deaf Studies. 
Throughout her career, Vincenza continues her professional development alongside working within numerous support and leadership roles in education and charities. Having gained Level 3 in Speech and Language Support, HLTA qualification, Level 3 Award in Education and Training, and Level 3 CMI Coaching qualification, Vincenza has furthered her expertise in Autism & LD.
Entering the Third Sector as a Project Manager developing and delivering a specialist NEET program, she subsequently joined ThinkForward's newest venture DFN MoveForward, supporting young people with Autism & LD to successfully transition from education into paid employment. Through 1:1 coaching, family support, and training employers to become disability confident, Vincenza builds bespoke programs for young people with work readiness and employment goals. Through Vincenza's passion for creating systemic change in Disability and employment, she forms part of the successful partnership running the DFN Project Search Supported Internship at Moorfields Eye Hospital.
References
Was this article helpful?