Bed rails are designed for two primary reasons, to prevent falls and to help you climb in and out of the bed. For some people, especially loved ones who are older and more fragile this can be a challenge on a free-standing bed frame and a slip or fall can mean injury or harm that could have easily been prevented.
In this article, we will be reviewing the best bed rails designed specifically for seniors and elderly people who may be suffering from common health issues such as decreased strength and mobility. Elderly people face many problems such as bedwetting

, forgetfulness, and falling out of bed. Our robust testing and in-depth review will provide the most up to date list of options the market has to offer, and the benefits and drawbacks of each safety rail for the elderly. We've also put together a 'Bed Rails Buying Guide' and 'FAQs' to help with your decision.
Safe Sleep Systems is supported by its audience. When you purchase through links on our site, we may earn an affiliate commission, at no additional cost to you. Learn more

The Best Bed Rails Review
Our Best Pick
"The most versatile, adjustable, durable, and best value for money"
Safe Sleep Systems Rating: ⭐⭐⭐⭐⭐
Stander EZ Adjust Bed Rail, Adjustable Senior Bed Rail and Bed Assist Grab Bar for Elderly Adults...

Prevent Falls: The EZ Adjust Bed Rail adjusts in length from 26 to 34 to 42 inches, helping to...
Folding Bed Rail: Fold the support rail out of the way when not in use or while making your bed;...
Compatibility: For use with most traditional and platform beds including Twin, Full, Queen, King,...
Last update on 2023-11-14 / Affiliate links / Images from Amazon Product Advertising API
Reasons to Buy ✅
Easy folding (180-degree pivot)
Compatible up to California Kingsize
Extendable
Pockets for bedside items
Supports up to 300lbs
Reasons to Avoid ❌
Not ideal for very low beds
Jan Miller started the company, Stander, after struggling to find the right tools to help her elderly grandmother get around in her grand age of 90. Moving Essie from the bed to the couch or car became very difficult tasks, so Jan worked with her husband to create mobility aids that hadn't been around at the time in 1997. Since then, Stander has grown into a successful business with over 40 highly effective mobility aid products.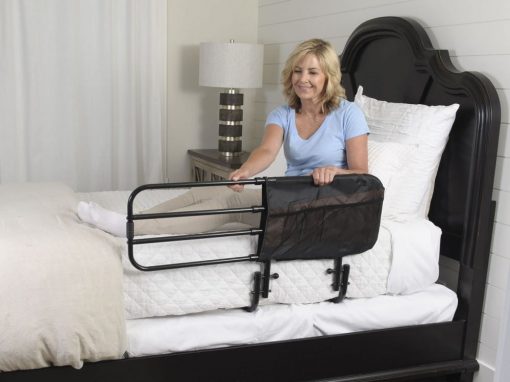 The Stander EZ Adjust Bed Rail is a market-leading product that is purpose-built for those suffering from mobility issues, recovering from injuries, surgery, or general difficulties getting in and out of the bed. What makes this a stand-out product is the high degree of functionality and support. The adjustable rail allows additional support from 26″ all the way up to 42″ which can cover a helpful proportion of the bed, ideal for anyone who is vulnerable to fall from the bed during sleep. Having an adjustable bed rail for seniors can provide a much higher level of support and versatility in its use. The bedrail can also be folded down 180 degrees if needed which is especially helpful for carers at the bedside, which can help save time and be organized.
Unlike some of the other bed rails for seniors on the market, the Stander comes with a cover on the rails which has two great practical uses. Firstly it can prevent body parts from getting trapped between the rails, but also has pockets to store items such as phones, remotes, and other devices.
If you're looking for peace of mind, comfort that your loved will be safe, and have support for them in getting around, this bed rail is ideal.
The Best Extending Bed Rail
"Suits multiple needs with the easy adjustable bedside rail"
Safe Sleep Systems Rating: ⭐⭐⭐⭐⭐
Able Life Bedside Extend-A-Rail, Adjustable Senior Bed Safety Rail and Bedside Standing Assist Grab...

Prevent Falls: Easily adjust the Extend-A-Rail in length from 20 to 30 inches with the push of a...
Standing Support Handle: Safely supporting up to 300 pounds, our bedside support bar provides...
Compatibility: For use with most traditional and platform beds including Twin, Full, Queen, King,...
Last update on 2023-11-14 / Affiliate links / Images from Amazon Product Advertising API
Reasons to Buy ✅
Extends from 20″-30″
Can be used on either side of the bed
Supports up to 300lbs
Toolkit included
Height adjustable
Reasons to Avoid ❌
No soft foam grip
Not height adjustable
There are two great reasons for installing an extending bed rail. It provides emotional support by assisting your loved ones in sitting up and getting in and out of the bed freely, but also it can help to prevent your loved ones from rolling or falling from the bed at night. This is especially common with seniors, and rolling out of the bed at night can cause serious injury if prevention measures are not taken.
The extension mechanism is as simple as pressing a button and pulling the rail out further, and locking it back into place. Adjustable bed rails for seniors can provide peace of mind knowing that it'll keep your loved one secure at night. This bedrail can be ideal for heavier seniors as it's able to support an above-average weight of 300lbs.
Best Budget Bed Rail for Seniors
"Budget-friendly, simple design, and practical"
Safe Sleep Systems Rating: ⭐⭐⭐⭐
Vive Bed Assist Rail - Adult Bedside Standing Bar for Seniors, Elderly, Handicap, Kid - Fit King,...

SAFE BEDSIDE SUPPORT FROM A TRUSTED BRAND: Providing additional assistance when getting into or out...
USE WITH ANY BED: For use on either side of the bed, the durable steel bed assist rail works with...
NON-SLIP COMFORTABLE HANDLE: Padded with a soft, nonslip foam, the handle provides a comfortable and...
Last update on 2023-11-14 / Affiliate links / Images from Amazon Product Advertising API
Reasons to Buy ✅
Easy to assemble (tool-free)
Height adjustable
Stable
Soft foam rail grip
Reasons to Avoid ❌
May not work well with electric beds
The folks at Vive are experts in the field of home care, mobility, and physical therapy products and solutions. Having created a superb 'general-purpose' bed rail for seniors which is easy to assemble and versatile to fit most bed types. The bed rail is height adjustable from 13″ to 21″ inches and comes fitted with durable grippy feet that are ideal for all surfaces.
For those after a minimalist design and have a low budget in mind, Vive bed rail for seniors is a great alternative to other market-leading products. The bed rail is supported primarily by fitting steel bars under your mattress for support, which holds the rail in a sturdy position. These bars extend from 34″ to 44.5″ depending on the size of your bed.
Note that the rails can support a 250lb weight limit which is amble strength for most elderly and senior people.
The Best Double Sided Bed Rail
"Ideal for multiple users in one bed "
Safe Sleep Systems Rating: ⭐⭐⭐⭐
Last update on 2023-11-14 / Affiliate links / Images from Amazon Product Advertising API
Reasons to Buy ✅
The sturdy design prevents rails from shifting
Lifetime warranty
Supports up to 250lbs
Easy assembly (no toolkit required)
Multiple grab handles
A double-sided bed rail means that both users of the bed can comfortably get in and out of the bed. The RMS Dual Bed Rail has a smart design whereby the bed rails run beneath the mattress and provide significantly more support to the grab handles. This means that your loved ones can shift more of their weight into the rails when changing positions.
The rails on this product are height adjustable too, which can provide you with more space when the rails aren't in use. This can also provide a lot more room to maneuver for a wheelchair user where the rails can sometimes be an obstacle.
Bed Rails Buying Guide
What Are Bed Rails?
Bed rails, sometimes referred to as side rails, safety rails, assist bars, and bed handles are sturdy purpose-built railings that are fitted on the side of the bed you or your loved one enter or exit from. Bed rails for seniors come in many forms and each variant can serve a different purpose so be sure to understand your needs before you purchase. The majority of bed rails on the market will be secured between the bed frame and the mattress using the downwards pressure to hold the rail in place. It's important to ensure your normal routine won't be negatively affecting when choosing your bed rail, such as changing and cleaning bedding.
Types Of Bed Rails For Seniors
Single Side Grab Rail
This type of bed rail is simple and strong and is fitted to just one side of the bed. Typically this is because only one user of the bed may need it, or the bed is pushed against the wall. A single side grab-rail can assist an individual to sit, stand, and get in and out of bed easily without blocking the entire bed with the side rail attachment. Those who suffer from minor and medium mobility issues may favor this type of bed rail.
Double-Sided Grab Rail
Similar to the single-sided grab rail, the double means both sides of the bed benefit from a grab rail. The railing is securely attached beneath the bed and runs parallel across the top of the bed, allowing for an easy to reach position. These bed rails are usually adjustable for single and double-sized beds. A double-sided bed rail is ideal for an elderly couple who may both require support in sitting up or getting in and out of the bed. You will find adjustable options for twin size and bed rails for queen size beds

in most cases.
Extending Bed Rails
An extending bed rail allows freedom to have a longer base level of cover for the user in the bed. This means that at the time your loved one may need a shorter rail to get in and out, but when they're sleeping they may prefer an extended bed rail to prevent unexpected falls from the bed. Adjustable bed rails for seniors can make a big difference in peace of mind and one's ability to fall asleep knowing they'll be safe and sound. Most extending bed rails extend to about 40″ which provides cover for a good proportion of the bed. It's important to ensure that your bed supports this, for example, some electric beds or hospital beds for home use.
Extra-High Bed Rails
Some regular bed rails may not be suitable for all bed types. If your loved one has a higher bed with a thick mattress or pressure-relieving mattress then the bed rail needs to accommodate that. Extra-high bed rails are perfect for this and can still provide the comfort and protection needed for your sleeping situation.
Additional Support for Bed Rails
Bed Sensor Pads
Aside from bed assist rails, there are helpful products that can support you or your loved ones' safety, especially during the night. Many accidents happen when people are sleeping and fall out of bed, or leave the bed at night to use the bathroom. It's important to know exactly when your loved one leaves the bed, which is where a mattress alarm is perfect.
We've talked about mattress alarms in previous posts and the general consensus is that they are very effective in alerting you to move when someone leaves the bed. Combining a mattress alarm with a bed rail for seniors can be an effective combination to stay alert and proactive in preventing any unnecessary injuries or mishaps.
Smart Caregiver Corporation has a highly rated fully wireless bed sensor that works up to 100 feet away.
Last update on 2023-11-14 / Affiliate links / Images from Amazon Product Advertising API
Frequently Asked Questions
How to prevent elderly adults from falling out of bed
The best way to prevent elderly people from falling out of bed is to ensure you have some form of the bed rail. Depending on the severity of the issues that you're dealing with, such as dementia, night walking, feeling disorientated, or other general issues, you'll need some form of barrier from the edge of the bed to the floor. It's possible to accommodate your loved one with a low bed, but they can still fall – the impact will, however, be less. You can look at hospital beds for home use as we've talked about in this article, and you can look at bed bumpers or pool noodles as additional soft barriers alongside a bed rail for seniors.
Are bed rails covered by medicare?
Medicare does not currently cover bed rails that are used on conventional beds

. However, you may be allowed to claim on a hospital bed for home use. You may also be allowed to claim if you already have a hospital bed without rails and now require them.
Are bed rails safe?
Following the correct precautions and procedures during the setup, bed rails for seniors are safe and are built to provide additional safety as well as comfort and functionality. Bed rails can be unsafe if you haven't taken the important steps to ensure you're mitigating all risks. For example, if your loved one is likely to move around a lot during sleep and has the potential to get caught between the bed rails then it's important you find a product that has a cover that can prevent this. Also, if the user has limited strength and may be likely to slip on the metal railings, some bed rails come with anti-slip foam covers.
For people who may suffer from dementia or seizures, bed rails can pose a danger if the right precautions aren't carried out. Although bed rails for adults are usually made of metal, which is the most durable, they can cause damage if the person has a seizure in the bed. Sometimes bed bumpers can be an option if the bed size permits. This can create a soft barrier between the individual and the bed rail. Below is a highly rated option that's 52″ in length and will fit in most bed types.
Which bed rail is best?
Whilst our recommendation is the Stander EZ Adjustable Bed Rail

, it is important you find the right bed rail depending on your needs. Most will have a different bed, mattress, space in the bedroom, and needs. Because of these variables, it means you should check the bed assist rail for the dimensions, the weight capacity, how easy it is to install, the reviews, and the overall functionality.
Was this article helpful?