Trampoline Therapy, or more commonly known as Rebound Therapy, refers to trampolines' use to improve an individual's mental and physical health – and it's also incredibly fun too!
There are many benefits to rebound therapy, such as fostering calm, increased dopamine release, aiding in sensory imbalances, and increasing body awareness.
Ashleigh Willis, a Neuroscience Ph.D. candidate, verifies that children with Autism and ADHD benefit from trampoline therapy. This occurs through the rhythmic movement of the trampoline, which can satisfy their sensory needs.
Children can focus a lot of their energy on one area, enhance their motor skills, and benefit from movement medicine. Secondly, children with autism can often struggle in group activities, finding it challenging to sync with the other children.
This can often be overwhelming and lack the consistency in exercise needed for a growing child.
Whether you're an adult or a child, exercise is a great way to get the blood flowing through your body and rejuvenate your soul. We're not talking about running for hours on a treadmill, that can get quite boring.
A rebound therapy session can be incredibly exhilarating and joyful when you have the right setup. After all, children naturally love to run, jump, and climb!
Like a sensory swing or a hammock, the constant repetition of movement through jumping creates a calming effect that can be greatly beneficial to children with ADHD or struggle to focus. A mini trampoline indoors doesn't take up much room.
It can be used little and often throughout the day – in the morning to center your child's energy and excitement, during the day between lessons in school, or anytime you need 5 or 10 minutes to quickly and easily help settle your child.
One of the best parts of a mini trampoline, if you opt for a smaller one, is how portable they are! You can keep them in the house, in school, at the doctor's clinic, and even take them with you on vacation to help your child sleep.
Wherever you live, rainy days can be tough to get your child outside and let loose, burning up all the energy they have built up inside – the use of an indoor trampoline and rebound therapy can really help you here, and it won't break the bank!
At Safe Sleep Systems, we've scoured the internet to find the best options for you to aid your decision-making process (and make it easier!) so you can find what's right for you and your autistic child.
Rebound therapy exercises are great, but trampolines come in all different shapes, sizes, features, and price ranges, and we'll accommodate everyone's needs.
At Safe Sleep Systems, we're supported by our audience, and we thank you. We may receive compensation if you purchase products or services through the links provided at no additional cost to you. Learn more.
Best Overall Trampoline for Rebound Therapy 🦘
The Original Toy Company Fold & Go Trampoline (TM)
FROM BOX TO BOUNCE IN LESS THAN 5 MINUTES: Unfold your trampoline - Screw on the legs - Attach the handle - Bounce - Repeat
EASY DISASSEMBLY: Disassembles just as easily and its ready for travel or storage
GREAT FOR SPECIAL NEEDS KIDS: Can help ADHD children and kids with autism expend their natural abundance of energy
Reasons to Buy ✅
Reputable brand
Super easy to build
Exceeds US Safety Standards
Supports up to 150lbs
Very high-quality build
Ideal for special needs
Reasons to Avoid ❌
Higher price point due to quality
The Original Toy Company has been around for over a decade. During that time, it established itself in the toy market for children due to its reputable and trustworthy brand.
They're known for high-quality products and always ensure they're meeting and exceeding the regulatory standards, so all of their toys and products are safe to use with your loved ones, they really are the best trampolines for trampoline therapy.
This trampoline has the ASTM (American Society for Testing and Materials) Safety Certification 1, 2, and 3 plus HR4040.
The great part is that you'll be ready to go within minutes as soon as the product arrives. When looking at the best trampolines for rebounding, you want ease and speed. While some of the well-reviewed trampolines online say they're quick to put together, this one actually took us less than 5 minutes, and just as easy to pack away if needed.
Immediately this is a great option to take with you on vacation or trips to the grandparents or playdates as your child will love this trampoline! With the ability to take this both indoors and outdoors, you can use this all year long with no problem.
Summertime outdoor trampolining is a great way to give your little one fresh air, exercise, and grow their little muscles, and away from the iPad! Equally, they can stay indoors in the winter months and still get their fitness and exercise without getting cold and wet.
In terms of top quality build, some product owners with more than a year's worth of wear and tear say that the trampoline mattress is still firm and doesn't sag. This is ideal for long-term use and highlights one of the best trampolines for a bounce.
Safe Sleep Systems firmly recommends having adult supervision for young children when using these trampolines.

Best Budget Mini-Trampoline
Sale
ATIVAFIT 36-Inch Folding Trampoline Mini Rebounder ,Suitable for Indoor and Outdoor use, for Two...
EASY INSTALLATION AND STORAGE: From box to fully assembled is in less than 10 minutes, can be folded for convenient storage or outdoor use, takes up no space.
SAFE DESIGN: Ativafit trampoline comes with a handle which is helpful to prevent your kids from falling off the trampoline mat, is safty for children to use. And with the high elasticity springs, protecting kids from hurt caused by falling onto springs.
MULTIFUNCTIONEN: Helping to increase bone density as well as muscle control and coordination, which helps kids grow taller, improve circulation and reducing children's likelihood of obesity, make the relation between parents and children more closer.
Reasons to Buy ✅
Indoor and outdoor use
High-quality build
Perfect size for children
Easy to setup and stowaway
Non-slip feet
Strong base and support bar
Without a doubt, one of the best child-friendly trampolines on the market today. The Ativafit is highly reviewed and recommended for several reasons, putting it in the category for the best trampolines for rebound therapy. But what separates it from the rest is just how well it nails the basics.
You want a well-built, durable, and easy to put together product from a trampoline, and you get exactly that. When your little one is bouncing away, you want to feel confident that the trampoline will stay firm on the ground, and that the materials will hold them securely.
Well, the 6 non-slip legs that have rubber covers do just that. On top of that, the heavy-duty rebounding material is strong and couples perfectly with the steel frame construction.
One of the most important factors here is the ability to use this trampoline both indoors and outdoors – this makes it perfect all year round and ensures you're getting the best bang for your buck!
When the sun is shining, and your child wants fresh air and outdoor freedom, then you can easily place this mini rebounder on the grass or concrete with ease. This type of rebounding exercise will provide a healthy dose of vitamin D and help your child get to sleep better, especially in autism.
Let's not forget that it's more difficult to get your child outside during the colder and wetter months. An indoor trampoline can work wonders for you both.
While there are limited colors and this product won't win awards for the best trampoline for gymnastics, the size is perfect for it's intended purpose.
A 36″ trampoline is the perfect size for children below the age of 10. It can hold their weight and height, especially with the use of the sturdy handlebars.
This could even be placed in the middle for most regular-sized living rooms while your child watches their favorite YouTube show – giving you some much-needed downtime!
Best Runner Up Trampoline For Rebound Therapy 🦘
Sale
Skywalker Trampolines Space Explorer Mini Trampoline, 48 - Inch, Dark Blue/Grey with Astronaut
Safety: Enclosure net is sewn directly to the jump mat, eliminating gaps. All of our products are tested for safety and durability to meet or exceed all ASTM standards
Promotes healthy kids: Introduces young kids to a fun, active lifestyle. This mini trampoline provides a great way for your little ones to burn off energy, improve coordination and improve learning skills
Space theme: Features an astronaut jump mat with a series of space sounds that sync with your little one as they jump
Reasons to Buy ✅
Safer encloser
Space sounds on bounce
3 year warranty
Variety of colors
Exceeds all ASTM standards
Fun design
Allows greater bounce
Reasons to Avoid ❌
Indoor use only
Takes up more space
The Skywalker trampoline wins all awards for unique design and experience. With a 360-degree support bar and space sounds on each bounce, this creates a new world of fun and sensory engagement for your little one.
Toddlers in the dome-like trampoline will feel more enclosed and safe within the netting, adding to the unique element, unlike regular trampolines we've reviewed above.
This mini-trampoline is purposefully designed with muted colors to cater to its intended unisex audience and goes with the space theme for our future astronaut boys and girls!
Skywalker also stands behind its product's build quality with a 3-year warranty on the frame and 1 year on the materials.
But rest assured, as they meet all ASTM (American Society for Testing and Materials) standards, it's fair to say it should last.
On first thoughts, we envisaged that this product for rebound therapy would be too large for indoor use, but it's not significantly bigger than other mini-trampolines on better inspection.
Yes, it is another 4″ larger than the standard 36″ mini-trampolines. However, it can still fit in the corner of a playroom without taking up too much space.
The downsides to this trampoline are that it is designed specifically for indoor use – mainly in protecting the materials from the elements.
However, if you did want to take it outside temporarily on your own accord, then you could do so as the legs will still support your child on a firm and stable surface.

Best Alternative: Outdoor Bouncy Castle 🦘
Sale
Little Tikes Jr. Jump 'n Slide Bouncer
Approximately 10' x 7' x 5' total inflated size
Three mesh sides protect children, and let parents watch the fun
Stakes anchor the bouncer firmly in place, while a heavy-duty blower provides continuous airflow
Reasons to Buy ✅
Endless outdoor fun
Allows up to 2 kids
Puncture resistant material
More than just jumping
Reasons to Avoid ❌
Outdoor use only
Takes up more space
Maximum combined weight limit: 160lbs
Little Tikes is a brand that has been around for a long time and continues to deliver a strong reputation for toys and children's products.
We love the bouncy castle alternative to a trampoline because you can still get the same benefits from rebound therapy from this, but there's a lot more than the bouncy castle delivers too!
You can have up to 2 kids play together, which means a less isolated play activity or even more space if 1 child bounces alone. There's a lot more space on the bouncy castle with 7 foot by 7-foot space and an extra-wide slide.
The square castles come with solid mesh support to bounce and fall into without hurting oneself, which means even more fun!
The jump 'n' slide inflatable bouncer comes with a heavy-duty blower that needs to stay plugged in as the child plays but does ensure the castle is inflated to a safe degree throughout.
The obvious downside is that you need enough backyard space to have this setup, and will only really be feasible in the warmer and drier months of the year.
In addition, if it takes some time to inflate and get set up, it can discourage both the parents/carer and child from using the bouncy castle because of the effort required.
Also, the mini-trampolines typically allow a child of up to 150lbs. The outdoor bouncy castle states a combined weight of 160bs, which means that this is designed for younger children; otherwise, there becomes a risk.
The bouncy castle can be a great alternative, or maybe a summertime addition if your little one loves to bounce. Rebound therapy is great when done regularly, so a mini-trampoline that's always ready and available may be a better option.
If you fancy something even more extravagant – why not go for the Doctor Dolphin castle?
Sale
doctor dolphin Inflatable Bouncer Kids Bounce House for Birthday Party with Air Blower
An Perfect Gift- The inflatable bounce house is a good place for kids having more happiness for hour at birthday parties, friend play-days, and daily entertainments
Strong and Durable quality-Double sewing for the seams with durable material nylon oxford fabric
Quick Inflation- Coming with instruction, inflate the inflatable bouncer with around 2 minutes,keep the blower running while kids are playing
Best Budget Alternative: Space Hopper Ball! 🌌
Reasons to Buy ✅
Easy storage
Colorful and vibrant
Indoor and outdoor use
Durable
Easy access to fun times
Great exercise
Reasons to Avoid ❌
Requires some space to bounce
Not ideal for younger than 3 year olds
The space hopper is a classic children's toy that has been around for many years and will be around for more to come! A simple design that can have young children entertained exercised and feeling great without even knowing.
If you're not keen on the trampoline and prefer a slightly different design, then the space hopper is a perfect alternative for indoor and outdoor use. It's incredibly easy to set up and comes with a hand pump to get it going. After that, the fun is ready to be had!
It's important to note that while your child can bounce up and down in the same spot, often, your little one will go in different directions, so ensure you have plenty of space and dangerous or breakable objects aren't nearby.
Bouncing continuously on the space hopper can provide the same effects as the trampoline, it provides plenty of exercise for your little one and still requires them to use their muscles, mind, and motor skills.
This option is a lot more affordable and can be a quick and easy way to try rebound therapy for your child with special needs.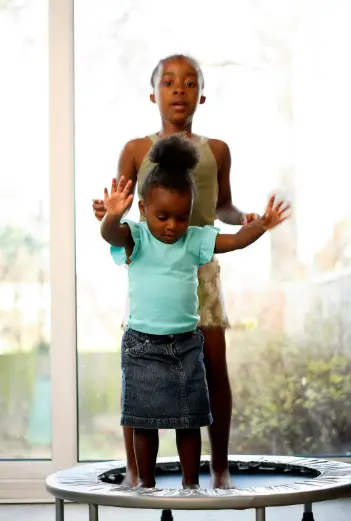 Frequently Asked Questions
What are the benefits of Rebound Therapy
Children with special needs often require more care and attention when it comes to focusing on tasks and engaging for a longer period of time.
Rebound therapy is seen as a popular and beneficial option because it combines mental focus and exercise into an exciting and engaging way for the child. Other tangible benefits to trampoline therapy are:
Improving coordination
Cardiovascular exercise
Better control of body and limbs
Mindfulness
Development of muscles and motor skills
Rebound therapy for autism?
Rebound therapy or trampoline therapy can be a great way for children with autism to understand more about their bodies and aid in concentration following bouncing sessions.
The bouncing sensation not only helps to circulate blood around the body in the form of exercise but can help alleviate anxiety and mild stress in the same way regular exercise does.
Rebound therapy is not limited to children with autism. It can be used for all kinds of special needs due to it's simplicity and availability to young children.
Are trampolines good for ADD?
Part of Attention Deficit Disorder (ADD) is the limited focus one has throughout the day. Being able to increase that focus can be supremely beneficial to someone with ADD.
In some cases, ADD suffers from having less dopamine, which means they cannot focus for long periods of time – and exercise can change that. Exercise in the form of trampoline therapy can increase dopamine levels and aid children or adults with ADD.
Was this article helpful?