An autism bed tent is quite simply a special needs bed enclosure which removes excessive sensory stimuli to help your little one (or a big one!) get to sleep quicker and more comfortably. Children with autism become overwhelmed quickly by open spaces, and it does not matter how small or large their bedroom happens to be.
They will not feel secure in an open bed because they are easily overstimulated and will not sleep comfortably or at all if they are not feeling secure and calm in an exposed bed. An autism bed tent is ideal for any parent or carer who might be struggling to get their child who lives with ASD to sleep at night – and we all understand how important sleep is for children with autism.
Due to the success autism bed tents have in helping a child sleep, there has been a growing trend in the number of different bed tents available for sale, which means more choice, better value for money, and a better customer experience.
SafeSleepSystems also hit the scene a few years ago with our autism bed tent, the Nickel Bed Tent, which had some great success. Finding the right autism-friendly bed tent is vital for several reasons, to keep your child safe and free from harming themselves during sleep, to remove unwanted stimuli from lights and sounds, and to comfort during sleep so that your loved ones can rest well.
The Nickel Bed Tent was initially designed to do just that. With the child at the heart of the design, it was purpose-built to be placed on the floor or strapped to a bed. Easy access through the large zipper designs with a mesh wall design so that the parents and carers can easily see inside—the perfect size for a single or twin size bed, but also great for traveling or vacations

.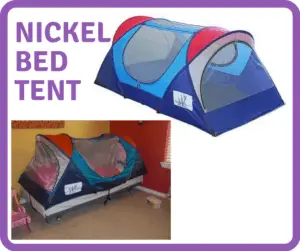 Unfortunately, Nickel Bed Tents had to be retired, and the business no longer operates – but there are many other great options on the market. We've taken a good look at all the options to provide you with the best autism bed tents for your kids in 2021.
At Safe Sleep Systems, we're supported by our audience, and we thank you. We may receive compensation if you purchase products or services through the links provided at no additional cost to you.
The Best Autism Bed Tents for Kids
1. Pacific Play Tents – Bed Tent
"Provides comfort, privacy, and safety from excessive stimuli"
Safe Sleep Systems Rating:⭐⭐⭐⭐⭐
Pacific Play Tents 19790 Kids Tree House Bed Tent Playhouse - Twin Size

Twin bed tent size: 77" X 38" X 35" high, Fun tree house graphics, Can be used on or off the bed
Helps transition child from crib to bed, Mesh panels for ample ventilation and allows for easy...
Fitted outer-skirt secures the tent to the mattress (mattress not included)
Last update on 2023-11-14 / Affiliate links / Images from Amazon Product Advertising API
Reasons to Buy ✅
Highly recommended for children with autism
Easy assembly
Warm inside
Creative designs
Easy access
Portable/Travel-friendly
Reasons to Avoid ❌
Could be taller in height
If you were looking for a Nickel Bed Tent, then this autism bed tent from Pacific Play Tents is the closet version. A very similar 'tent' design that's perfect for a twin (single) bed size that should accommodate for most young children. You can comfortably place a twin size mattress inside and keep the bed tent either on top of a bed or on the floor – it is common for children with autism to prefer to lay on the floor, or even just avoiding a bed frame to mitigate self-harm/breaking the bed.
There's a big velcro access point to entry and exit, and velcro can be a preferred material as its less likely to cause injury as zips sometimes do. An autistic bed tent like this is a great way to transition from a smaller bed or cot to a "big boy/girl" bed. Not only that, but it can comfortably fit toys to make the inside of the bed tent an excellent play space for adventures. With straightforward assembly, it can be used a travel bed too if you're planning vacations or staying over at someone's house – creating the perfect safe space for your loved ones. It's also very reliable as the fiberglass poles are sturdy but also go through the exterior rather than the interior of the material.
Other designs by Pacific Play Tents:
2. Alvantor Bed Canopy 🌌
"The #1 Best Seller for pop up bed tents"
Safe Sleep Systems Rating:⭐⭐⭐⭐⭐
Alvantor Bed Canopy Tents Dream Privacy Space Twin Size Sleeping Tents Indoor Pop Up Portable Frame...

♥Upgraded 2-in-1 bed tent patent pending construction. Double side-door design for easier access....
♥Innovative design: Durable pop-up flexible ribs and fiberglass rods help this tent keep it's...
♥Easy set up and take down.. pop up frame and shock corded poles make it super easy to set up in a...
Last update on 2023-11-14 / Affiliate links / Images from Amazon Product Advertising API
Reasons to Buy ✅
Easy Assemble
Private Space
Blocks Light
Quality Air Flow
Breathable Fabric
Pockets Inside
Lightweight
Great Reviews
Machine Washable
Reasons to Avoid ❌
Limited Colours Available
We've recommended the Alvantor bed tent for several different articles

purely because it covers all bases. Practical, lots of functionality, great value for money, thoughtful design, and an excellent bed for a special needs child. Out of the box, it's easy to assemble, a self-bedding system that provides quietness and a great night's sleep. One main difference from other bed tents is the double-sided door design, which can be left entirely open and allow fresh air and space, as well as closed off entirely, which can keep a child feeling safe and secure, away from danger.
The safety bed not only helps to prevent the treeless user from hiking but also the power to accelerate sleep by reducing visual stimulation and the ability to play or roam. If you suffer from anxiety and are sensitive in sleeping light

, then this suite will provide support come playtime, bedtime, and alone time.
The amusing part of this design is that the user inside the tent can see out, but those outsides can't see in. This can relieve any pressure or anxiety of others nearby and provides a great deal of comfort and privacy. While it looks like a more permanent fixture, and it can be, the autism bed tent can easily be packed away to be moved for travel as it only has three poles required for setup.

3. Privacy Pop Bed Tent
"Privacy isn't a premium with Privacy Pop"
Safe Sleep Systems Rating:⭐⭐⭐⭐
Privacy Pop Bed Tent (Twin) - Lavender

Designed to allow for simple and fast set up and take down
Durable style that fits most common beds
Innovative zip and mesh sides that offer ventilation for easy breathing and light when you need it
Last update on 2023-11-14 / Affiliate links / Images from Amazon Product Advertising API
Reasons to Buy ✅
Mesh Window for Airflow/Light
Fully Foldable Doors
Double-Sided Zippers
Variety of Colours
Minimalistic Design
Snug Fit on Mattress
Reasons to Avoid ❌
Can get warm inside
The slightly higher price point
Privacy Pop is all about seclusion, and their canopy style bed tent does precisely that. Privacy Pop has autism bed tents for both children and adults, but all of their designs are built for twin size beds. If the current sleeping conditions your child is in don't provide them with privacy, comfort, and an anxiety-free zone, then it can seriously disrupt your sleep and mental health. This is ideal for people with special needs as it quickly creates a fort of comfort and safety during bedtime.
Privacy Pop calls it a 'privacy oasis,' and we certainly agree. A neatly designed pod that keeps out everything from light to some noise. The level of seclusion is second to none. If you can afford to pay a little extra than the other autism bed tents we've listed, then this is an ideal bed for an autistic child to feel more comfortable sleeping when traveling around or at home.
There are numerous colors to suit. In my experience, this is everything. Some special needs bed enclosures are monotone and don't have many color options. Privacy Pop's twin size beds have a wide array of colors and designs.
Last update on 2023-11-13 / Affiliate links / Images from Amazon Product Advertising API
4. Safe Place Bedding
"Family-owned and purpose-built for long-term use"
Safe Sleep Systems Rating:⭐⭐⭐⭐⭐
Reasons to Buy ✅
Full bed-frame and bed tent
Handmade hardwood frame
Built for heavy use
CertiPUR US Certified mattress
Great Warranty provided
Reasons to Avoid ❌
Price range is much higher than other options
Safe Place Bedding is a family-founded business that has wonderfully built a durable bed tent for your child. Available in both twin and full sizes, these permanent structured beds provide sturdy and long-lasting support for your child with all the functionality of a bed tent. Whilst most standard beds from big box furniture shops provide much more affordable beds, they're not often the handmade hardwood variety which is designed to take a lot of impact and still remain standing. This bed does just that.
Honesty is important here, and the price of this bed and tent will set you back in the range of $5000-$6000, which is significantly higher than the Alvantor or Pacific Play Tent. What you are paying for is the design built and refined by a family who experienced their own child's sleep struggles, realized the need for something durable, long-lasting, and great value for money in the long run. Included in the purchase is a premium, top-of-the-line memory foam mattress, in addition to covers that are certified by Certipur, a certification program administered for not-for-profit organizations (you can find out more here

.
Safe Place Bedding believes in their product, their craftsmanship, and your satisfaction. Out of all of our reviewed bed tents, we can say hands down they have the best returns and warranty program. They will replace and ship any items damaged during transit, you have a full 10 day trial period to test the bed tent and a full 1-year warranty against all workmanship or material defects.
Click here for the latest offers and pricing from Safe Place Bedding

Bonus Bed Tents
Our top 3 bed tents for children with autism have been listed above. Still, we've also found that children with autism love fun but calming experience before bedtime, so we've included some products that might be an excellent gift for your exceptional person.
Harkla Sensory Swing
"A swinging safe space to wind down and relax"
Safe Sleep Systems Rating:⭐⭐⭐⭐⭐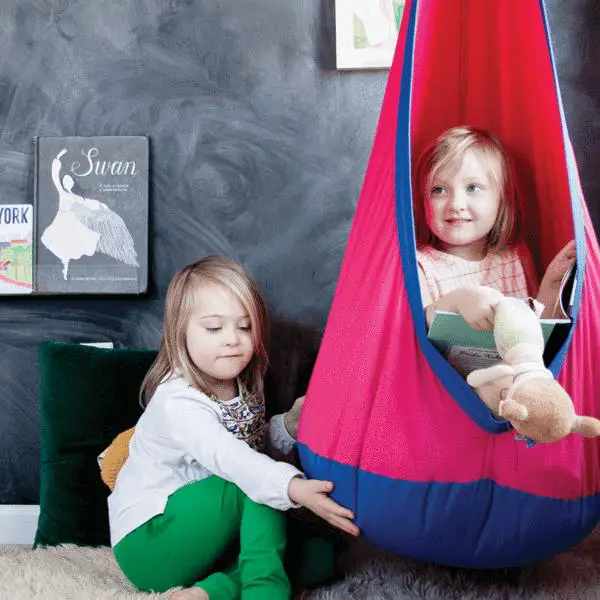 Reasons to Buy ✅
Comfortable
Durable (hold 150lbs)
All hardware included
Calming effect
Money-back guarantee
From playing in the park to being cradled in your father's arms while you sleep, so many children love that enchanting feeling of gently swinging in a tight space—the sensation of safety, security, and coziness that can prompt relaxation and sleep.
If you have a hyperactive child or one that really suffers from sleep disorders, then something that's both enjoyable for them as well as stress-free for you can be ideal. A pod swing ticks both boxes.
Available from Harkla.com

(Use The Code HarklaTake5 For 5% off)
Harkla Hug
"A flocked vinyl peapod ideal for sensory fun for your child"
Safe Sleep Systems Rating:⭐⭐⭐⭐⭐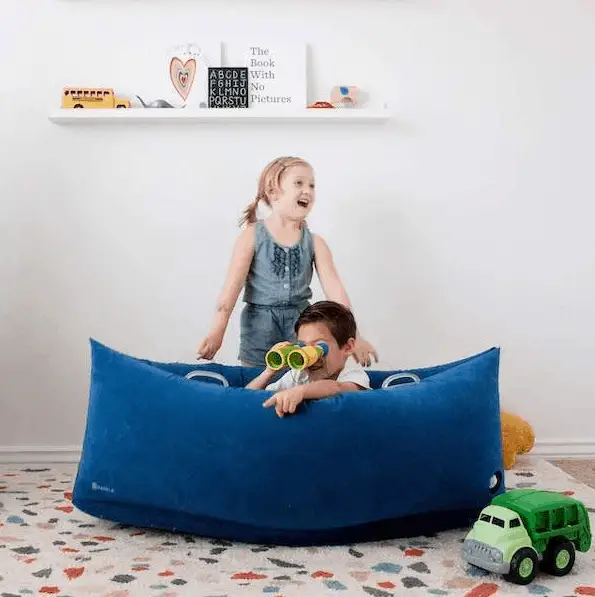 Reasons to Buy ✅
Calming experience for children
Comfortable and durable
Rocking motion
Electric air pump included
Lifetime guarantee
Reasons to Avoid ❌
Small size only supports 50lbs
This is one of the most original ideas for sensory and calming products for children with autism. This cozy inflatable pod is brilliant for young children to relax and play in.
Not only does it provide a tight 'hug' for the child, but the bottom inflates to create a gentle rocking motion to simulate cradling. Perfect addition for any child that is hyperactive is a high or low-functioning ASD child or suffers from sleep in general.
Available from Harkla.com

(Use The Code HarklaTake5 For 5% off)
Frequently Asked Questions (FAQs)
Are Bed Tents Safe For Toddlers?
The short answer is that bed tents are safe for toddlers, but as with all of these situations, there are variables that must be considered as a parent or carer to ensure your toddler is safe within their sensory tent.
The key area to safety, especially if your toddler has some form of sensory processing disorder is visibility. Being able to see your child from a reasonable distance inside the tent is crucial, and therefore having windows and doors to the tent that can easily be zipped open will help to solve this. Take a look at the Alvantor bed tent which we have highly recommended for years as they do a great job at this.
The overall space inside your kid's tent makes a difference too. If it is too cramped and too small there is a chance an active toddler can knock the whole tent over and potentially cause injury – which we want to avoid at all costs.
Lastly, when trying to find the best bed tent that is safe for your toddler, look at the materials. Material that is fire-resistant (for obvious reasons), and durable enough to not easily tear are good factors.
Do Bed Tents Help With Anxiety?
Bed tents or sensory tents were specifically designed to help people manage anxiety while playing, sitting, or lying inside. A number of great brands have focused their product development around autistic children as a key audience as this can seriously reduce anxiety and sensory input.
What works so well with the best bed tents are they provide a cozy, enclosed environment that can block out external stimuli such as noise and light, and as a result, can provide the best setting to reduce anxiety. We often see great anti-anxiety results when coupled with a weighted blanket

.
How Do You Keep An Autistic Child In Bed?
Growing evidence has shown that children diagnosed with ASD have associated sleeping difficulties, and the challenge of keeping your autistic child in bed can be an uphill battle each night.
Some of the ways to keep an autistic child in bed include: reducing noise, eliminating harsh lighting, using the right pajamas (seamless, smooth, compression)

, creating a good bedtime routine (bath, pajamas, gratitude journal, brush teeth, storybook, bed), using a good weighted blanket, and even adding in background sounds/ambient noises.
Was this article helpful?