This article is evidence-based, verified by Dr. Ahmed Zayed

If you are in a crisis or any other person may be in danger – don't use this site. These resources

 can provide you with immediate help.
Mental health problems are widely prevalent, and with the right approach, children and adults can improve their quality of life. The treatment of various mental health conditions revolves largely around therapy.
Besides standard visits to the therapist's office nowadays, it is entirely possible to attend the sessions only.
Online therapy is still relatively unknown to many people who want to know how it compares to in-person therapy sessions. In this post, you will find the answers.
Read on to learn how online therapy compares to "standard" therapy and what could be its advantages or disadvantages.  
Safe Sleep Systems is supported by its audience. When you purchase through links on our site, we may earn an affiliate commission, at no additional cost to you. Learn more

What is Online Therapy?
Considering the fact the concept of online therapy is not known to many people, we are going to start this post with a simple definition first. The online therapy is defined as the provision of professional mental health counseling services to patients through the internet.
Also known as e-therapy, teletherapy, and e-counseling, this practice has quickly become an important resource for an increasing number of patients, and it will continue to be more popular in the near future. Although we see online therapy as the "invention" of the modern ages, its origins go hundreds of years back.
Sigmund Freud, an Austrian neurologist and the founder of psychoanalysis, used letters extensively to communicate with his patients. Sure, he didn't exactly communicate with patients online, but the letters aren't in-person therapy.  
Back in time, mental health problems were taboo, but as society became more aware of these conditions, the number of support groups grew rapidly. With the advancements in technology and easy internet access, people have also started forming support groups online.
All these events led to the growing need to hold therapy sessions and communicate with patients online. The e-therapy sessions have a lot of advantages, but also some limitations. Further, in the post, you'll see how it compares to in-person therapy and finds out more about its pros and cons. 
How Does Online Therapy Work?
As you can conclude, online therapy is based on providing counseling online through software, websites, and apps where patients can log on and consult with their therapist. In online therapy, counselors can reach patients in many ways, including: 
Email 
Mobile device apps 
Phone calls 
Real-time chat 
Text messaging 
Video conferencing 
Thanks to a wide range of video conferencing platforms, it has never been easier for a counselor to reach patients and vice versa. This is particularly important for patients who live in rural areas because traveling to the city can be difficult and bothersome.
As a result, they have more sessions than they would in-person. On the flip side, text messaging is all about ease of use and support more direct counseling.  
Online Therapy and In-person Therapy 
Now that we have established an outline of online therapy, it's time to see how it stands against in-person therapy sessions. Is it better or worse? The reality is that more studies on this subject are necessary in order to evaluate the efficacy of both types of therapy against one another fully.
Current evidence shows that online therapy is equally effective as an in-person counterpart

. For example, a study from the Journal of Affective Disorders found that there was no significant difference between online therapy and in-person therapy.
Both types of treatment revealed significant symptom changes compared to before the intervention. What's more, three months after the treatment, patients with depression remained stable while subjects in the face-to-face group experienced a worsening of depressive symptoms. 
A different study, published in Behaviour Research and Therapy, found that 46% of the online therapy treatment group had achieved significant improvement in symptoms associated with a principal anxiety disorder.
Scientists confirmed that online therapy

is an effective and cost-effective treatment with results that were sustained even at a one-year follow-up.  
One of the most recent pieces of evidence on this subject, published in April 2018 issue of the Journal of Anxiety Disorders, discovered that online cognitive behavioral therapy is an effective, practical, and acceptable healthcare method.
The research also found that online therapy was equally effective as face-to-face therapy sessions for treatments of mental health problems such as panic disorder, depression, generalized anxiety disorder, and social anxiety disorder.  
As seen above, current studies show that in terms of helping patients deal with symptoms of their mental health condition, both online and in-person therapy could be equally effective. However, a study published in February 2019 issue of npj Digital Medicine, found that subjects preferred in-person therapy despite acknowledging that well-known limitations such as transportation, stigma, and cost still remain.
The reason behind the preference for in-person therapy is mainly driven by concerns regarding the relative effectiveness of online therapy. People are also concerned about privacy, data security, and whether online therapy sessions are covered by their insurance

.
The study theorizes that security and privacy concerns are probably due to recent reports about digital breaches by large tech companies. However, the need to assure digital privacy in online therapy is echoed by the guidelines published by the American Psychiatric Association.
The guidelines urge developers and providers of online therapy to prioritize the security and privacy of their platform to make it a safe place for the patients.  
The same study also found that in terms of online therapy, subjects preferred self-guides psychotherapy, although many concerns were raised about it.  These concerns are mainly about the efficacy, lack of personalization, potential safety risks arising due to the absence of monitoring by a professional, among others. 
What we can see here is that both online and in-person therapy can work to help patients manage their mental health problems. Although their effects are similar, these concepts have their differences too. With in-person or face-to-face therapy, a patient meets a counselor at a specific time and place in the therapist's office.
The greatest benefit of this type of therapy is the fact a patient has a real-time face-to-face conversation with the therapist, who can also analyze the body language of a person and tone of voice, both of which can help a lot during the psychotherapy analysis.  
The online therapy, on the other hand, offers more options regarding communication between a patient and a therapist (listed above). While many therapists provide online therapy directly to their patients and clients nowadays, there are third-party websites and platforms which allow users to connect with licensed counselors and therapists

.
The mode of communication depends on the personal preferences of a patient and therapist. In these instances, though, reading body language is impossible, and it's difficult to analyze the tone of voice (also impossible in text message-based therapy). That being said, Melanie Person, Ph.D notes that in the current world we live in today, online therapy can be more convenient and produce an accelerator outcome

.
Despite the fact that some studies confirmed online therapy could be as effective as face-to-face therapy, the American Psychological Association notes that it may not be the best option for everyone or every situation.
The reason is simple; this type of therapy is still relatively new, and it hasn't shown yet it can function as a standalone treatment for every mental health problem. What's more, patients with severe mental health problems are advised to seek in-person care. The more severe mental health condition, the more people, should prioritize in-person therapy.  
The goal of both types of therapies is to allow patients to deal with their symptoms in a healthier manner through a conversation with a therapist. While online therapy is more accessible in terms of reaching a therapist with a few clicks only, it does have some limitations.
For instance, poor internet connection can affect the outcome and the flow of the therapy session. Moreover, it can make it difficult for a therapist to help patients in crisis situations. A therapist's job is to ensure the patient is safe, and it can be hard to accomplish that when the patient is not present in the office.
This is particularly dangerous for patients who have severe symptoms and suicidal thoughts and tendencies, which explains why persons with severe mental health problems should seek in-person therapy. 
In terms of prices, online and in-person therapy do not differ much. Most therapists charge the same prices for both types of sessions. But online therapies do provide more freedom.
For instance, some platforms offer different packages that clients can purchase in order to get access to a therapist, but also save some money at the same time. In fact, one of the biggest advantages of online therapy is cost-effectiveness because there are tons of options on the internet.  
What Type of Therapy is the Best for Me? 
The therapy does not use one size fits all approach to treating patients. Therefore, there is no formula by which someone could decide which type of therapy is best suited for them or their family member.
The best thing to do is to consult a therapist about the condition, both online and in-person therapy, and see what they would recommend.
Every therapist, regardless of the mode of therapy, will advise the patient on where to go and give suggestions that are in your best interest.  
Generally speaking, a person who is nervous about the therapy and doesn't have a lot of time to see the therapist (or lives in rural areas) may benefit from online-based therapy sessions.
But, as mentioned above, men and women with severe mental health problems should prefer in-person therapies.  
Can Online Therapy Help With High-Functioning Autism? 
High-functioning autism is a type of autism without intellectual disability (IQ 70 or less). A person with high-functioning autism may exhibit problems with recognition and expression of emotions, communication, and social interaction.
Unfortunately, studies on the effectiveness of online therapy in patients with this type of autism are lacking. That being said, many therapists provide online sessions to patients who are diagnosed with autism.
There are also specialized platforms created mainly for children with high-functioning autism. The software runs scripts for interaction and rewards progress and helps children with this condition learn more about socially appropriate behavior.
Through these scripts, children are able to learn and employ those healthier behaviors or improve interaction with others in their daily life.  
What to Consider When Signing up for Online Therapy? 
Finding the right therapist for in-person sessions is relatively easier. You either get a recommendation from a doctor, someone you know, or you find the best-licensed therapist in your area. 
But, not every therapist provides sessions online, and although the internet offers a lot of options, not all of them are equally good for you. So if you want to sign up to online therapy you should take the following into consideration: 
Is it the right thing for you – while some studies have shown online therapy can be just as good as the "traditional" therapy, there are no studies about its efficacy for a broad spectrum of mental health problems 
Is the therapist licensed – the internet is full of "experts" who only claim they can help, but have no license whatsoever. Make sure to research and determine whether the therapist is licensed or not 
Is the therapist licensed in your state – licenses are granted by each state and, as you already know, they may have different rules and regulations. Finding the right therapist also means it should be someone who is licensed to practice in your state 
Security – of course, one of the most important things to consider is whether the app or website is safe and secure to confirm whether your identity and data will be protected 
Insurance coverage – many insurance providers cover the costs of in-person therapy. Before you sign up, check with the provider to see whether they cover the costs of online therapy as well 
Conclusion 
Both online and in-person therapy has a lot of similarities, but numerous differences as well. Current evidence shows their efficacy for the treatment of depression and anxiety is equal. But the full spectrum of benefits of online therapy is still unknown as its efficacy in the treatment of a wide range of mental health problems isn't studied. 
Considering the fact that both types of therapy have their pros and cons, make sure to consult a professional who will help you determine the best type of therapy you or a family member need.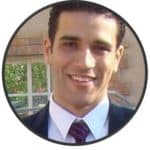 Dr. Ahmed Zayed, MD, holds a baccalaureate of Medicine and Surgery. An avid contributor to the Huffington Post and Chicago Tribune, Dr. Zayed believes in providing accurate and accessible information to general readers. With years of writing and editing content in the medical niche, Dr. Zayed likes to think of himself as a man with a mission, keeping the internet free of false medical information.
References  
Was this article helpful?