At Safe Sleep Systems, we're supported by our audience, and we thank you. As a BetterHelp affiliate, we may receive compensation from BetterHelp if you purchase products or services through the links provided at no additional cost to you.
Over the past few years, the conversation around mental health has opened like never before. The stigma around discussing mental health is decreasing in pop culture, public discourse, and people's personal lives. More people are admitting when they are struggling and discussing treatments such as therapy.
As the conversation around mental health opens up, there is also a growing movement to make therapy and counseling more accessible for those who need it. One development making therapy more accessible is online therapy.
Online services are easier for people with reduced mobility, less access to therapists, and fear or embarrassment around physically visiting a therapist's office. Initial studies show that for conditions such as depression, online therapy can be just as effective as in-person visits.
Thanks to the popularity of online therapy, especially when the COVID-19 pandemic forced everyone online, there are more online therapy services than ever before. Two of the biggest platforms are BetterHelp and 7 Cups.
However, with so many options, it can be hard to figure out which website is the best for you.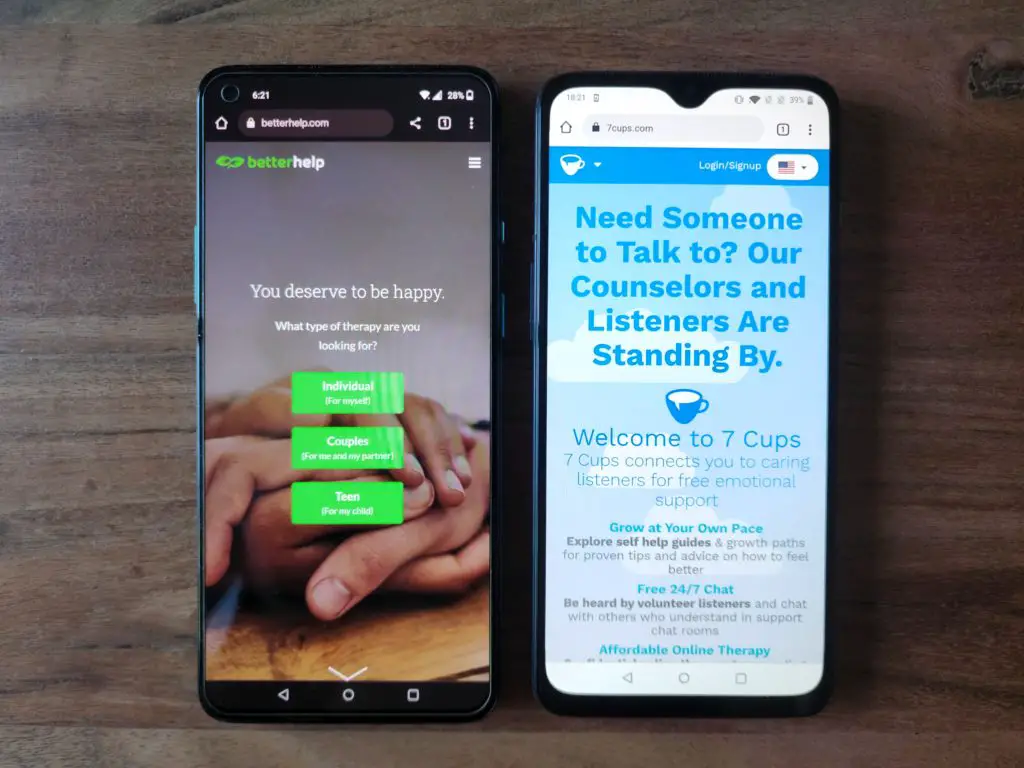 This comprehensive comparison between BetterHelp and 7 Cups can help you decide which service is better for you.
If you are in a crisis or any other person may be in danger – don't use this site. These resources

 can provide you with immediate help.
What Is 7 Cups of Tea?
7 Cups of Tea was founded in 2013 by psychologist Glen Moriarty as a space to provide support for people suffering from emotional distress. Initially, the site focused more on building a community support network through active listeners and forums discussing a variety of topics related to mental health before adding a paid option to contact licensed therapists.
The site took its name from a poem by the classical Chinese writer Lu Tong.
7 Cups is unique because it provides three levels of support at different price points. You can access the website's chat room and resource guides and talk with trained volunteers for free.
An affordable premium subscription to the website gives you access to premium learning "Paths." Finally, a paid subscription allows you to chat one-on-one with licensed therapists.
While the active listeners that provide free support are not verified, 7 Cups says that the therapists that offer support as part of its paid program are licensed counselors with insurance, which means that they have to have several years of experience under their belt.
We've discussed the difference between the two in terms of support.
You can access 7 Cups via their website or through the app, although some users have complained that the app is sometimes buggy and doesn't always have the same features as the website.
You access 7 Cups through an SSL-protected site that follows relevant privacy laws, so you don't have to worry about someone accidentally finding out your private information. The website is available globally in over 100 languages.
Community Aspect
One of the strongest features of 7 Cups of Tea is its community aspect, which makes sense because it was created to give teenagers and young people a space to support each other through emotional difficulties and mental health crises. 
When you join 7 Cups, you can access a sprawling community forum with threads on all sorts of topics, ranging from anxiety to depression and other relevant mental health topics. You can also join group chats to connect with other users and follow dedicated learning paths. 
7 Cups of Tea also offers users plenty of information to help them develop the skills they need to manage mental health challenges on their own such as learning paths, guides, and mindfulness exercises. If all of this seems too complicated, the site has an AI chatbot called Noni to help.
Active Listeners
Users of 7 Cups' free version have access to one-on-one chat support but with volunteers instead of paid therapists. These volunteers are called "active listeners" and go through training provided by the site, which includes a 7-step program, training guides, and mock chats, before talking to people.
Listeners list issues they are comfortable helping with, and the algorithm pairs them with people who match.
Active listeners provide a listening ear to those who need it and some sympathetic, guiding responses. However, they are not licensed therapists and cannot help with more serious mental health issues.
Reviews are mixed about the quality of this service, with some people complaining that the active listeners they were paired with never responded, and others were inappropriate and unprofessional, although the site tries to monitor these conversations and crack down on inappropriate comments.
Paid Therapy
The paid therapy options give you the opportunity to chat with a therapist. 7 Cups matches you with a therapist, or you can choose from a drop-down list, switching as soon as you want if you realize you aren't a good fit.
You can message your therapist, and Monday through Friday, they will respond once or twice a day within 24 hours.
However, 7 Cups does not give you the option to call or video chat with your therapist, which can make it difficult to explain more complex issues and for the therapist to get a read of your situation without having access to facial expressions or body language.
Some users have complained that therapists don't respond within 24 hours or at all.
Where 7 Cups Falls Short
7 Cups has a great community aspect to the mental health support it provides, and the free site is a great resource for people who want some guidance with their mental health but can't afford a therapist.
However, the site is so large that moderation and quality control are simply impossible, and visitors can encounter bullying or harassment that will worsen their mental health challenges. 
The paid therapy provided through 7 Cups is only good for people who prefer text-based communication. A relationship built through sporadic texts is simply not enough to support people through more serious mental health challenges that can be better addressed with video chatting, calling, or in-person sessions.
What Is BetterHelp?
BetterHelp is an online service that connects users to licensed therapists. Also founded in 2013, it is one of the largest online services for connecting with therapists.
Once you sign up with BetterHelp, you fill out a detailed questionnaire that allows the algorithm to match you with a therapist, although you can switch your therapist at any point. All therapists offering support through BetterHelp are licensed, accredited counselors who have been verified. 
Once you are matched with a therapist, you can reach out to them 7 days a week, 24 hours a day, although not all therapists will respond outside of set times. You can also schedule live chat sessions and phone and video calls.
This provides you with multiple options for support and communication, depending on what works best. You also have the opportunity to build a stronger relationship with your therapist.
Besides contact with a therapist, BetterHelp offers a few other features. You can join group therapy sessions through the site if you prefer to navigate your mental health challenges with community support.
A journaling section gives you a space to vent your feelings privately and provides prompts to help you work through issues. Finally, BetterHelp has a few sister sites it can redirect people to for specialized care, such as LGBT-friendly or faith-based therapists.
7Cups vs. BetterHelp: A Comparison
So where is 7Cups better than BetterHelp? Where does one of these services fall short? Here is a quick comparison of the two.
| | | |
| --- | --- | --- |
| | BetterHelp | 7 Cups of Tea |
| Price | $240-$360 a month | $150 for online therapy, free for most of the rest of the site |
| Who Are You Chatting With? | Licensed therapists and counselors only. | Licensed therapists for the paid version, trained volunteer listeners and other users for the rest of the site |
| Communication Method | Text including live text sessions, audio, video | Text only, even with therapists |
| Community Aspect | Option to join group therapy sessions | Access to forums and group chats |
| Issues Covered | General mental health issues such as depression, anxiety, and stress | General mental health issues such as depression, anxiety, and stress |
| Age Group Served | Adults only, although they have a sister site dedicated to teens | Anyone 13+, including counselors and active listeners/volunteers trained to help teens |
| Other Resources  | A journaling section on the website | Guided mindfulness exercises, learning paths (including some available for a premium price), and guides |
| Accepts Insurance? | No, but it offers financial aid for those in need and sometimes partners with workplaces to offer discounted or free therapy. | No, but the free section has significant resources, and you can use HSA funds to pay for therapy. |
| Security | SSL-encrypted and 256-bit encrypted | SSL-encrypted |
| Anonymity | Can make anonymous profiles | Can make anonymous usernames to talk on the forum |
| Global Services | All therapists are in US time zones, and the platform is in English, but the platform is accessible globally and has therapists who can speak 44 languages. | Available in 168 countries and 144 languages |
Better for Therapy: BetterHelp
When it comes to therapeutic support, BetterHelp is the clear winner. You have more access to a therapist and access to different modes of communication. The twice-a-day chat model espoused by 7 Cups is simply not enough to build a strong relationship with a therapist and to handle any underlying emotional issues that sporadic therapist sessions might bring to the surface.
If you are already paying for therapy, you might as well pay for a method that works. 
BetterHelp also gives you access to more communication methods. If you prefer to text only, you can stick to that, but BetterHelp allows you to schedule live texting sessions, so if you need help with an issue, you know your therapist will respond immediately.
Audio and video calls also make communication more complete because you and your therapist can communicate through verbal cues, body language, and facial expressions. 
If you are dealing with mental health issues that require consistent support, it's worth investing in BetterHelp. BetterHelp also has much better user reviews when it comes to the reliability of its therapist network.
Many users complain that the 7 Cups therapists do not always respond in time and that the vetting process for that site is not as complete as it is for BetterHelp.
Better for Community: 7Cups
If you're not sure about starting a relationship with a therapist and just want a supportive community to help you deal with your mental health issues, then the free version of 7Cups is perfect.
7Cups allows you a lot more community interaction, whether by joining group chats, posting in forums, or chatting with volunteers. 
You can be as active in the community as you wish. Extra activity unlocks perks such as new forum threads, group chats, and the opportunity to become a volunteer. By comparison, BetterHelp only offers group therapy calls. 
7Cups also serves a wider variety of people. It is more accessible for teenagers and young people, while BetterHelp is for adults. 7 Cups is also more globally minded, even though it was founded in the United States.
For people across the world who may struggle with accessing care in their communities or their language, the free help offered through 7 Cups is invaluable.
Where Both Fall Short
Online therapy is not always a replacement for in-person therapy. If you have to go to therapy as mandated by a court, neither BetterHelp nor 7 Cups can comply with those directives. These online services are also not great if you have an emergency—immediately contact a local hotline or emergency center. 
The Final Word on BetterHelp vs. 7Cups
BetterHelp is the clear winner over 7 Cups and worth the slightly larger monthly fee when providing online therapy. You have more regular communication with therapists and access to a variety of communication methods, and users are happier with the vetting and responsiveness of BetterHelp therapists than their 7 Cups equivalents.
However, 7 Cups has its advantages. If you just want a space to talk to others going through the same problems or can't afford therapy right now, the free services are more than enough to help.
Sources
Was this article helpful?