At Safe Sleep Systems, we're supported by our audience, and we thank you. As a BetterHelp affiliate, we may receive compensation from BetterHelp if you purchase products or services through the links provided at no additional cost to you.
If you've been feeling sadder and more anxious lately, you are not alone—the world as a whole is experiencing more mental health issues. The World Health Organization reported that during the COVID-19 pandemic, globally, people reported 25% more cases of depression and anxiety.
That's not even factoring in more serious mental health challenges such as PTSD, grief, and eating disorders.
With so many people needing support to manage mental health issues, most traditional healthcare systems are simply not up to the task. Online mental health apps are increasingly stepping in to fill the gap in mental health access.
Two of the most popular platforms are BetterHelp and Ginger Therapy, also known as Ginger.io.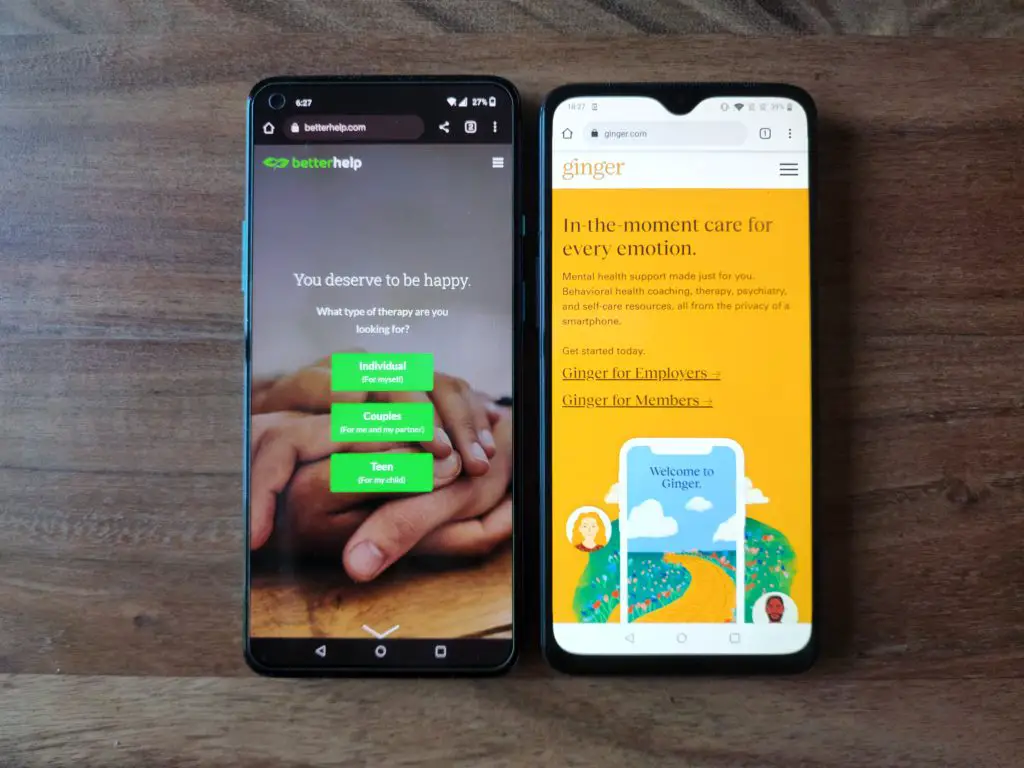 Both applications are legitimate and partner with licensed therapists, although there are some concerns. Which one is better? Check out our comprehensive guide to know more.
If you are in a crisis or any other person may be in danger – don't use this site. These resources

 can provide you with immediate help.
What Is Ginger Therapy?
Ginger Therapy, also known as Ginger.io, was one of the pioneers in online therapy and mental health support. Founded in 2011 by a team at MIT that was one of the first in the tech world to notice the serious issue around a lack of mental health support, the service wanted to provide better access to mental health.
While you can talk to therapists through Ginger.io, it started off as a preventative monitoring system. Through questionnaires and phone data, such as time spent on different applications, location, and texting volume, Ginger.io developed a system that would predict a user's mental health and any challenges and connect people in need with the support services that could help them.
Eventually, Ginger.io evolved to include interpersonal support. First, users get matched to health coaches who help them create personalized plans to work on their mental health journey. Then, if the coach is not enough, users can reach out to a therapist for chat and video sessions. 
For a comprehensive look at the services that Ginger.io offers, check out our review here.
Ginger's Monitoring Process
Some commentators see Ginger.io as part of a larger trend of self-optimization apps that rely on data tracking to help users become better versions of themselves. The app also aims to improve self-knowledge and early monitoring, connecting people with help before things get dire.
One of the major problems with traditional therapy is that for information, therapists rely on self-reported outcomes from patients. People may not have the self-knowledge necessary to understand when they are going through, for example, a depressive episode or may feel ashamed to share the truth about their mental health state with a friend or even a licensed therapist.
Ginger's monitoring system provides an eerily accurate assessment of someone's mental health through their digital footprint.
When Ginger notices that a user's digital footprint indicates a problem with their mental health, the app sends an automated text checking in. When you sign up, Ginger allows you to select a person such as a friend or significant other that it can text to conduct a wellness check if the app notices something concerning with regard to your mental health.
Access to Professional Care
Connecting people with mental health care professionals is a relatively new aspect of Ginger.io but a challenge that the app has mastered. The philosophy of Ginger.io is that it takes a team to help people manage mental health challenges.
The app connects users to a team of professional support networks, including health coaches and therapists.
If you are a Ginger.io user who indicates you want interpersonal support, the first step is connecting with a trained professional health coach, usually someone with at least an MA in psychology.
The coaches are available 24/7 to guide you through personal challenges and walk you through workbooks and guides helping you navigate techniques such as cognitive behavioral therapy. If you message outside your coach's normal hours, Ginger matches you with a new one.
If you indicate that you need support beyond on-demand coaching, Ginger.io gives you access to licensed psychologists and psychiatrists. Instead of relying on text-based communication, you can schedule live video sessions and get the extra level of support that you need from a trained professional.
However, before you can access therapy, you must indicate to Ginger.io that the coaching service was insufficient support. Some users complained that proving to Ginger's support system that you need therapy is sometimes difficult, as is switching therapists if yours is not working for you.
Where Ginger.io Falls Short
Although Ginger.io claims to revolutionize mental health care by developing an advanced warning system for when someone is going through a more difficult period, some experts question the validity of the app's findings.
They say that the app has a problem with pathologizing normal human behavior and considering normal changes in phone usage as signs of emotional distress. 
Others criticize the drive towards self-optimization and tracking one's data, which can lead to tunnel vision and obsessiveness

. 
Although Ginger prides itself on its collaborative team-based approach toward mental health challenges, this is a frequent source of criticism. By rotating people through different coaches and therapists, the app makes it harder to build the trust required to delve deeper into mental health issues.
Finally, Ginger.io's surveillance of people's phone habits, as well as the fact that the app is best accessed through workplace benefits, raise many privacy concerns (although more on that later)
What Is BetterHelp?
BetterHelp is one of the biggest providers of online therapy in the world right now. For many, the app is shorthand for online therapy. 
BetterHelp is available as an application or a website. When users sign up, they fill out a detailed questionnaire and get algorithmically matched to a therapist, although they can request a new one at any time.
Users can text their therapists at any time, similar to the availability of coaches through Ginger.io. They can also schedule live text sessions, phone calls, and video calls.
BetterHelp covers a wide variety of psychological problems, including the standard anxiety and depression as well as eating disorders, addiction, and more.
For more specialized care, BetterHelp will sometimes redirect users to its sister sites that specialize in providing care to teens, LGBTQ people, or people who prefer a faith-based approach.
Besides live therapy, BetterHelp users can access resources to help them manage their problems, such as group therapy and a private, secure online journal.
Where BetterHelp Falls Short
BetterHelp is quite similar to traditional in-person therapy, except that it offers help through online methods of communication such as text and video calls. While this is great if therapy is exactly what you are looking for, it is not helpful if you are looking for something outside of the traditional therapy wheelhouse, such as symptom monitoring or comprehensive coaching.
BetterHelp therapists cannot provide medication prescriptions and are not equipped to handle acute mental health crises.
Ginger Therapy vs. BetterHelp: A Direct Comparison
So how does Ginger therapy stack up when compared to BetterHelp? Here is a direct comparison of some of the most important differences. 
| | | |
| --- | --- | --- |
| | Ginger.io | BetterHelp |
| Availability | App only, mostly available through workplaces, although you can sign up as an individual member | Both app and website are available through the workplace and for individual memberships |
| Frequency of Contact | 24/7 access to a coach only, scheduled sessions with therapists | 24/7 chat with a therapist plus scheduled calls and video chats |
| Price | Not transparent around pricing but about $129/month | $260/month, but financial aid is available |
| Who You Talk To | Personal behavioral health coaches, licensed psychologists, and licensed psychiatrists  | Licensed psychologists and therapists only |
| Method of Contact | Text, phone calls, and video | Text, phone calls, and video |
| Issues Covered | General mental health issues such as anxiety, grief, and depression, workplace challenges such as stress management and goal setting | Anxiety, depression, grief, OCD, bipolar disorder, sleep disorders, eating disorders, PTSD, LGBT issues, teen issues |
| Passive Monitoring? | Yes | No |
| Access to Medication  | Can prescribe psychotropic drugs such as anti-anxiety, antidepressants, and antipsychotics | No access to medication |
| International Access | Coaching services only | Counseling is available internationally, but all counselors work in US time zones. |
BetterHelp: Better for Treating Mental Health Challenges
When it comes to getting therapy to treat underlying mental health issues, the choice is clear: BetterHelp wins. 
There are fewer barriers to access therapy through BetterHelp, which is ironic because Ginger.io was founded to cover those gaps. When you sign up for BetterHelp, you can immediately start working with a therapist.
Ginger.io requires you to go through several hoops, such as working with a coach first and explaining why you want professional counseling. 
BetterHelp offers more comprehensive care, while Ginger.io's help seems to focus on making you a better employee. Although Ginger.io does cover general mental health support such as anxiety management, it is very much a workplace tool that employers offer as benefits.
Most of its coaching services focus on improving your performance at work, such as setting better goals, managing stress, and improving your sleep.
By contrast, BetterHelp covers general mental health problems and offers assistance with specific conditions such as OCD, PTSD, and bipolar disorder. You get a level of support far closer to the support you would expect from in-person therapists than with Ginger.
BetterHelp offers more comprehensive therapy that treats you as a person, not an employee, to be optimized. Finally, BetterHelp offers support to people who don't fit the traditional employee mold, including teenagers, through its sister sites.
However, if you're focused on self-optimization and self-knowledge, then Ginger.io may be better. Ginger.io's tracking capabilities exceed anything that BetterHelp has in place.
If you want to learn how to recognize signs of a downturn in your mood or how your behavior might relate to your mental health, then Ginger.io is the better choice.
The Limits of Both
Like most telehealth therapy apps, neither Ginger.io nor BetterHelp is equipped to help you with acute mental health crises. If you believe you will be a danger to yourself or others, contact a helpline or seek in-person treatment immediately.
While Ginger offers psychiatrists on call, they can only prescribe some drugs and cannot help you if you need restricted substances such as ADHD medication. BetterHelp does not offer psychiatric support at all.
Neither site can help with filling the requirements for mandatory therapy as required by a court or for other legal requirements such as getting a note of support for emotional support animals.
Privacy Concerns
One of the biggest concerns with all therapy applications is privacy. Although both BetterHelp and Ginger.io offer SSL encryption for their sites, privacy advocates are concerned that this is not enough.
Both applications collect massive amounts of data, and people are concerned about what the companies do with that patient data.
These apps raise concerns about privacy, but Ginger.io's privacy policies are under the most scrutiny. The whole point of the application is to collect data as you use your phone, so you can't opt out of cross-app tracking as you can with BetterHelp.
People are concerned about what Ginger does with that data, especially since the application reserves the right to text someone on your behalf at its discretion if it thinks that you are in trouble from your phone data.
Since Ginger is often offered as a workplace health benefit, people have raised concerns about how much it protects patient data from employers. Even though the stigma around mental health is decreasing, users might still fear discrimination if their employers somehow found out about the extent of their mental health struggles. 
Finally, since Ginger requires you to talk to many people as part of its collaborative care plan, you never know how many people have your private health information.
The Final Word on BetterHelp vs. Ginger Therapy
If you want comprehensive, supportive therapy, BetterHelp is the better choice. The service has vetted therapists who provide more comprehensive services, including support for some serious mental health conditions. Therapy is easier to access through BetterHelp, and your privacy is better protected.
However, Ginger.io is better in some situations, for example, if you are interested in preventative care or lifestyle coaching. Ginger also has access to some medication while BetterHelp does not.
Sources
Was this article helpful?