In a BBC article published in 2018, the rules and uniforms required for being a police officer are considered attractive to people with autism.
Many young girls and boys grow up wanting to be police officers, but can you be made not eligible because you have autism? Can an autistic person become a police officer? 
As a general rule, there is nothing to state that being autistic would make someone a less qualified officer than anyone else. To become an officer in the United States, you only need to meet the requirements of age, education, and training to work your way into the position.  
So what are these requirements to being a police officer in the United States? You should consider four things when starting a journey to become a police officer in the US.  
Safe Sleep Systems is supported by its audience. When you purchase through links on our site, we may earn an affiliate commission, at no additional cost to you. Learn more

Book mentioned in the video, Applicant to Police Cadet: How to navigate the Police hiring process

Earn a Highschool Diploma or a GED 
Some agencies do require some college coursework or a degree, but not all. However, all of them need a high school diploma, GED, or equivalent to be eligible to be a police officer. 
Getting a bachelor's degree is optional, but generally, those with at least a bachelor's degree will be able to progress further in their careers and earn higher salaries. It also helps in cases where the department does require some college work.  
Age, Citizenship and Background Check 
To be a police officer, you must be at least 21 years old, hold a U.S. citizenship, and pass a criminal background check. Additionally, you should pass a physical standards test, like doing a set amount of pushups or running a certain distance.
Attend a Police Training Academy
You may need to pass an entrance examination or a physical test for fitness to get into a police academy. These academies have coursework, practical first aid training, training on firearms usage, and emergency response training.  
What this essentially means for someone with autism who wants to be a police officer is that so long as you can clear these requirements, you can become a police officer.
Becoming a police officer, for anyone, is not easy. Some departments require a specific technological skill, and there is a code of conduct that should lead with an objective, upstanding perspective on all of your job duties.  
The first step to becoming a police officer is knowing that you meet all of the requirements, and then after that, it is working through blood, sweat, and tears to make your way into law enforcement.
It is a job that is demanding of patience, respect, and, in many cases, some level of communication and understanding. There is nothing in the requirements saying that being autistic makes an individual unable to become a police officer.  
Challenges in the Workplace 
Being an autistic individual is not an automatic fail for the entrance exam or police department requirements, but some unique problems may not arise with someone who is not autistic.
Most of the job is rule-bound and interpreting the law, which isn't a particularly tricky thing to manage. In general, the challenges are not with the job itself and instead with the people.
For a long time, the image of a police officer has looked a certain way, and change is slow to come in terms of diversity in the workplace.
As such, there is a particular view and attitude through which many police officers and managers see people who do not fit their preconceived image of an officer. 
John Nelson

, of the National Police Autism Association in the U.K., explains that the most common challenge is in how other officers treat them.
To the public, they may not notice or mind whether or not the officer has autism, but the other officers often do know. As such, the hardest part of the job is not the job itself; instead, it is how their colleagues treat them.  
Most people assume that diversity in the police force means only minorities, people of color, or women, but that is not the only kind of diversity.
However, this mindset often leads to a lack of understanding on the part of colleagues and management.
This lack of knowledge can be seen in how law enforcement often mishandles situations in which autistic citizens are involved.
However, it's without diversity that systems get stuck in archaic structures. The more diverse any workplace is, the more likely it is to handle all kinds of different situations both in the field and within their work environment. 
Another challenge for some individuals with autism on the force is that there is a grey area that can sometimes go unseen.
Take Sergeant O'Loughlin, who noted that it was difficult for him to let go when people have minor traffic infringements, for example.
Not all failed signals and rolling stops at a stop sign should or need to be pulled over; it would be a waste of everyone's time for such a minor infringement. The same goes for someone going only a couple of miles over the speed limit.  
There is an almost unspoken level of a grey area when it comes to such minor infringements, allowing police officers to let individuals off with a warning.
This struggle isn't something every autistic person on the force will face, but for many, there is a learning curve to understanding this part of their job. 
Autism and the Police 👮
Autism and the Police

Buchan (Author)
English (Publication Language)
208 Pages - 02/21/2020 (Publication Date) - Jessica Kingsley Publishers (Publisher)
Last update on 2022-06-24 / Affiliate links / Images from Amazon Product Advertising API
There is a lot of misunderstanding and a lack of training for police officers in how to handle people on the autism spectrum both in the workplace and in the field.
Ex-police officer and author of the book "Autism and the Police," Andy Buchan, was able to serve a successful 30 years on the force, and write a book for law enforcement to learn how to handle police interactions in which an autistic person needs their help or is working with them.
There are stories of many successful police officers who happen to be on the autistic spectrum, like the ones already spoken about above and another officer named Ben

.
In his interview, he spoke about how his biggest hindrance was the same as spoken before, deciding which cases to investigate. He finds it hard to decide between shoplifting, pickpocketing, a domestic assault, and burglary.
Though he does come to the conclusion of which to investigate, he feels uneasy about his decision afterward. 
A common thread between all of these stories is that these officers refused to be disillusioned. They believed that they could become a police officer despite their neuro-divergence, and they succeeded.
People within the autism community should be given the same chance to become police force members. Their addition will help create an incredibly healthy diversity in the workplace.
Not everyone can become a cop, it is hard work and challenging, and you have to be realistic with yourself. However, like these examples, it's important not to give up.
If being a police officer is something that you believe you can succeed, then there is no reason that you can't serve and protect your communities successfully.  
Conclusion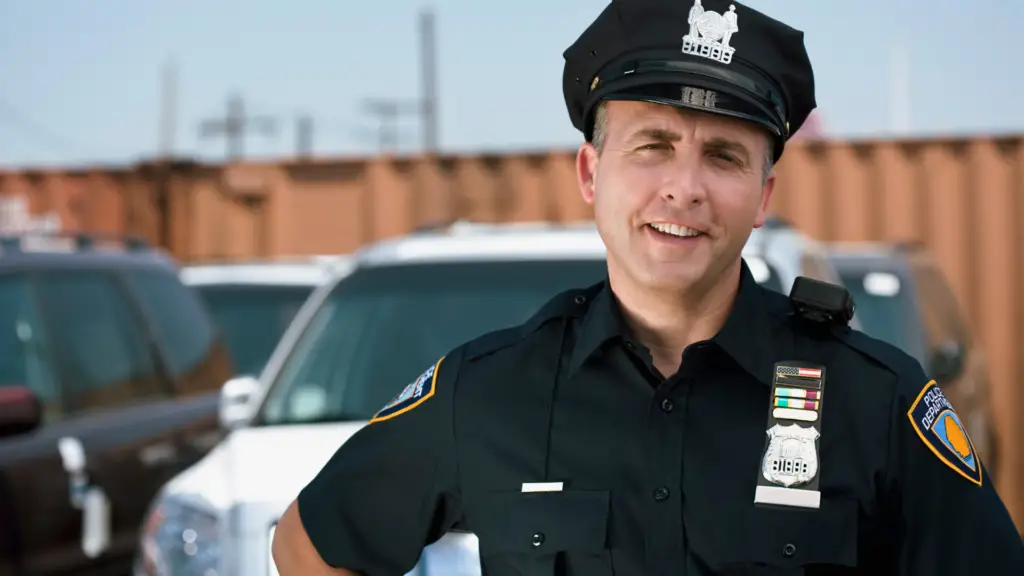 Like anyone else, there are physical and educational requirements that everyone needs to complete to become a police officer. What this means is, there is no reason that someone on the autism spectrum can't apply and work to become a police officer.  
Diversity in a job like policing is incredibly important in ensuring that every situation is handled correctly. The different perspectives offered by someone who has the life experience of an autistic person can be incredibly educational to the other members of the force.
There may be some different struggles that someone who has autism may face that someone without won't, but this isn't something that should discourage anyone from fulfilling their career goals.  
Can An Autistic Person Become A Therapist? 👩‍⚕️
References
Was this article helpful?