This article is evidence-based, verified by Ashleigh Willis, a Neuroscience Ph.D. candidate.

Horse Therapy for Children with Autism 
As any parent or carer of a child with autism will know, the disorder is very complex. Modern therapies, like horse therapy, aim to provide tailored programs for each child.  
What is 'horse-therapy'?  
A therapy that has become more prominent in recent years is 'horse' or 'equine' or even 'equestrian therapy'. This style of therapy leverages the natural bond between children and animals

. In fact, children often see animals as peers and feel connected with them.
Clinicians aim to use this beneficial bond to help with a variety of autism symptoms. Horse therapy is a 'multimodal' form of intervention. This means the treatment can include many different types of activities. One thing they all have in common is that they are all based around working with a horse.   
Modern practitioners currently offer many types of horse-based interventions. The two most popular are Equine-Assisted Activities (EAA) and Equine-Assisted Therapies (EAT) [2].  
Equine Assisted Activities: Therapeutic horseback riding 
Therapeutic horseback riding is an intervention carried out by a practitioner team, including a certified therapeutic riding instructor, at least two volunteers (and, of course, a horse!). During this therapy, the child with autism is taught how to ride and care for a horse.
This process focusses on skills like attention, self-control and sensory management. There is also a focus on verbal and non- verbal communication. Children with autism struggle with these skills and researchers think that practicing them through horse therapy can help.  
Doctors suggest that regular horseback riding sessions can produce a lot of benefits for people with autism. These benefits include improvements in regulating behavior, sociability, irritability, lethargy, and hyperactive behavior. The sessions also help to enhance communication and motor skills.  
Recent scientific studies seem to support these claims. Research has shown that therapeutic riding improves social ability in children and teenagers with autism

. In particular, the therapy can help participants to better relate and understand people they interact with.
Most studies agree that these benefits exist. However, it's important to note that some studies haven't found the same results in socialization and communication. 
These differing results could be due to using different methods of therapeutic approach. For example, horseback riding programs often vary in length; programs can range from 2.5 hours to 6 months.
The frequency of sessions can also vary; therapy sessions can be daily, weekly or monthly. These small differences can cause a lot of variability in the way a child responds to the therapy and might cause different results. Designing a specific program for each individual seems to provide the best results.  The guidelines for 'best practice' of horseback riding therapy include on-going assessment.
This means the therapist assesses the needs and improvements of the patient during each session.  After this, they re-evaluate and update the therapy program. This helps to ensure each session is meeting the current needs of the child. Researchers also suggest that regular, daily practice provides the best results. Often therapists will suggest scheduling programs during summer-breaks or at care-facilities.  
Researchers are still investigating how therapeutic horseback riding works and its beneficial effects. At the moment, many studies include only a small number of patients from very specific age-groups or backgrounds. This makes it hard to draw detailed conclusions about who this type of therapy is best suited for.
Despite this, research reports look bright for this form of therapy. Horseback riding therapy is easy to put in place and can provide lots of benefits for those with autism. All things considered, the road ahead for this kind of intervention looks promising!  
Equine-Assisted Therapies: Hippotherapy 
Hippotherapy is a one-to-one intervention between a single therapist and a patient. The practitioner can be an occupational, speech and language or physiotherapist. During this type of therapy, the patient sits on a horse by the practitioner.
After this, the therapist guides the horses' movement. The therapist analyses the responses of the rider while the horse moves. With on-going assessment, the therapist adjusts the treatment.  
Hippotherapy seems to have positive effects on motor impairment in children with autism. Research suggests this is because of the challenge of the unpredictable movements of the horse. These unpredictable movements encourage a range of different movements and postural adjustments. In essence, the usual horse-riding scenario is reversed.
The horse controls the movement of the rider rather than the rider controlling the horse. This type of therapy enables a wider range of movement than we would usually see those with autism. The rider also has to make adaptations to their posture as they go along, which helps to foster mental flexibility and resilience.  
Many studies have shown improved posture and movement in children with autism as a result of hippotherapy [8]. Additionally, some of these studies have revealed some quite unexpected results! A 2013 study looked at children with autism aged 5-12 who took part in weekly 45-minute sessions of hippotherapy. They found a significant improvement in 'adaptive behaviors' (such as copying and communication).
They also discovered increased attention to self-care and social interaction after hippotherapy [9]. Interviews with parents and children before and after hippotherapy have been positive too! Researchers show that both report a better ability to take on and handle new challenges, along with higher resilience to change [10]. These skills are key in coping with daily life and improving them can be enriching for people with autism.  
Further research into horse therapy is still required. The biggest limitation is that most studies only include a small number of participants. This means they are 'underpowered'. This lack of power makes definite conclusions difficult to draw. There are also many different clinical populations of autism spectrum disorder.
The effects of horse-therapy on different populations haven't been studied yet. Due to this, we aren't yet able to define a precise population who would benefit the most. Never-the-less, it is clear that horse therapies are positive for most children and adolescents with autism.  
The fine detail isn't known yet, but there are obvious ways in which horse therapy can benefit a variety of autism-related symptoms. Importantly, there are no reports of negative effects of horse therapy on autism spectrum disorder symptoms.
Considering this, clinicians think that horse therapy is a good method of helping children with autism. Particularly, in cases where traditional therapies have not been successful

. Adding horse-therapy to a pre-existing treatment routine could improve well-being for many patients.
The best advice seems to suggest a more contemporary approach to therapeutic regimes. Including tailoring treatment to the individual and evolving plans alongside their ever-changing needs.   
Benefits Of Music Therapy For Autism 🎵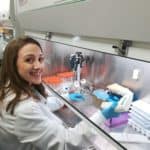 Ashleigh Willis is a final year Ph.D. candidate in Neuroscience at the University of Glasgow. Her research investigates the genetic and environmental contributors to mental health and neurodevelopmental conditions. Ashleigh has built research collaborations with McGill University and received specialist training at the Centre for Neuroscience at Montreal General Hospital, McGill University Health Centre. She is also an active member of the Society for Neuroscience. Ashleigh holds an Honours in Psychology, an MRes in Neuroscience and is fascinated by the neuronal circuits which make us who we are. Ashleigh is passionate about providing a deeper understanding of mental health conditions and sharing an accurate and de-stigmatizing message through talks for organizations such as TEDx, Pint of Science and the Scottish Funding Council. 
You can follow Ashleigh on her Youtube channel here

References 
 [1] A. Stergiou, M. Tzoufi, E. Ntzani, D. Varvarousis, A. Beris, A. Ploumis.Therapeutic effects of horseback riding interventions: a systematic review and meta-analysis. 2017. Am J Phys Med Rehabil  
[2] Professional Association of Therapeutic Horsemanship International. (2016). EAAT Definitions. Retrieved January 30, 2016, from http://www.pathintl.org/resources-education/faculty/27-resources/general/193-eaat-definitions. 
[3] Anderson S, Meints K. Brief Report: The Effects of Equine-Assisted Activities on the Social Functioning in Children and Adolescents with Autism Spectrum Disorder. J Autism Dev Disord. 2016;46(10):3344–3352. doi:10.1007/s10803-016-2869-3 
[4] Hawkins BL, Ryan JB, Cory LA, Donaldson MC. Effects of equine-assisted therapy on gross motor skills of two children with autism spectrum disorder: A single study research study. Therapeutic Recreation Journal. 2014;48(2):135–149. 
[5] Gabriels RL, Pan Z, Dechant B, Agnew JA, Brim N, Mesibov G. Randomized Controlled Trial of Therapeutic Horseback Riding in Children and Adolescents With Autism Spectrum Disorder. J Am Acad Child Adolesc Psychiatry. 2015 Jul; 54(7):541-9. 
[6] Jenkins S, Reed FD. An experimental analysis of the effects of therapeutic horseback riding on the behaviour of children with autism. Research in Autism Spectrum Disorders. 2013;7(6):721–740. doi: 10.1016/j.rasd.2013.02.008. 
[7] Zonneveld RT, Oosting SJ, Kijlstra A. Care farms as a short-break service for children with Autism Spectrum Disorders. NJAS Wageningen Journal of Life Sciences. 2012;59(1):35–40. doi: 10.1016/j.njas.2012.01.001. 
[8] H Steiner and Zs Kertesz. Effects of therapeutic horse riding on gait cycle parameters and some aspects of behavior of children with autism Acta Physiologica Hungarica 2015 102:3, 324-335 
[9] Heather F. Ajzenman, John W. Standeven, Tim L. Shurtleff; Effect of Hippotherapy on Motor Control, Adaptive Behaviors, and Participation in Children With Autism Spectrum Disorder: A Pilot Study. Am J Occup Ther 2013;67(6):653–663. https://doi.org/10.5014/ajot.2013.008383 
[10] Heffernan, K. (2017), "The effect of an equine assisted therapy (EAT) programme on children's occupational performance – a pilot study", Irish Journal of Occupational Therapy, Vol. 45 No. 1, pp. 28-39. https://doi.org/10.1108/IJOT-02-2017-0005  
[11] Srinivasan SM, Cavagnino DT, Bhat AN. Effects of Equine Therapy on Individuals with Autism Spectrum Disorder: A Systematic Review. Rev J Autism Dev Disord. 2018;5(2):156–175. doi:10.1007/s40489-018-0130-z 
Was this article helpful?