This article is evidence-based, verified by Ashleigh Willis, a Neuroscience Ph.D. candidate.
If you are in a crisis or any other person may be in danger – don't use this site. These resources can provide you with immediate help.
In this technologically hyper-connected age, many of us find ourselves spending a great deal of our time online or with a smart-phone at our fingertips. Nowhere is this trend more apparent than in teenagers. However, there is another, more concerning trend, coupled with this global rise in online connectivity and social media usage; mental health issues in teenagers and young adults are spiking sharply. 
The World Health Organisation estimates that 10-20% of adolescents worldwide experience mental health conditions, but a large proportion of those remain untreated.  
Adolescence and young adulthood is a time of evolution and change and, of course, the well-known angst which accompanies it! Some mood swings and temporary changes to personality are entirely normal during this period of life.
In fact, they should be expected, given the heroic developmental processes and hormonal fluctuations the brain undergoes during this period! However, increasingly, it seems that normal experiences grow into mental health conditions that become debilitating during adolescence and, often, linger on into early adulthood.  
What are the main mental health conditions facing teenagers and young adults?  
Depression 
Depression is one of the most common psychiatric disorders worldwide, and some figures suggest that adolescents and young adults may be disproportionately affected by the disorder. Recent studies have estimated around 20% of adolescents will have experienced at least one episode of depression by the time they are 18 years old.
Unfortunately, while depression is classified as one of the 'most treatable' psychiatric disorders, sufferers (both adolescent and adult) will often find the condition to be persistent and recurring.  
Despite depression being referred to as 'highly treatable', it's important that we remember that this condition can be incredibly dangerous; ultimately, the worst outcome of an episode of depression is suicide. 
Suicide and self-harm rates at present are also particularly alarming in teenagers; in 2016 it is estimated that around 62,000 teenagers died as a result of suicide or self-harm. In fact, suicide is the third leading cause of death in people aged between 15-19 years.  
Neuroscientists haven't quite unpicked the causes of depression yet. However, a wealth of evidence indicates that while there is a genetic contribution to the disorder, environmental factors (such as stress, diet, and sleeping habits) can have a major and significant impact on the likelihood of developing the disorder.
With this in mind, therapies have been geared toward enhancing the environment of the patient, increasing 'resilience factors' such as developing strong support mechanisms across family and friend groups and providing interpersonal based therapy sessions that are highly adapted to the needs of the individual.
While pharmacological interventions are sometimes utilized in combination with these methods, gone are the days of simply prescribing pills and sending patients away; fortunately, the prescription pads of doctors and therapists have become much more diverse.     
Anxiety 
A common trend appears to be that the mental health issues faced by adolescents and young adults are common across the entire population but, for some reason, appear to be exasperated in this age group. This is also true for anxiety disorders.
Rates of diagnoses of anxiety-related disorders in adolescents and young adults have risen dramatically in recent decades. Often, anxiety disorders are 'co-morbid' with depression, meaning that both are experienced together and may come as a pair.   
Anxiety can be particularly impactful on the lives of young adults. Most obviously, anxiety disorders can affect the school attendance of the sufferer, prevent them from keeping up with hobbies and from interacting with friends.
Consequently, this often leads to further mental well-being issues. However, there are some unseen, and quite sinister, biological consequences of anxiety. Anxiety produces high levels of stress hormones and depletes the immune system. As is well known, our brains aren't fully developed until around the age of 25.
These elevated stress hormones can wreak havoc on the developing brain and mean that many critical processes simply can't be completed due to stress hormones either interfering with or shutting down, the processes completely. Needless-to-say, disruption to developmental processes in early life will manifest as further cognitive or mental health problems in later life.  
Traditional treatments for anxiety (and, often depression) are primarily based around principles of 'cognitive behavioral therapy' (CBT). CBT is a talking based therapy that encompasses the idea that your thoughts, feelings, physical sensations, and actions are interconnected – and that negative thoughts and feelings can send you into a vicious cycle.
This type of therapy is conducted one-to-one with a therapist, where the patient talks through their thought patterns and tries to break them down into small parts.
CBT then helps by asking the patient to actively observe and change negative thought patterns as they arise. The therapy fosters a 'de-catastrophizing' philosophy, which aids in helping those with anxiety reign their thought patterns in and release their minds from the spiral of stress and worry. 
The matter of sleep… 
Teenagers are night-owls, and every parent who has to wake them up in the morning for school is all too aware of that fact! Some of these 'nocturnal' behaviors are actually natural.
As we progress into adolescence our 'circadian rhythms', or sleep-wake cycle, actually shift back by a few hours from our childhood rhythm; meaning that while teenagers may have previously felt sleepy at around 9 or 10 pm, puberty has brought with it a delay in sleepiness until around 1 or 2 am.
This has been supported by biological evidence which shows the hormone 'melatonin', one of the most important hormones which induce a feeling of sleepiness, is onset much later in teenagers compared with children and adults.
Some evolutionary scientists have speculated that this may have been a mechanism evolved to allow a few 'solo' hours, while children and adults sleep, in order to gain 'detachment' from parents and self-discovery which is all-important as we transition into adulthood. 
This 'shift-back' in and of itself is not a disorder. However, the requirement of getting up for school or work much earlier than nature intends can have a negative impact on the mental health of young adults.
Poor sleep has been linked with heightened levels of anxiety and depression, which may be why so many sleep-quality improving interventions can yield such positive results for patients. 
These interventions can range from the implementation of a general 'wellness' routine, keeping a sleep diary, and, sometimes, CBT can even be used if falling asleep is difficult due to issues related to stress or emotion.  
Are online interventions the missing link?  
Despite the incredible efforts of researchers around the world, we haven't yet been able to curb the alarming rates of mental health problems in young people. Traditional methods of therapy are variable in their effectiveness.
Recent research has turned to the internet and 'smart' methods of therapy.
In recent years, there has been an upsurge in online-based therapies, which are often particularly marketed toward young adults. Essentially, online therapies can range from anything from a therapist communicating with a patient through an online-based interface to an app that helps you track emotions or keep a journal. 
In some cases, the patient may be able to text, email or instant message with a therapist and even undergo some exercises which resemble traditional CBT.
Other online or app-based interventions have also become increasingly popular, often these interventions are more about 'self-monitoring' (e.g. keeping a digital diary of sleep patterns, feelings or emotions), rather than discussing things with a person on the other end of the interface.  
One of the clear benefits of the internet or app-based therapeutic interventions in teenagers and young adults in increased engagement with the process.
In most cases, young people tend to stick with the therapeutic process for longer than traditional therapies and appear to be more actively engaged.  
Particularly encouraging evidence has also been found regarding internet-based therapies with regard to populations of young adult and teenage depression patients, who have previously been unresponsive to traditional treatment methods.
It's clear that internet therapies have the advantage of reaching and impacting people who have previously been disengaged or found no improvement with traditional treatment plans.  
Importantly, the seeming benefits of engagement must be taken with a word of caution which is indicated by a recent systematic review. This study looked at the growing number of mobile-app mental health interventions.
These types of apps are growing rapidly in number, and their usage appears to be increasing in tandem. However, researchers who reviewed an array of these different apps and internet-based interventions (targeting conditions including depression, anxiety disorder, and insomnia) failed to demonstrate any significant effect of these apps on intended mental health outcomes.
The apps were highly used, but this didn't necessarily translate into effective mental health outcomes. Notably, the authors highlight the critical lack of research into the safety and effectiveness of these apps and provoke a 'call to action' for more research to be conducted.   
Undeniably, we've seen a correlative rise in both internet usage, smart-phone connectivity and mental health conditions in young adults. In fact, numerous researchers have reported data that suggests this relationship between smart-phone connectivity and poor mental health is causative.
The specific spike we see in depression, suicide and anxiety over the past 10 years, since the onset of this hyper-connectivity, is very specific to adolescent age-groups.
This same effect doesn't seem to be replicated in older age groups, suggesting that young people are particularly vulnerable to the effects of excessive internet usage.
So, whether we be carers, sufferers, practitioners or researchers, we must consider where and how this form of therapy can fit in a holistic recovery routine under the care of a qualified professional.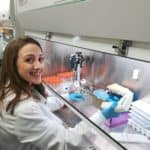 Ashleigh Willis is a final year Ph.D. candidate in Neuroscience at the University of Glasgow. Her research investigates the genetic and environmental contributors to mental health and neurodevelopmental conditions. Ashleigh has built research collaborations with McGill University and received specialist training at the Centre for Neuroscience at Montreal General Hospital, McGill University Health Centre. She is also an active member of the Society for Neuroscience. Ashleigh holds an Honours in Psychology, an MRes in Neuroscience and is fascinated by the neuronal circuits which make us who we are. Ashleigh is passionate about providing a deeper understanding of mental health conditions and sharing an accurate and de-stigmatizing message through talks for organizations such as TEDx, Pint of Science and the Scottish Funding Council. 
You can follow Ashleigh on her Youtube channel here
References
Avenevoli S, Merikangas KR. Implications of high-risk family studies for prevention of depression. Am J Prev Med. 2006;31:s126–s135. 
Barrera M. Directions for expanding the prevention of depression in children and adolescents. Am J Prev Med. 2006;31:S182–S183 
Beesdo K, Knappe S, Pine DS. Anxiety and anxiety disorders in children and adolescents: developmental issues and implications for DSM-V. Psychiatr Clin North Am. 2009;32(3):483–524. doi:10.1016/j.psc.2009.06.002 
Gladstone TR, Beardslee WR, O'Connor EE. The prevention of adolescent depression. Psychiatr Clin North Am. 2011;34(1):35–52. doi:10.1016/j.psc.2010.11.015 
Grist R, Porter J, Stallard P. Mental Health Mobile Apps for Preadolescents and Adolescents: A Systematic Review. J Med Internet Res. 2017;19(5):e176. Published 2017 May 25. doi:10.2196/jmir.7332 
Goreis A, Felnhofer A, Kafka JX, Probst T, Kothgassner OD. Efficacy of Self-Management Smartphone-Based Apps for Post-traumatic Stress Disorder Symptoms: A Systematic Review and Meta-Analysis. Front Neurosci. 2020;14:3. Published 2020 Jan 24. doi:10.3389/fnins.2020.00003 
Hammen C, Rudolph K, Weisz J, et al. The context of depression in clinic-referred youth: neglected areas in treatment. J Am Acad Child Adolesc Psychiatry. 1999;38:64–71.  
Kessler RC, Angermeyer M, Anthony JC, et al. Lifetime prevalence and age-of-onset distributions of mental disorders in the World Health Organization's World Mental Health Survey Initiative. World Psychiatry 2007; 6: 168–76. 
Pitchforth, J., Fahy, K., Ford, T., Wolpert, M., Viner, R., & Hargreaves, D. (2019). Mental health and well-being trends among children and young people in the UK, 1995–2014: Analysis of repeated cross-sectional national health surveys. Psychological Medicine, 49(8), 1275-1285. doi:10.1017/S0033291718001757 
Twenge J, Cooper A, Joiner T, Duffy M, Binau S. Age, period, and cohort trends in mood disorder indicators and suicide-related outcomes in a nationally representative dataset, 2005-2017 [published online March 14, 2019]. J Abnorm Psychol. doi: 10.1037/abn0000410. 
Was this article helpful?