Fact-checked by Vincenza De Falco, Autism & Learning Disabilities Specialist Coach
A fitness routine should be fun and stress-free. Unfortunately, the gym class is not always fun for children who experience sensory overload. Since a gym is a busy and vibrant place with loads of movement, it can easily get overwhelming for children, as well as adults, who struggle with sensory overload to concentrate on physical activity. 
Not sure how to prevent sensory overload in the gym? Let's find out!  
What Does Sensory Overload Feel Like?  
Mark Fleming is an autistic entrepreneur and the owner of Puzzle Piece Fitness LLC, a gym offering training to autistic individuals. Here's what he shared about his experience in regular gyms:  
My eyes would constantly be darting around the typical gym, as there was so much movement going on. Then the sound of every machine and light topping that really put me in a hyper-vigilant state. The input of my senses was never overbearing but just enough for my brain to put everything in high alert.

https://www.equally-fit.com/owner-head-trainer.html
Reaction to the sensory inputs can be way more extreme than this. People experiencing sensory overload may find it hard to focus on the exercise. The noise and lighting may make them irritable or even confused. This is especially true for young children who may not understand sensory overload. The experience can put them in panic mode and even result in a massive meltdown. 
This makes it essential to take appropriate measures to prevent sensory overload in the gym so that everyone, including children with sensory overload issues, can enjoy physical exercise and adopt a healthy lifestyle. 
Best Preventative Measures: How to Prevent Sensory Overload in Gym Class
Fortunately, there are certain steps that you can take to prevent sensory overload in the gym. Follow these tips to help children with sensory processing issues feel more successful in the gym class. 
Use Noise-Canceling Headphones
Auditory stimuli can lead children to experience sensory overload. Since gyms are generally loud and noisy, it is advisable for children with sensory overload issues to wear noise-canceling headphones. This will bring down the noise, helping them feel more relaxed and at ease in the gym. 
Manage Tactile Defensiveness 
Tactile defensiveness refers to sensitivity to touch. It can lead to sensory overload, which is one reason why a lot of children with sensory processing issues are extremely sensitive about their clothing. If a child experiences tactile defensiveness, never force them to wear the team jersey if they are not comfortable with it. 
Break Down New Routines into Easier Activities 
Change can trigger sensory overload. This is why instructors should avoid revamping the workout. The best approach is to break down new routines into smaller activities so that children with sensory overload are not overwhelmed by the change. New routines should be introduced gradually, with a focus on teaching one skill at a time. 
Establish Personal Space Boundaries 
Another way to deal with tactile defensiveness is to establish personal space boundaries in the gym. Educate all children about personal space and help them understand the importance of respecting personal space boundaries. It is a good idea to make use of social stories to hold the interest of children and get your point across to them. 
Provide a Safe Space 
If you are wondering how to prevent sensory overload in the gym, providing a safe space may be the solution you are looking for. It is essential to let the child know that they have an out. While it is okay to encourage a child to try out an activity in the gym, they should never be forced to participate. It is advisable to designate a calm and quiet space where the child can retreat in case they feel overwhelmed.  
Frequent Breaks 
Sometimes, a small break is all a child needs to avoid sensory overload. Therefore, it is important to incorporate frequent breaks in the routine. However, make sure that the child knows when to expect the break and what to do in the free time. They can walk around for a few minutes, take a trip to the restroom, or simply rest for a while before continuing.  
Work in Smaller Groups 
Fewer people in a group means less movement and less sound. This is why working in small groups is generally more comfortable for children who experience sensory overload. It is also a good way to manage tactile defensiveness, bring down the anxiety level, and help the child focus on the game or exercise. 
Try Proprioceptive Activities
Proprioceptive activities can help children process sensory information through body awareness. They can also help the child enter a more alert state, ready to learn new things. These exercises also allow children with sensory processing issues to calm and self-regulate.
While monkey bars and trampolines are some of the best options for indulging in proprioceptive activities, there are many other exercises that children can practice in the gym as well as their classrooms.  
Aromatherapy 
Children who struggle with sensory overload may be sensitive to various smells around them. Unfortunately, a gym is not always the best-smelling area. So, if a child is prone to olfactory sensitivity and feels overwhelmed by any smell, aromatherapy can be a good option. Older children can use essential oils of their choice to mask any smells. 
Consider Trying the Wilbarger Brushing Protocol Technique 
More commonly known as DPPT, Wilbarger Brushing Protocol is a technique that aims to handle tactile defensiveness and other sensory processing challenges. Take the time to try the Wilbarger Brushing Protocol to make the gym enjoyable for children who experience sensory overload.   
There is not much documented research on the Wilbarger Protocol. However, many parents of children with autism have reported seeing decreases in sensory defensiveness and anxiety as a result of using this technique.

https://www.nationalautismresources.com/the-wilbarger-protocol-brushing-therapy-for-sensory-integration/
It is important to encourage a healthy lifestyle in children from a young age, and PE and gym class is an ideal way to help them start on a path of fitness. Now that you know how to prevent sensory overload in the gym, don't let sensory processing issues keep children having fun in the gym!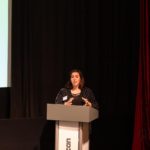 Vincenza De Falco is an Autism & Learning Disabilities (LD) specialist coach with extensive experience working with young people with various needs in different settings. Her passion for Autism & LD started as a volunteer at a multi-functional provision for Autism whilst studying for a BA in Theatre, Education and Deaf Studies. 
Throughout her career, Vincenza continues her professional development alongside working within numerous support and leadership roles in education and charities. Having gained Level 3 in Speech and Language Support, HLTA qualification, Level 3 Award in Education and Training and Level 3 CMI Coaching qualification, Vincenza has furthered her expertise within Autism & LD.
Entering the Third Sector as a Project Manager developing and delivering a specialist NEET program, she subsequently joined ThinkForward's newest venture DFN MoveForward, supporting young people with Autism & LD to successfully transition from education into paid employment. Through 1:1 coaching, family support and training employers to become disability confident, Vincenza builds bespoke programs for young people with the end goal of work readiness and employment. Through Vincenza's passion for creating systemic change in Disability and employment, she forms part of the successful partnership running the DFN Project Search Supported Internship at Moorfields Eye Hospital.
References  
Was this article helpful?