Having been to dozens of different sensory rooms over the years as well as creating my own, I've built a good understanding of how to make the best room – and it can be effortless to do, even if you're on a budget! In fact, having a budget is a great way to plan and prepare what you'll need before ordering too much and losing control of the theme and effectiveness of the room. 
Having structure and a plan in place before starting to build a sensory room will mean less anxiety, information overload, and "analysis paralysis" throughout the process. After all, this should be fun and exciting for you and your loved ones! I want to help you with your sensory room building journey, and this article will help you understand:
Quick and easy ideas to build a sensory room
Creating a sensory room on a budget of $100-$300
What are the key do's and don't for a sensory room?
At Safe Sleep Systems, we're supported by our audience, and we thank you. When you purchase through links on our site, we may earn an affiliate commission, at no additional cost to you. Learn more.
What Is A Sensory Room?
A sensory room is a specially designed area that provides therapeutic benefits through a variety of sensory stimuli. The sensory equipment can have a calming and relaxing effect on the individual and can help prepare them for the rest of their day. The sensory stimuli can be a multitude of different equipment, such as lights, sounds, visuals, soft toys, and even smells.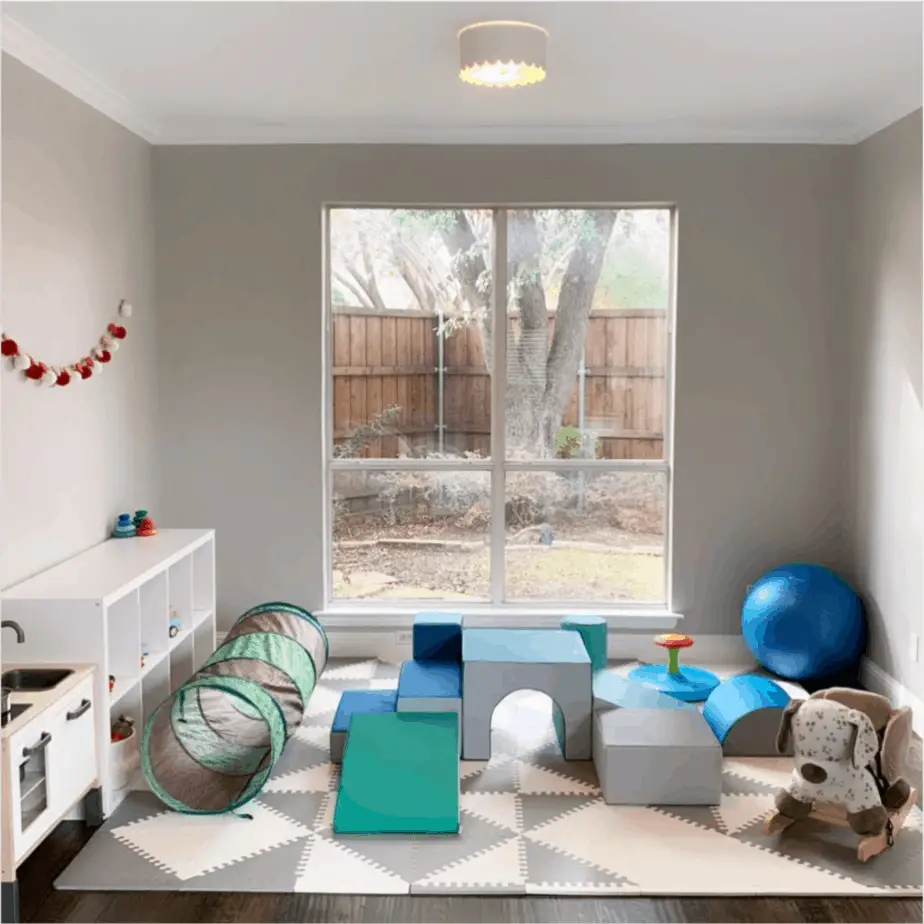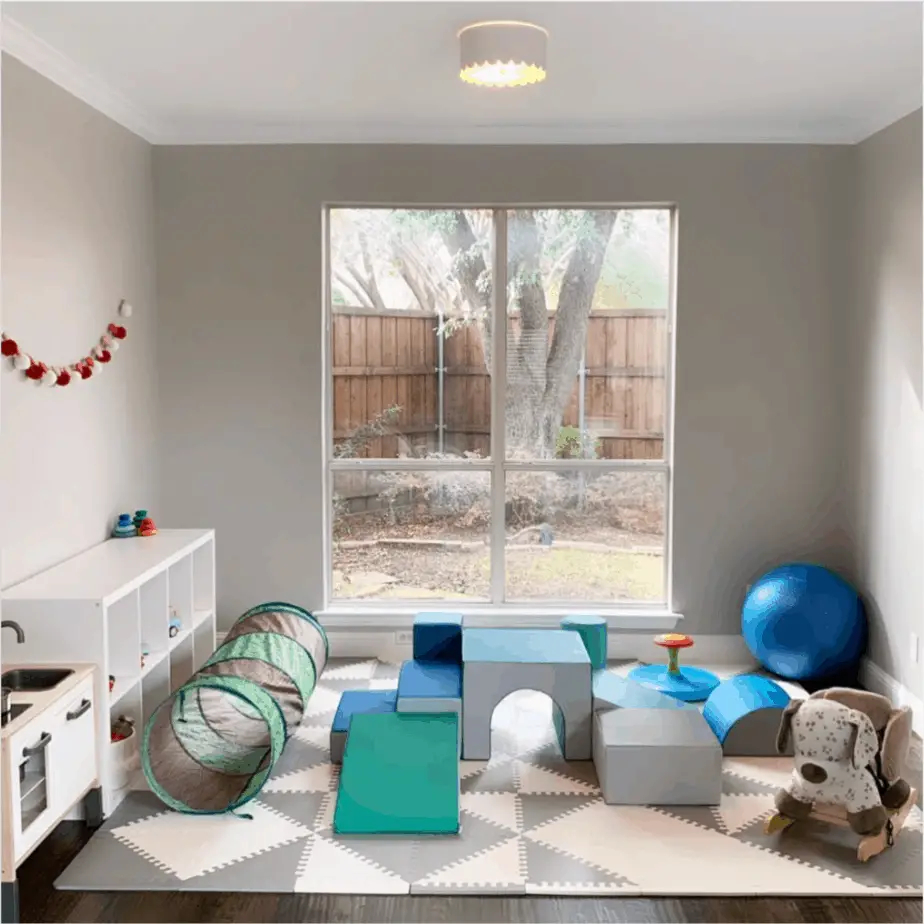 Like snowflakes, no two sensory rooms are alike. You'll no doubt have explored social media platforms and seen a plethora of neon-lit, purple and pink rooms with lava lamps and LED lights – while that can be a great option, it's not the only option. Your sensory room should be unique and personalized to you and your child or loved one. You can go for simplicity, minimalism, order, and lighter tones and still come away with a sensory room that ticks all of your boxes.
The Benefits of a Sensory Room
There are well-known benefits to a sensory room that we'll explore, but one of the most important and less discussed benefits is how a sensory room gives you, the parent, insight into your child's mind.
How to get insight into your child's mind
While your child is at play, exploring, and interacting with their new stimulus filled environment, you are also exploring. You can understand what your child likes, dislikes, what sets them off, and what calms them. This essential and underlooked aspect of sensory playtime is a chance for the parent or carer to understand the intricacies of how their mind works, their behaviors, and patterns.
How to build skills through repetition for autism
A sensory area, corner, or room provides a safe space to learn, interact, and adapt to new environments and stimuli. A great benefit here is your child can boost their confidence and gradually build up a multitude of skills that will be applied in a real-world environment.
By allowing your child to perform extra repetitions of how something feels, smells, and moves, they are learning and increasing their understanding, which in turn means they will feel less shock and exposure when dealing with more difficult stimuli in more stressful situations.
Improving fine and gross motor skills in children with autism
This isn't anything to do with cars! Fine motors skills are your child's ability to use their hand-eye coordination to perform more difficult functions such as fasting a button on their jacket, tying their shoelaces, and gripping small items.
Gross motor skills are more compound movements such as running, climbing, throwing, and catching. Having the right equipment in your sensory room or home to accommodate both fine and gross motor skill development is crucial. We will discuss this in more detail with examples throughout this article.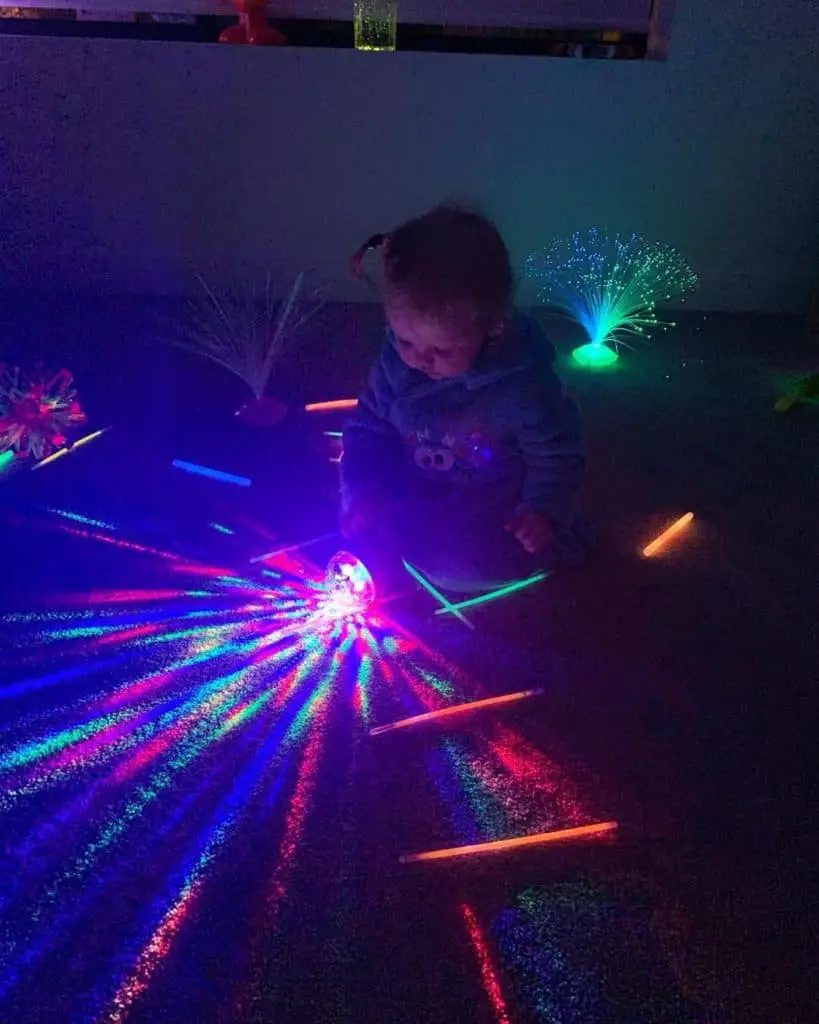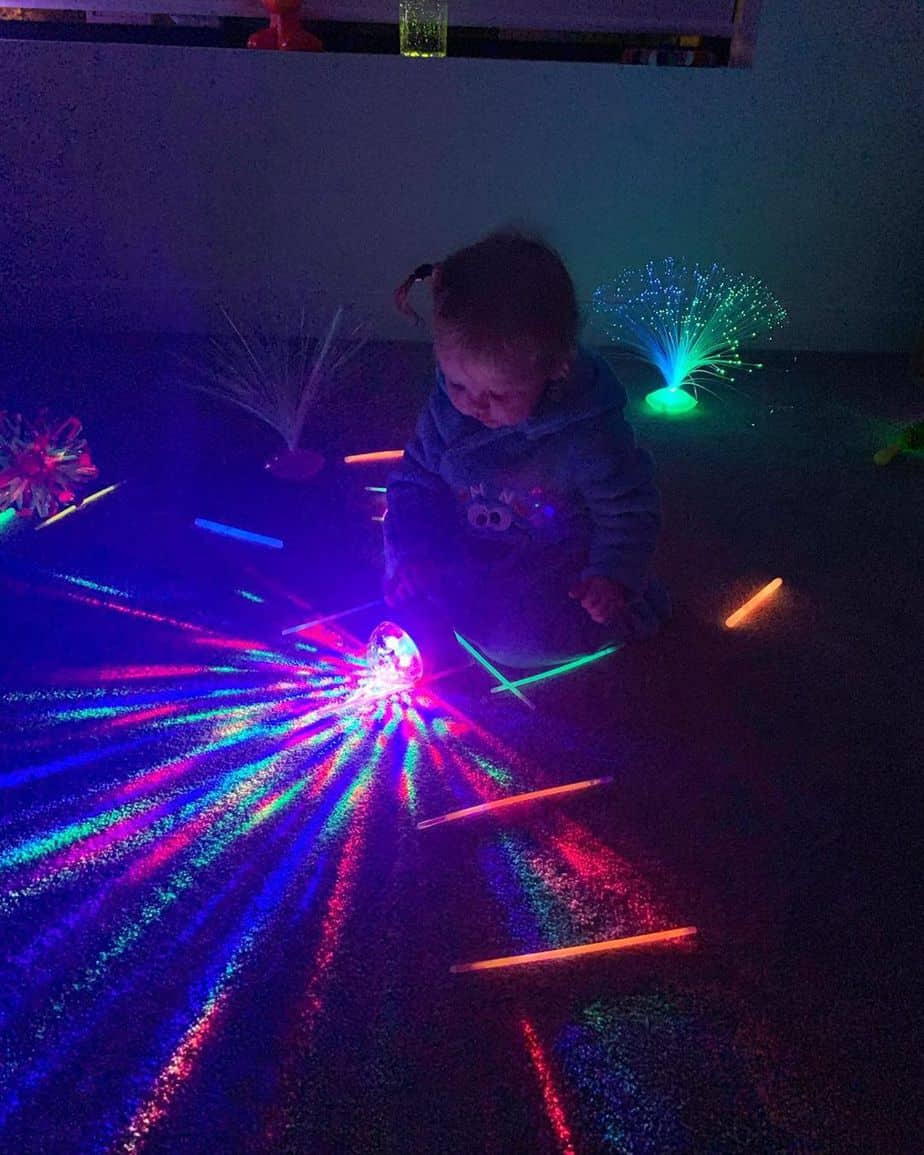 Easy Sensory Room Ideas
If you know how you're going to personalize your room and how much space you have, here are some quick and easy ideas to build a sensory room without much effort.
You can begin by choosing to paint the walls with calming colors and provide the ideal backdrop for your lighting fixtures.
Sensory Light Projector
You can't start a sensory room without a colorful and vibrant light projector. Without taking up much space, this addition is essential to transform your room into a magical experience for your little one. Projecting ocean-themed visuals with a variety of colors and relaxing audio options too, this is a must for your sensory room on a budget.
Sensory Box Toys
Kitting out your sensory area with a box of gadgets and gizmos are great! We discussed fine motor skills earlier in this post, and we understand that playing with small toys with different shapes, sizes, and textures will contribute to an acceleration in improving those motor skills. These will keep your child curious while learning at the same time.
We've highlighted affordable options below that are not only great value for money but highly reviewed.
Table could not be displayed.
Fiber Optic Lamp 🌌
This is another great addition as it covers both light and touch stimuli. If you've never played with a fiber optic lamp, you'll be amazed at how quickly it can center your scattered thoughts and emotions into a calm and happy middle ground. Not to mention, this can be great for adults too!
Weighted Vest or Blanket
Finding calm can sometimes be difficult and take time through toys. As most parents or carers will be able to attest, the use of a weighted vest or blanket can have immediate benefits. This can often be the first place to go for a child with autism to reduce meltdowns, tantrums, and anxiety. A weighted blanket or vest can feel personal, unique, and homely to your child, their bubble of protection, or safe space.
Harkla is industry-leading in the 'special needs weighted products' space. Although if you are on a tight budget, some of their products can become expensive. A Harkla lap pad could be a more affordable entry-level weighted item to get you started.
How To Make A $19,000 Sensory Room For Less Than $300
In a parallel universe, it would be reasonable to spend $18,999 on a sensory room. However, I think it's highly likely most parents and carers would deem this absurd, as do I! There is a whole host of different items that come with this room bundle, ranging from projector effect wheels to LED infinity tunnels, bean bags, and bubble tubes.
By filling your sensory room with everything you can find, you can quickly run the risk of having a place that's overstimulating, which can have the adverse effect of what you're trying to achieve. If you're starting from the beginning, understand what's out there and what your options are based on your budget.
Then decide how you're planning to make it your unique style, and then refine your purchases and keep only what you need before committing. There's no need to be wasteful, and going down a rabbit hole of online purchases can be costly (trust me!).
I want to show you how to recreate this room for a fraction of the cost.


The Best Sensory Room For Under $100
The key to a great sensory space is how you tailor it to your child, their likes, and their personality. My best friends' son is a high-functioning autistic child, and he loves dinosaurs. He refuses to play with almost anything else, so it was crucial when we build out their sensory room that it was tailored to a dinosaur theme.
This meant dinosaur soft toys, dinosaur figurines, we even constructed a "touch/tactile board" and replicated the different textures that dinosaurs would feel like – leathery skin and scales – this was super fun.
For under $100, you can get really creative – let's get started. First, you'll want to start with the foundations – soft padded flooring to immediately represent a different room, a different environment, and lets your child associate the sensory area with comfort, calm, and curiosity.
Soft mats are excellent; especially if you don't have an entire room to dedicate to sensory stimuli, you can use a handful of rugs to draw out a corner for your sensory area.
The great thing about these mats is that you can quickly turn them into cubes! A cube can be an excellent way for your child to interact with, understand the balance and weight of it, which improves their gross motor skills while they move it around.
Whilst prices may changes, this should cost you no more than $20.
Foam Mat Floor Tiles, Interlocking EVA Foam Padding by Stalwart – Soft Flooring for Exercising,...
Features include: Anti-fatigue Shock Absorbing EVA Foam Protects Floors from Damage Lightweight and Waterproof
Interlocking TilesStores Easily When Not in Use8 Tiles, Use in any room you might be standing for long periods like your kitchen or bathroom, and can be used while camping, to create soft flooring in your tent
Two of Each Tile: Red, Yellow, Blue, GreenTile Dimensions: 12.625 x 12.625 x .5 inches
For lighting, which can often have the most significant effect, you want to focus on the value and impact on the room. Bubble tubes and lava lamps can quickly rack up a cost. Opting for a light projector is the more effective way to induce stimuli for your little one in the form of lighting without breaking the bank. I strongly suggest a highly rated and reviewed projector that can emit different colors – again, even better for personalizing it for your child – and keeping the room fresh and new.
Having lighting that can induce a calm and relaxing state is ideal even for an autistic child's bedroom as it can aid in the wind-down needed before sleep.
Having scoured the web, the average price of a light projector is between $30-40. Stick to your budget!
Sale
Exelme Night Light Projector Ocean Wave - Sound Machine with Soothing Nature Noise and Relaxing...
TF CARD + 8 NEW NATURE SOUNDS: Renewed night light projector additionally equipped with TF card promotes peaceful setting for relaxation. Wake up feeling rested when you fall asleep to the sounds & sights provided by our 2-in-1 light projector
7 LIGHTING OPTIONS: The ocean wave projector contains 12 LED, which enables you to get 7 lighting modes – red, blue & green color lights change. Adjustable angle of the projector's head allows you to direct the wave light on the wall or ceiling
ADJUSTABLE AUTO-OFF TIMER: Enjoy the music lamp all night or timer will stop your light projector in 1, 2 or 4 hours when you fall asleep sweetly. This and other settings you can easily change without getting up from your chair or bed
One of the main features of your sensory room or area should be an item to sit or lie in. This can be in the form of a bean bag, a rocking chair, a sensory pea pod, or something similar. Having a full-body relaxation item can very quickly bring bouts of anxiety or tantrums to a soothing standstill – especially when coupled with a child's favorite soft toy or weighted blanket. Rocking chairs are great for sensory movement, a recognizable and controlled movement associated with calm, as well as enjoyment.
While a calming canoe can set you back twice what a bean bag or rocking chair can cost, they do provide a more full-body sensory stimulation. To keep to our $100 budget, a rocking chair or bean bag should cost around $30-40.
So there you have it, for under $100, you can kit out your sensory area with some exceptional items and possibly add to it in the future. Sometimes less can be more, and before you introduce lots of new toys, gizmos, and gadgets, make sure you understand the value that it's bringing to your child and the sensory room.
Soft Mats: $20
Light Projector: $40
Rocking Chair/Beanbag: $40
Total: $100
Sensory Room Guide For Under $300 🌌
If you have a little more budget to spend on creating an inspiring sensory room for your loved one, then there's a lot more room for exciting high-quality experiences. As we've mentioned, this is all about creating something bespoke, something unique, and tailored to suit the personality and character of your little one.
That being said, everything we recommend and whatever else you see online or on Safe Sleep Systems' Pinterest is just sensory room ideas. You can take these ideas and turn them into your own by adding your personal touch and creativity – we love that!
Remember – sensory areas are about your child's imagination too. It's about what they can take away from this new space for relaxation and calm. You don't have to buy $200 lighting when affordable LED lights suffice – it's time to get creative!
As we've mentioned before, starting with some of the foundations of the room is essential. Soft padded mats are great as we've listed above, but including an ultra-soft furry rug is the ultimate addition to adding color, texture, and comfort to the room.
Your child can sit, play, and enjoy the soft 2-inch height of the plush rug. It comes in a variety of flat pastel colors, which are ideal for children with autism.
These carpets range from about $40-50.
Ticking the boxes for both feel and visuals, sensory tiles are a fantastic way to give children with autism an engaging way to interact with cosmic liquid colors. These are very easy to pick up and move around – so if you find that your child loves interacting with it, and it's their go-to item when they're feeling irritated, then this is also ideal for travel. You can easily fold and pack this up and keep it alongside your travel beds and equipment.
Sensory gel tiles can range from $100-130.
We've mentioned that one of the primary goals for a sensory room is to provide a sense of calm, serenity, and chill. One way children with autism and complex needs can quickly get to a relaxed state is through the use of noise-canceling headphones or ear defenders. These are a great way to block out excess sound stimuli that can often cause an overwhelming feeling for children with autism.
Not only are these great for your sensory area but also for outdoors. We've had hundreds of parents and carers write to us over the years, explaining the effectiveness of children's ear defenders for grocery shopping, big outdoor events, and even long car journeys. The best part is, you can grab a two-pack for around $20!
We've previously reviewed the best ear defenders for children with autism and sensory processing disorder.
It's crazy to think we've gotten this far without talking about a sensory bin! Sensory bins are containers, or even an area of your room that are full of gadgets, fidgets, gizmos, and other beautiful items that are unique and colorful and all come with a spectrum of different textures and feels.
There are lots of DIY ways to make your own sensory toys on the cheap. But to save time and without breaking the bank, you can get your hands on some great bits.
Busy boards are one of the industry leaders when it comes to sensory boards, and while you can get different boards at different prices, we've listed our top picks from both ends of the spectrum. These boards encapsulate everything from fine motor skill development, to logic, agility, and memory. For kids aged between 6 months and four years, it's well worth the investment from a young age.
Light Projector: $40
Furry carpets: $50
Sensory gel tiles: $129
Ear defenders: $23
Sensory board: $55
Total $297

We've also included the highly recommended light projector, and there you have it, a fully kitted out sensory room for under $300.
Creating A Sensory Room For Autism
We've covered the product review in a lot of detail, and it's essential to get a high-level overview of the main features and toys that are out there for you to buy. But let's dive into the details of a sensory room and how you should design it for best use.
A sensory room should be there to help you and your child find a tranquil place in the house to bring all of the days erratic thoughts and feelings into one calm home. I like to teach kids that these rooms are designed for them to "be one with the Earth," find happiness and zen so much so that they come out feeling lighter, stress-free, and ready to take on the world – this is excellent advice for adults too!
What colors to use for a sensory room
We can take some of the findings we've already discussed over-stimulation in schools and gym class and apply it to our sensory room. Too many colors can have the opposite effect that we're trying to achieve. If you're struggling to tone down the colors of the room, something as simple as tinted glasses can help bring the visual stimuli down.
Especially if you're considering a light projector in the room – a shade of white is ideal rather than more vibrant colors.
Aromatherapy for sensory rooms
If a child is prone to olfactory sensitivity and feels overwhelmed by any smell, aromatherapy can be a good option. Depending on the age of your child, you may be able to introduce pleasant aromas to the sensory room that brings them to a happy place. If they are still young, then consider a scent-free sensory room to avoid any additional stimuli that could prevent them from achieving calm in their comfortable space.
Remember, even when cleaning your house or sensory room, some cleaning chemicals can be full of overwhelming smells, even if you don't notice it yourself. Fragrance-free cleaning products are in abundance and are great for children with autism.
Autism apparel for kids
One last sensory stimuli to consider is touch, but not necessarily just with hands. Clothing can make a massive difference for children with autism, and the types of material and clothing can disrupt a child's ability to pay attention and focus.
Our article on pajamas for children with autism illustrates how seams, tags, buttons, and zippers can be a source of distress – and choosing a soft fabric like cotton or fleece can be a better option.
You've reached the end of this post, well done! We appreciate all of our readers and understand how tough dealing with autism can be on parents and carers. Some days can be harder than others, and this is normal. I know first hand that talking to a trained professional is the most effective way to deal with it and encourage self-care.
Both Betterhelp and Talkspace are great avenues, especially during times of isolation. You can get solid advice and support on depression, anxiety, trauma, grief, relationship problems, and so much more. 
Was this article helpful?