At Safe Sleep Systems, we're supported by our audience, and we thank you. We may receive compensation if you purchase products or services through the links provided at no additional cost to you.
Online therapy has allowed many people to receive the help that they would otherwise avoid. Thanks to sites such as SonderMind and Talkspace, you can talk with a licensed mental health professional from the comfort of your own home instead of needing to visit a nearby office.
Yet, choosing the right online therapy source is another challenge. When it comes to SonderMind vs. Talkspace, which is better? 
SonderMind is likely better suited for those with good health insurance, while Talkspace provides the more convenient service.
In the following article, we compare these two leading online therapy platforms to help you determine which option is likely to meet your needs.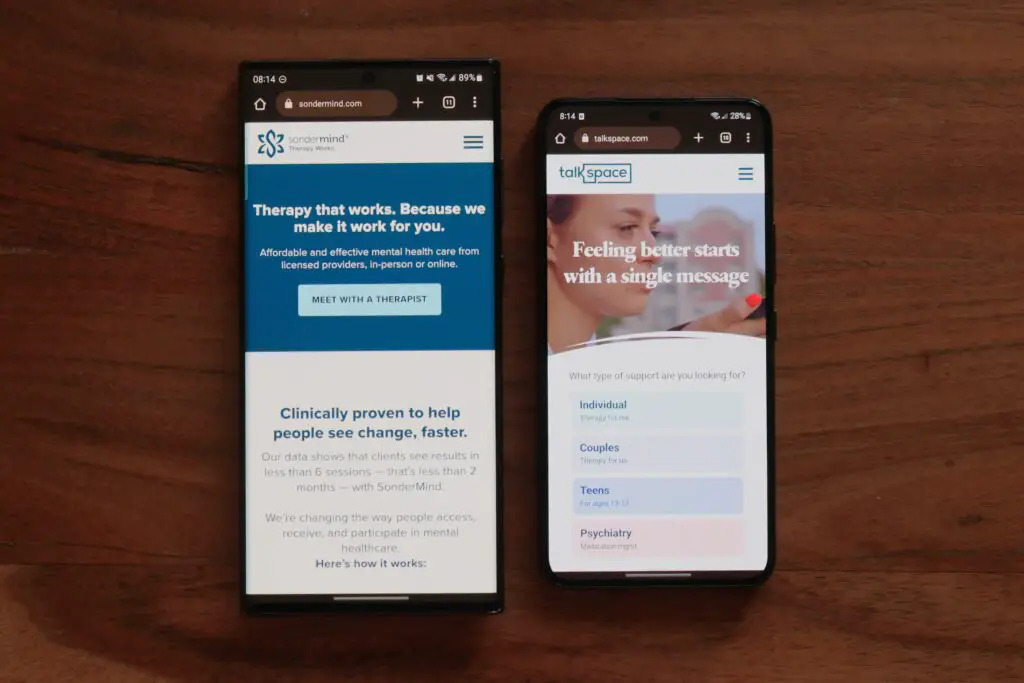 SonderMind vs. Talkspace Quick Comparison 
| | | |
| --- | --- | --- |
| | SonderMind | Talkspace |
| Price | $89 per session (on average) | $69 to $109 per week |
| Mobile App Available | Yes | Yes |
| Text Therapy | No | Yes |
| Video Therapy | Yes | Yes |
| In-Person Therapy | Yes | No |
| Accepts Insurance | Yes | Yes |
| Offers Prescriptions | Yes | Yes (with an add-on plan) |
| Age Range | 13 and older | 13 and older |
What Is SonderMind?
SonderMind is one of several online therapy services that have become available within the past decade. These services are designed to pair people with licensed mental health professionals. 
The company launched in 2014 to make it easier for people to find mental healthcare. The Denver-based company claims to help match people with licensed mental health professionals within 24 to 48 hours. Billing and insurance are handled through the site, streamlining the process of receiving professional help.
SonderMind stands out from other virtual therapy sites by accepting insurance, offering prescriptions, and covering a wide range of mental health concerns. You can also arrange appointments with a therapist in your local area if you prefer to meet in person instead of via video chat. 
What Is Talkspace?
Talkspace is one of the leading online therapy sites and gained renewed popularity during the start of the COVID pandemic. The site allows you to find a licensed therapist for online counseling via text, phone, or video messaging.
Talkspace started in 2012 to help couples with marriage counseling. The platform has since expanded to cover a wider scope of therapy services, including mental healthcare. 
Talkspace remains a popular online therapy solution due to its ease of use. You can download the Talkspace app on your phone and receive mental health support at just about any time of the day or night.
How Does SonderMind Work?
SonderMind requires users to sign up for its service to receive help from a licensed therapist. However, you do not need to pay any monthly fees. The company takes your credit card information to cover out-of-pocket expenses not covered by your insurance. 
After signing up and providing your basic information, SonderMind attempts to match you with a mental health professional that meets your specific needs. You can find a therapist for virtual telehealth sessions or local in-person sessions, depending on your preferences.
SonderMind is also one of the few online therapy platforms to supply access to psychiatrists. You can receive help from professionals licensed to prescribe medications, which is not an option with Betterhelp or Talkspace.
After scheduling the session, SonderMind submits a claim to your insurance provider. The company bills any remaining copays and deductibles to your account. 
How Does Talkspace Work?
Talkspace requires users to sign up for a service plan. The plans start at $69 per week for text messaging therapy. You need to pay $99 per week to add video-based therapy sessions and $109 per week for video messaging, text messaging, and live workshops. 
Talkspace works with some insurance providers, which may cover a portion of the service. However, most users pay for the service out of pocket. However, you can cancel and resume your plan at any time, as there is no contract.
You need to answer several questions about yourself during the application process. Talkspace uses the information that you provide to match you with a healthcare provider. You can review information about the provider, including their experience and certifications. You then have the option of communicating with text messages or scheduling a live video session.
Advantages of SonderMind
SonderMind is a unique service that works a little differently compared to Talkspace and other virtual therapy services. 
SonderMind is beneficial for those that want a more traditional approach to therapy or psychiatric services. You can arrange traditional sessions with a licensed professional. The sessions are completed in-person or online using video chat. 
SonderMind updates the standard practice of arranging therapy sessions by allowing you to complete most tasks online. You can search for the right therapist or psychiatrist, schedule appointments, message your therapist, pay your copays, and view other details of your account. 
SonderMind also works with a long list of insurance companies. As the company offers access to standard mental health services, your insurance may provide coverage for your sessions.
Yet, one of the biggest strengths of SonderMind is the client-therapist relationship. You can build a stronger connection with your therapist as you use video chat and in-person sessions instead of text messaging. 
Advantages of Talkspace 
Talkspace offers the advantage of convenience. The company has a streamlined service for those that want fast access to therapy sessions on demand. There is less waiting involved compared to using a service such as SonderMind.
Talkspace allows you to text your therapist 24/7. You need to wait for your therapist to get back to you at their convenience. However, you are likely to receive a swift response to most issues.
Talkspace also gives you the flexibility to choose between text and video sessions. While you can message your therapist on SonderMind, you cannot conduct entire sessions via text messages. You still need to complete a video chat. 
Text-based therapy may appeal to those that are new to therapy and uncomfortable discussing their emotions with strangers. Text messages are a little less personal, which can help maintain a greater sense of privacy. If you choose to switch to video chat, you can upgrade your Talkspace plan at any time.
Signing Up With SonderMind or Talkspace
SonderMind and Talkspace have similar signup processes. You need to provide some basic personal information, billing information, and health details.
Both companies will want your billing information and health insurance details to cover the costs of the services. SonderMind will submit claims to your insurance company before charging you. With Talkspace, you first need to choose a weekly service, which can cost between $69 and $109. 
The application process includes health questions. SonderMind and Talkspace want to get to know you better before attempting to find the therapist or psychiatrist that best matches your needs. 
SonderMind vs. Talkspace – What's the Difference? 
SonderMind and Talkspace are two of the biggest telehealth platforms available. At first glance, the two services can seem very similar. However, there are major differences when it comes to the way that the services are provided.
Talkspace charges a flat fee for a weekly service that includes on-demand therapy sessions via text or video. SonderMind acts as a marketplace for connecting patients with mental health professionals. The company schedules appointments and processes claims. 
The differences in the way that the therapy services are provided result in differences when it comes to prices, ease of use, and other factors. Here is a closer look at the main differences between SonderMind and Talkspace.
Affordability 
SonderMind may offer a more affordable choice for those with health insurance that includes coverage for mental health treatment and therapy sessions. The company claims that the average cost of a session is about $89.
Both companies accept health insurance, but SonderMind users are more likely to receive coverage from their insurance providers. The company works with more insurers and offers a wider range of therapies commonly covered by insurance plans.
Talkspace charges $69 per week for text therapy and $99 per week for video therapy. You may save money with text-based therapy sessions but will likely spend more for video-based therapy compared to using SonderMind.
Ease of Use
Some users may find Talkspace more convenient, as you have access to mental health professionals outside of standard business hours. You can find a therapist that is ready to talk via text or video chat during the day or night. However, neither service can provide immediate help.
If you require help immediately, Talkspace and SonderMind encourage you to contact the National Suicide Prevention Lifeline

, which now uses the 988 dialing code in the United States. 
SonderMind uses more of a traditional approach by requiring you to schedule a session. Users also often work with the same therapist with recurring sessions. 
Both platforms have mobile apps that you can download to use their services. However, SonderMind recommends using a laptop or desktop computer with a stable internet connection for the best performance during a video therapy session. 
Therapy vs. Psychiatry 
Talkspace was built as a counseling and therapy platform. SonderMind was designed as a mental health platform. The different approaches result in a different selection of mental health services and treatments. 
With SonderMind, you can receive psychiatric treatment from a licensed psychiatrist. While Talkspace employs psychiatrists, they are working as therapists on the platform and are unable to prescribe medications. The psychiatrists at SonderMind can prescribe medications to aid specific mental health treatments.
If you want to add psychiatric services to your Talkspace account, you need to choose an add-on plan. The add-on plan for psychiatric service costs $199 for an initial psychiatric evaluation. Each follow-up visit costs $125, which is significantly more than the average cost for a session with SonderMind. 
Availability 
Talkspace is available throughout the United States and beyond. The company works with licensed therapists in all 50 states, Canada, and other regions. 
SonderMind only operates in 17 states. The company has gradually expanded its footprint but is currently unavailable in over half of the states in the country. 
SonderMind vs. Talkspace – Pros and Cons
Here is a quick snapshot of the pros and cons of each therapy service…
SonderMind Pros
Access to psychiatric treatments
Prescription medications
Accepts a wider range of insurance plans
Allows you to get started quickly
SonderMind Cons
Only available in 17 states
Does not offer text messaging sessions
Talkspace Pros
Available in every state in the US
Affordable for those without insurance
Flexible treatment options 
Text messaging sessions are available
Talkspace Cons
Prescriptions only available with an add-on plan
A smaller selection of treatment options
How to Choose the Right Online Therapy Platform
Everyone has different needs. However, some of the most common concerns when comparing online therapy platforms include:
Ease of use
Affordability
Insurance 
Prescription medications
Therapist qualifications
You may also want to consider the type of therapy available. SonderMind offers access to in-person therapy, while Talkspace allows you to receive therapy via text.
If cost is a factor, SonderMind can provide a more affordable option, especially if you have qualifying insurance. SonderMind works with a greater range of insurance providers. 
SonderMind can also connect you with psychiatrists, allowing you to receive prescription medications. You can also schedule in-person therapy, which is not an option with Talkspace.
Talkspace may appeal to those that want the most convenient virtual therapy solution. You can download the app and find a qualified therapist quickly. 
Conclusion
SonderMind and Talkspace are both trusted sources for virtual therapy. You can sign up and start communicating with a licensed mental health professional within a day or two.
Yet, each service offers different advantages. Talkspace is typically more user-friendly and straightforward when it comes to pricing. You can pay a flat fee for your weekly sessions instead of worrying about whether your insurance covers it. 
SonderMind can be a little more confusing to get started with. You also have fewer options when it comes to arranging your therapy sessions. You can either arrange a video session or an in-person session but not a text session. 
While SonderMind is less user-friendly, it offers access to psychiatrists and a longer list of potential treatments. You can receive prescriptions without having to pay for an add-on service. 
Keep in mind that you can cancel either service and switch to the other if you are unhappy with the results. You are not locked into any long-term contracts. 
In the end, SonderMind is likely better suited for those with good health insurance, while Talkspace provides the more convenient service.
Sources
Was this article helpful?