At Safe Sleep Systems, we're supported by our audience, and we thank you. As a BetterHelp affiliate, we may receive compensation from BetterHelp if you purchase products or services through the links provided at no additional cost to you.
As awareness around mental health is growing and the stigma around seeking treatment decreases, more and more people are feeling empowered to seek out the support they need. As the demand for therapy increases, companies are figuring out new ways to connect people with the help they need, including remote therapy options offering help online.
BetterHelp is one of the biggest names in online therapy, but there are many other companies now entering this important niche, including an up-and-coming start-up called AbleTo. AbleTo is less popular than some of the bigger names in online therapy, but it still has some benefits of its own.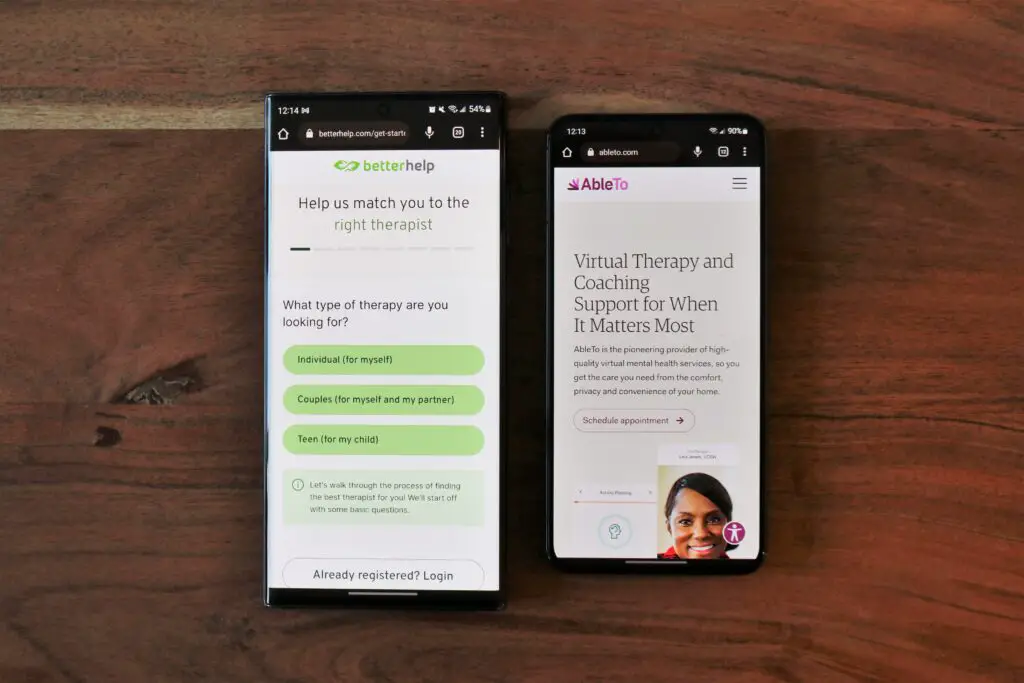 Here is your guide to these two services and figuring out which one is right for you.
What Is AbleTo?
AbleTo is a start-up providing virtual mental healthcare with a focus on behavioral health. Patients meet with licensed therapists or coaches who guide them through mental health challenges such as depression, anxiety, and major life changes.
While AbleTo has licensed therapists on its team and is looking to switch towards offering more and more traditional therapy, the backbone of its services for a long time was coaching. AbleTo coaches are people who are not licensed therapists but undergo significant training to offer a listening ear to people in need. All support programs are supervised by licensed clinicians, so even with relatively untrained coaches, there is some clinical oversight.
Another feature of AbleTo is the company's reliance on personalizing coaching solutions through technology. Participants are guided to join an eight-week course to manage their emotional health, including weekly one-on-one meetings with a therapist, digital exercises, and in-app statistics. 
Finally, AbleTo is different due to its payment structure. The company works closely with insurance companies such as Cigna and Northwell Health, often offering the eight-week course to people for free along with their insurance premiums. It also partners with some employers, such as Costco.
What Is BetterHelp?
BetterHelp is one of the biggest companies offering online therapy as an option. All of its employees are licensed therapists who have gone through a rigorous vetting to ensure that they are qualified to provide online therapy. BetterHelp offers help for the most common mental health issues, including anxiety, depression, anger management, and trauma. BetterHelp can work with individuals or couples, and the site owns smaller subsidiaries focused on treating teens and LGBT individuals. 
The onboarding process at BetterHelp is similar to how you would find a traditional therapist. You sign up and fill out a detailed profile, including what you are looking for out of therapy. Then, BetterHelp matches you with a therapist who will be your guide during your sessions. If you don't mesh well with your therapist, you can request a different one later. 
BetterHelp customers pay a flat weekly fee of about $60–$90, which includes one weekly session with a licensed therapist that can be done via live chat, phone call, or video call. Outside of the live session, people get unlimited communication with their therapist during the week via chat or text (while the text line is open for 24/7 communication, it is not guaranteed that a therapist will respond then). 
Besides therapy, BetterHelp offers other resources for managing your mental health. You can join group sessions during the week in addition to your individual therapy, sessions that are tailored to addressing specific problems or finding support in people with similar experiences. You can also download worksheets or activities to do on your own and try to develop coping strategies for managing your mental health.
Key Differences
Both BetterHelp and AbleTo offer mental health care to people via virtual means. However, they have a few key differences.
One is in the providers who work for both companies. BetterHelp only employs licensed therapists, while AbleTo offers a mixture of licensed therapists and informal coaches as well as other forms of support.
Another is in the form of seeking help. BetterHelp is mostly based around a traditional relationship with a therapist, amended for the digital age to include new forms of communication and constant text support, with a few worksheets and group therapy options in addition to that. AbleTo uses a different structure of an eight-week initial program plus coaching and therapy available on demand for those who need it.
Finally, a major difference is financing. AbleTo is covered by many insurance policies, while BetterHelp is not. Most patients pay for BetterHelp's quite pricey monthly plans out of pocket.
Advantages and Disadvantages of AbleTo
AbleTo is a relatively new player in the market of at-home therapy, so not a lot is known about the service. Based on what is known, here are some of the advantages it has compared to other services on the market.
Pros of AbleTo
One advantage of AbleTo is the structure that its eight-week program offers to people. For those who know they want to make a change but are not quite sure where to start, AbleTo's initial eight-week program gives enough of an overview of different mental health techniques to empower users to make their own changes. 
AbleTo also has the flexibility to meet the needs of people that need it. People can work with licensed therapists, or if they just need a listening ear, they can turn to a coach in an informal setting. 
AbleTo also offers a more comprehensive digital platform for people who like statistical insights. You can track different factors directly in the app, fill out different exercises, and see your progress. As you complete activities, that also gives feedback to AbleTo and helps the platform personalize your treatment.
Finally, one major advantage of AbleTo is its price. AbleTo partners with many major insurance companies, making it free to most users. For those without insurance, the cost is much lower than BetterHelp (although exact figures are nearly impossible to find).
Cons of AbleTo
However, AbleTo has many disadvantages that probably explain why this program is not recommended nearly as widely as BetterHelp. 
One major disadvantage is the quality of support. While all people interacting with patients at BetterHelp are licensed, qualified therapists, AbleTo has a mixture of therapists and unlicensed coaches. Anyone can become a coach, and reviews of people who worked for the company complain that the training program is very simplistic and ineffective, not preparing people at all to work with AbleTo's stated behavioral therapy method. The quality of care varies based on the dedication of the individual coach.
While AbleTo pushes its eight-week program, and by many accounts, it is helpful, there is not much information on the support the company offers to users who need more long-term help or are dealing with complex mental health care needs that can't be fixed with the program.
Finally, one major problem with AbleTo is the reviews highlighting the company's transparency. Some users claim to receive communication from AbleTo saying it is covered by their insurance plan, only to contact their insurance companies and find out the partnership ended years ago (if you are hoping to cover AbleTo with your insurance, make sure it is covered first). The company also made national news for abruptly firing many of its coaches, not only showing poor regard for the people who built the company but also disrupting many people's healthcare needs.
Advantages and Disadvantages of BetterHelp
Many people are already familiar with BetterHelp as it is one of the biggest online therapy platforms, but in case you are not, here is a short summary of the advantages and disadvantages of this program.
Pros of BetterHelp
BetterHelp's most distinct advantage is its similarity to traditional therapy. Patients only meet with licensed therapists, while many other counseling platforms try to pass people onto coaches who may be enthusiastic but lack the training to support people in the right way. The structure of BetterHelp is also similar to traditional therapy (which is an advantage or a disadvantage, depending on who you ask), except done online.
The range of problems BetterHelp is ready to treat is much wider than AbleTo. BetterHelp covers the basics, such as depression and anxiety, as well as more complex mental health needs, such as trauma and OCD. As with any online therapy platform, you should never rely on BetterHelp for acute care when you believe you are a danger to yourself or others.
Finally, an advantage of BetterHelp is its established nature. You know that the company is reputable because so many other people have sought help from it and have left reviews, so you know what to expect.
Cons of BetterHelp
No therapy platform is perfect, and BetterHelp has its own disadvantages. 
One major disadvantage is the lack of flexibility. If a traditional therapy routine doesn't work for you, the platform doesn't offer much else. It also is not always the easiest to change your therapist, and unlike many other online therapy platforms, it does not let you pick your own therapist but outsources the decision to an algorithm.
A major disadvantage of BetterHelp is its inaccessibility. BetterHelp is one of the more expensive online therapy options. It is not covered by insurance, although some large workplaces offer it as a benefit. The cost of monthly care can be hundreds of dollars, which not everyone can afford.
Which Is Better, BetterHelp or AbleTo?
Before getting into which online therapy platform is better, let's summarize its comparative advantages and disadvantages again.
| | | | |
| --- | --- | --- | --- |
| | AbleTo | BetterHelp | Which Is Better? |
| Providers of Mental Health Care | Mix of therapists and coaches | Licensed therapists only | BetterHelp |
| Preparation for providing care | Short video modules | Years of licensing and clinical work before joining BetterHelp | BetterHelp |
| Format | Eight-week course, including once a week therapy sessions | Once a week therapy sessions plus unlimited texts | BetterHelp (for those who want traditional therapy) |
| Activities Other Than Therapy | Entire personalized course, including online activities and metrics | Some group therapy sessions and worksheets | AbleTo |
| Conditions They Can Help With | Basic mental health needs such as depression, anxiety, and chronic stress | Most mental health conditions, from trauma to anger management (except for situations where the patient's life is in danger) | BetterHelp |
| Offers identity-specific support such as LGBT groups? | No | Yes | BetterHelp |
| Covered by Insurance? | Yes | No | AbleTo |
| Affordability? | No transparent information available, but estimated at less than $100 a month without insurance | $240-$360 a month | AbleTo |
According to almost all metrics, BetterHelp is a much better platform for online therapy. BetterHelp is the platform where you know that you will be talking to a licensed therapist, which AbleTo cannot claim. AbleTo's coaches may be passionate about helping others, but to help people with legitimate mental health issues, you need more than passion; you need the type of training that equips you to help people dealing with serious problems, not accidentally causing more harm.
For this reason and a few others, BetterHelp is equipped to deal with a wider range of mental health issues than AbleTo. BetterHelp stays as close to traditional therapy as possible, not just with the people it hires but also with the type of care it provides. For serious mental health issues, such as OCD, therapy and guidance are more helpful than an eight-week course.
In the absence of alternatives, AbleTo's eight-week course is a good introduction to mental healthcare. Meeting with a therapist once a week (the same contact hours as with BetterHelp) may be overwhelming to some, but the structure of the eight-week course can help someone get used to seeking treatment. Plus, the course contains activities that help people who want to develop coping mechanisms on their own.
Another reason to try out AbleTo is if it's on your insurance plan. Since BetterHelp is not covered by insurance, it is less accessible. 
Discussing AbleTo's insurance coverage leads to the biggest problem with the platform, which is its lack of transparency. Reviewers have pointed out the company's aggressive marketing campaigns to get people on board, even lying about insurance coverage and not being transparent about pricing. Poor hiring practices also leave people with gaps in coverage.
The Final Verdict
For comprehensive therapy, BetterHelp is much better. If you want to try out therapy and already have AbleTo covered by insurance, then it's worth trying that first.
Sources
Was this article helpful?