At Safe Sleep Systems, we're supported by our audience, and we thank you. As a BetterHelp affiliate, we may receive compensation from BetterHelp if you purchase products or services through the links provided at no additional cost to you.
There's probably never been a better time to talk about mental health. The stigma around discussing problems with anxiety, depression, and other mental health issues is decreasing, with prominent figures from athletes to Prince Harry admitting to working on their mental health. Getting professional help with navigating mental health challenges is also easier than ever, as online platforms make it easy to access help remotely.
One of the biggest online therapy platforms is BetterHelp. BetterHelp boasts over 2.5 million clients who access online therapy through its platform. However, BetterHelp is far from the only player in the game. Other startups like BetterUp (a very different company despite its similar name) are edging in on the market and providing people with online mental health services.
However, how will you know which one is better, BetterHelp or BetterUp? Ultimately, that depends on your specific mental health needs and the treatment type that will work for you. Comparing their features will help you decide which one is right for you.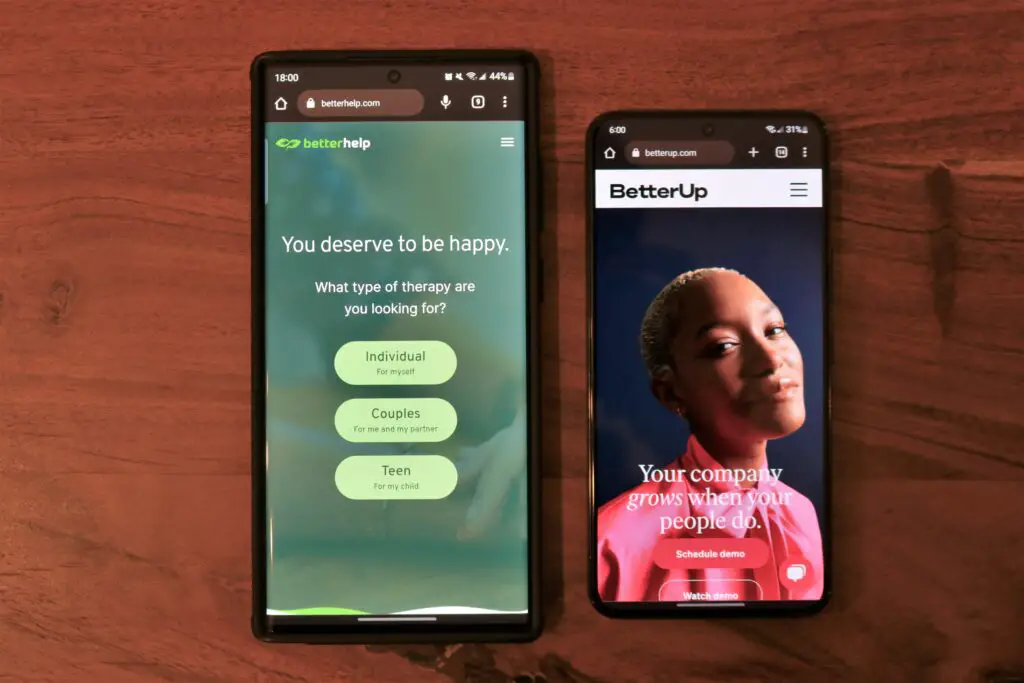 What Is BetterHelp?
BetterHelp is one of the biggest and most famous telehealth platforms specializing in mental health. If you're unfamiliar with how it works, here is an overview.
BetterHelp is an online platform that matches people to therapists. When they sign up, people fill out an assessment form detailing their mental health challenges, what they are hoping to get out of therapy, and demographic information. Then, using the information from the questionnaire, the algorithm matches you to a therapist. Clients can change therapists later if their initial match does not work out.
Then, people meet with their therapist once a week. The meeting can happen however the client wishes, with options including live texting sessions, phone calls, and video chats within the BetterHelp platform. Outside of weekly therapy sessions, people can message their therapist anytime and expect a response within about 24 hours.
BetterHelp is close to traditional therapy, except online. It treats many of the same mental health issues you would expect to find support for in therapy, ranging from anxiety and depression to PTSD, eating disorders, and bipolar disorder. Besides therapy, BetterHelp provides other resources for support, including support groups and downloadable resources.
BetterHelp does not accept insurance or partner with employers. People sign up for subscriptions on their own. Monthly plans cost $240-$360, but the company offers financial aid for people in need.
What Is BetterUp?
Pretty much the only similarities between BetterHelp and BetterUp are the fact that they are both online and the fact that they have similar names.
BetterUp is a company that focuses on providing career and life coaching. It bills itself as a Whole Person™ platform. The goal is to provide more than career coaching, with holistic coaching that helps people do better in their careers and feel self-actualized in their general lives. BetterUp approaches mental health from the perspective that since most people spend a lot of time at work, doing better at work will also help people feel better mentally.
When clients sign up for BetterUp, they take an assessment that looks at their personal and professional lives, generating a personalized report with what a person's role in a workplace is like, their strengths and their coaching needs. Then, the app's algorithm suggests three coach profiles, and the client selects one (with the option of switching later). As with BetterHelp, clients on BetterUp communicate with coaches via weekly video calls inside the app.
The people who provide support through BetterUp are not trained, therapists but coaches. Some of the coaches are actually licensed therapists, but many have other career backgrounds. All are licensed through the International Coach Federation and trained in BetterUp's scientific methods, which are based on behavioral health psychology.
Most people access BetterUp through their employer. Since the company's goal is to holistically improve workplace productivity, it accomplishes this by partnering with companies to provide mental health benefits to their workforce. You can also sign up for BetterUp as an individual. For individual clients, the company offers tiered pricing depending on how many sessions you want per month.
Benefits of BetterHelp
There is a reason why BetterHelp has so many clients—it's truly a worthy service. Here are some of the many benefits of signing up for help with BetterHelp.
It's Very Close to Traditional Therapy
If you know you need therapy but cannot access in-person therapy for whatever reason, BetterHelp is one of your best options for online help. It offers similar structures of talk therapy, just done from the privacy of your bedroom. Plus, everyone you talk to is guaranteed to be a licensed therapist or psychologist, which many online mental health platforms cannot claim.
It Can Handle Severe Mental Illnesses
BetterHelp is a great option for people that are dealing with more than run-of-the-mill anxiety or stress. The trained team can provide support for eating disorder management, anger management, PTSD, and grief. Many online coaching platforms can only work with minor mental health challenges such as stress. Going to a coach instead of a licensed therapist when you are working through these issues might make your problems worse instead of better if you get clumsy advice.
However, BetterHelp cannot diagnose mental health issues, prescribe medication, fulfill court-ordered therapy, or provide acute in-patient care for people in imminent danger of harming themselves or others.
BetterHelp Serves Vulnerable Demographics
One of the benefits of BetterHelp is how it provides demographically sensitive assistance in therapy. You can opt for a female or POC therapist or indicate your demographics in the questionnaire. The company even has separate services just for LGBTQ counseling and teen counseling. Those are important steps to make therapy more accessible to people who have historically been excluded from mental health access.
You Can Be Anonymous
One of the main concerns people have with accessing mental health is the stigma that is still associated with going to a psychologist in many communities, although it is getting better in some places. BetterHelp makes it easier to access therapy from the comfort of your bedroom without worrying about being seen in the waiting room. You can also make anonymous profiles so nobody, not even your therapist, has to know that you are seeking therapy.
Drawbacks of BetterHelp
There are a few drawbacks of BetterHelp that don't always make it a good choice for people.
Pricing Is Inaccessible
BetterHelp is a great service, but the expensive nature of the product makes it difficult for most people to access it. BetterHelp doesn't accept insurance or work with employers, and its pricing structure is not very transparent. Although it offers financial aid, not everyone who applies is even guaranteed to get it.
You Can't Choose Your Own Therapist
While many online platforms allow you to choose your own therapist or coach, BetterHelp's algorithm automatically matches you with someone. You can switch later, but sometimes the company makes it hard to switch.
Benefits of BetterUp
There are a few reasons why someone might want to use BetterUp instead of BetterHelp, such as the following benefits.
It Offers Career-Specific Growth
If you're looking for mental health support specifically to manage workplace challenges, then BetterUp is the platform for you. The coaches are all trained to provide support with career management and can help you with stagnation, workplace anxiety, or developing tools for managing workplace relationships. 
That doesn't mean BetterUp coaches will treat you like a worker bee instead of a human. They provide holistic support and can help you manage other problems that are affecting your life at the workplace and at home, such as anxiety.
The Coaches Are Verified and Trained
The problem with many platforms that offer coaching instead of therapists is that there are no formal requirements to be a coach. Anyone with enough bluster can claim to be a mental health coach, making people wary of these services.
However, BetterUp vets the coaches who work with its services. They are all licensed by the International Coach Federation, which is one of the few governing bodies regulating the life coaching space. In fact, many of the coaches are mental health professionals who moved to provide a different form of support. BetterUp also uses scientific data to develop its coaching methods and trains coaches thoroughly in its procedures.
You Have Access to Other Resources
Besides one-on-one sessions with a coach, BetterUp offers access to other resources, such as self-guided worksheets on mindfulness and productivity. Even the initial assessment is thorough, so you can gain insight into the kind of worker and person you are.
It Is Accessible
BetterUp is often easier to pay for than BetterHelp. Many companies offer it as a free benefit for their employees, so you won't pay a cent out of pocket if your company is a BetterUp partner.
Drawbacks of BetterUp
The specific nature of the help BetterUp provides means that it also has a lot of flaws, including the following drawbacks.
It Doesn't Provide Support for Tougher Mental Health Challenges
BetterUp is very career-oriented, and that is the kind of advice the coaches are trained to provide. If you are dealing with a mental health condition that requires more support, such as PTSD, there is no replacement for a trained therapist, and the coaches on BetterUp could actually make your condition worse since they simply are not trained to provide the support you need.
It Is Very Workplace-Oriented
Employers love the fact that BetterUp claims to boost workplace productivity by optimizing employees, but that's not always the type of mental health support that people need. If you're doing great at work but having trouble with your personal life, BetterUp is not the best choice.
Companies like BetterUp have come under fire for treating mental health as something people need to optimize for the benefit of employers instead of a serious health condition. Some people say the company prioritizes productivity over people's well-being.
There Are Concerns Around Privacy and Transparency
Although BetterUp says the contents of your coaching session are anonymous, it does provide anonymized data to employers about productivity. People who are nervous about their employer finding out about the extent of their struggles might not want to open up to a BetterUp coach.
Plus, BetterUp's pretty bombastic claims about the success of their program, including in terms of employee satisfaction and productivity, are hard to verify. Some people have experienced trouble canceling their plans as well.
Which Is Better, BetterUp or BetterHelp?
Before going into which is better, let's review the differences between these two platforms.
| | | | |
| --- | --- | --- | --- |
| | BetterUp | BetterHelp | Which is better? |
| Issues Supported | Career problems such as stagnation, career planning, as well as some mental health issues that affect productivity | Wide range of mental health issues, including depression, anxiety, PTSD, anger, and grief | Depends on what you're looking for. For career coaching: BetterUp. For traditional mental health support: BetterHelp. |
| Who You Talk To | Licensed coaches  | Licensed therapists | BetterHelp (unless you specifically want coaching) |
| Demographic-specific support | Makes an effort to use inclusive language | Has dedicated services for LGBT and teen clients | BetterHelp |
| Other resources | Detailed assessment and self-guided worksheets | Group sessions and some self-guided worksheets | BetterUp (has more self-guided resources) |
| Anonymity | None, and some concerns over how much information is shared with employers | Option for anonymous profiles | BetterHelp |
| Pricing | Free through employers, tiered plans of $89-$279 depending on the number of sessions per month | $240-$360 per month, some financial aid but no insurance or employer partnerships | BetterUp |
It's hard to say which one of these platforms is better since they are so different in terms of the problems they target.
If you want support with your mental health, then BetterHelp is by far the best platform as it focuses on traditional therapy, not productivity coaching. You are guaranteed to work with licensed therapists who know how to manage your issues, which BetterUp cannot provide.
However, if you know you want support specifically for your career, then BetterUp is the better option. It doesn't matter that their coaches are not therapists since you don't need therapy anyway, and trained, licensed coaches are just as good at providing the kind of support you want. BetterUp is also free if your employer is a partner, as long as you're not concerned about your employer seeing some of your data.
Sources
Was this article helpful?