At Safe Sleep Systems, we're supported by our audience, and we thank you. We may receive compensation if you purchase products or services through the links provided at no additional cost to you.
Calmerry is one of the latest online therapy platforms to compete with Talkspace. Both options allow you to text and video chat with licensed therapists in your home state. Yet, each option also has separate features, costs, advantages, and disadvantages.
Use the following Talkspace vs. Calmerry review to compare platforms and decide which one is most likely to meet your specific needs.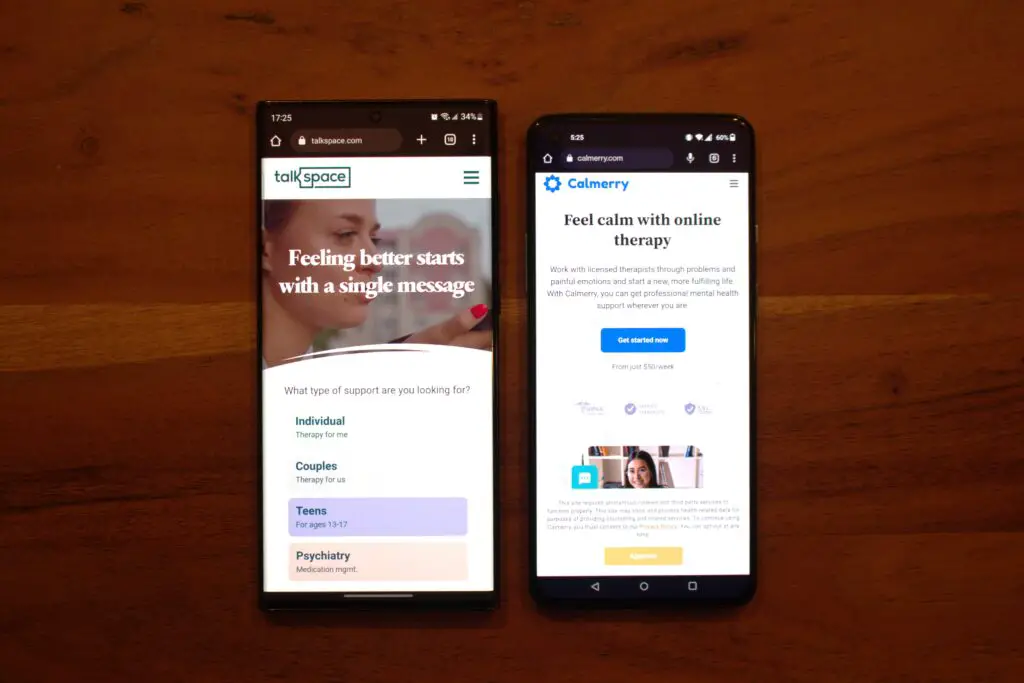 Talkspace vs. Calmerry Comparison Table
| | | |
| --- | --- | --- |
| | Talkspace | Calmerry |
| Price | Starts at $65 per week | Starts at about $50 per week |
| Mobile App | Yes | Yes |
| Unlimited Text Therapy | Yes | Yes |
| Video Therapy Sessions | Yes | Yes |
| Prescriptions/Psychiatry Services | Yes | No |
| Accepts Insurance  | Yes | No |
| Age Limit | 13 and older | 18 and older |
| Availability  | All 50 states | 15 states and growing |
What Is Talkspace?
Talkspace is a platform that provides online mental health services through its website and mobile app. You can communicate with a licensed therapist using text messages, video chats, or phone calls. 
Talkspace was made to help people receive counseling and support from the comfort of their homes. It launched in 2012 and has grown to become one of the largest telehealth platforms. 
Using Talkspace simplifies the process of finding a therapist. It also makes it more convenient to communicate with your therapist, as you receive unlimited text messages. 
How Does Talkspace Work?
Talkspace offers online therapy. You can talk with a therapist remotely instead of meeting in person. The company offers several plans for you to choose from:
Unlimited Messaging Therapy Plus – starts at $65 per week
Unlimited Messaging Therapy Premium – starts at $79 per week
LiveTalk Therapy Ultimate – starts at $99 per week
All plans include unlimited messaging. You can send text, video, or audio messages. Your therapist should respond to your messages promptly, allowing you to receive on-demand therapy when you need it.
Depending on your needs, you can also add live sessions where you talk with your therapist via video chat. The Unlimited Messaging Therapy Premium plan includes one live session each month. The LiveTalk Therapy Ultimate plan includes four live sessions per month. 
You can pay monthly or prepay for three months. With the three-month package, Talkspace bills you every three months. No matter which of the plans you choose, you can add an extra live session for $65 per session. 
What Is Calmerry?
Calmerry is another online therapy platform. It includes many of the same features and options provided by Talkspace, including the option to choose between text-based and video-based therapy.
Calmerry was created to provide a secure platform connecting patients and licensed therapists. The company started in 2020, making it one of the newer telehealth platforms. 
Despite its young age, Calmerry already has hundreds of counselors and therapists. The company also gained over 47,000 users during its first year. Calmerry focuses on treating various mental health issues, including depression, grief, anxiety, self-esteem concerns, and obsessive-compulsive disorder (OCD).
How Does Calmerry Work?
Calmerry has two subscription plans for you to choose from:
Basic subscription with one video session
Subscription with weekly video sessions 
The basic subscription starts at $50 per week and includes one 30-minute video session, which is shorter than the 45-minute sessions offered by Talkspace. However, you need to pay at least $79 per week to receive a monthly video session with Talkspace.
After signing up and choosing a plan, you can start communicating with your therapist. Depending on the plan that you choose, you may arrange one or four 30-minute video sessions each month. 
The sessions are completed using Calmerry's secure teleconferencing system on its website. You can use the mobile to arrange your sessions and message your therapist but need to use the website for video chats.
Calmerry allows you to add extra sessions for an additional fee. You can also combine 30-minute sessions to create a longer session, such as combining two 30-minute sessions to create one 60-minute session. 
Why Choose Talkspace?
Talkspace makes sense for those with insurance and anyone in a state Calmerry does not currently support. Talkspace takes insurance and is available in every state. 
Along with availability and insurance, Talkspace stands out due to its reputation and size. Talkspace is a little over 10 years old while Calmerry was created in 2020. 
Talkspace also provides access to options not available from Calmerry. For example, you can sign up for psychiatric appointments and receive prescriptions for medications when using Talkspace. 
Talkspace costs a little more for those without insurance but offers longer therapy sessions. The standard sessions for Talkspace last 45 minutes while Calmerry has 30-minute sessions. You may feel that you are getting more out of your therapy sessions when you have more time to communicate with your therapist. 
Why Choose Calmerry?
While Talkspace offers several advantages, it also costs more compared to Calmerry. If you do not have insurance or Talkspace does not accept your insurance, you are likely to pay less with Calmerry. 
Calmerry charges $50 per week for its basic plan while Talkspace charges $65. Talkspace also charges $65 for additional sessions. Calmerry charges $45 for the first session, $84 for two sessions, and $120 for three sessions. 
The lower rates can help make up for the lack of insurance. The mobile app is also streamlined and easy to navigate. It includes access to additional resources, such as blog articles with coping techniques for dealing with anxiety and stress. 
Talkspace vs. Calmerry – The Initial Process
Talkspace and Calmerry have similar processes for signing up and arranging remote therapy. Both platforms require you to visit a website on a computer or mobile device. You can also download a mobile app to manage your account.
After creating an account, a representative will guide you through the rest of the initial process. Talkspace enlists the help of therapists to complete a short assessment. Calmerry uses a team of assistants to complete the assessment.
The assessment helps the platform better understand what types of therapy you need and what you hope to gain from your therapy sessions. You can then pick a subscription plan. 
Talkspace and Calmerry search their databases for therapists that match the information that you provide during the assessment. Matching you with a therapist takes just minutes. 
You can view the therapist's profile to decide if they're the right fit and arrange your first session. Calmerry includes more details in the therapist's profile. You can view their LinkedIn profiles, licenses, and certifications. 
The next step depends on the plan that you choose. Calmerry includes one 30-minute live video session with its basic plan while Talkspace only includes messaging with its cheapest plan. After your initial sessions and messages, you can continue communicating with the same therapist or request a new match.
Both platforms allow you to continue working with the same therapist so that you can set goals and work on specific techniques or coping skills. You can also message your therapist between sessions.
Talkspace vs. Calmerry – What's the Difference? 
Talkspace and Calmerry are closely matched, which can make it difficult to tell the two services apart. Both platforms offer remote therapy, but there are a few key differences. Pay close attention to the prices, convenience, and availability of services.
Affordability
Talkspace starts at $65 per week while Calmerry starts at $50 per week. Calmerry offers a more affordable option for those without insurance. The platform does not accept insurance, requiring you to pay the full price out of pocket. However, the company charges less to help limit the burden. 
Talkspace charges $65 to $99 per week for online therapy but accepts insurance. Talkspace accepts insurance

from some of the biggest insurance companies, including Cigna, Optum, Blue Cross Blue Shield, and more. If you have insurance that includes coverage for outpatient mental health services, you may pay less with Talkspace. 
Ease of Use/Convenience
Talkspace and Calmerry are both easy to use and convenient. You can access your account and message your therapist through a website or mobile app. Both platforms also allow you to cancel at any time.
Customer Service 
Talkspace has a help center that you can contact via email. The company does not currently have a phone line for providing phone support. You can reach Talkspace's customer service team at support@talkspace.com.
Calmerry has 24/7 phone support and online chat. You can call toll-free at +1(844) 958-3158 or email customer service at team@calmerry.com. 
Availability 
Talkspace is available in all 50 states while Calmerry is currently available in 15 states. However, the locations where Calmerry can provide its telehealth services continue to grow. Check back for availability if Calmerry does not currently support your state. 
Psychiatry services are also available through Talkspace, which is not currently an option with Calmerry. Talkspace allows you to sign up for a separate plan that includes psychiatry checkups and prescription medications. 
Talkspace vs. Calmerry – Pros and Cons
Talkspace and Calmerry offer comparable services, which can make choosing between the two difficult. Examining the pros and cons of each platform may help you better understand the differences. 
Talkspace Pros
Accepts insurance from many of the top insurers
It is an established platform
You can choose your therapist 
Multiple plans to choose from
Talkspace Cons
May cost a little more compared to Calmerry
Calmerry Pros
May cost less compared to Talkspace
Video session included with the basic plan
Flexible plan options
Access to additional online resources 
Calmerry Cons
Relatively new platform
Does not accept insurance 
Talkspace vs. Calmerry – How to Choose the Right Option
Some of the details to consider when comparing online therapy platforms include the variety of therapy options, affordability, and availability. 
You should first consider the type of therapy you seek and how frequently you want to speak with a therapist. Talkspace and Calmerry offer unlimited messaging, but you only receive a limited number of one-on-one sessions each month.
With the Talkspace LiveTalk Therapy Ultimate plan, you can arrange up to four 45-minute sessions each month. The basic text-based therapy includes no live sessions but offers unlimited messaging. Along with sending text messages, you can send video messages or voice messages. For an additional $56 per month, you can add a single live video session. 
The Calmerry video plan costs slightly less compared to the Talkspace video therapy plan and includes four 30-minute video sessions. However, you also have the option of adding up to three 30-minute video sessions as needed for an extra charge.
The text-based Calmerry therapy plan includes unlimited messaging and one 30-minute video session. It costs slightly more compared to the Talkspace text-based plan but includes a live session. 
If you have insurance that may cover the cost of therapy, try Talkspace. The company accepts insurance from a wide range of providers.
Another consideration is the availability of services in your area. Talkspace operates in all 50 states. Calmerry is a newer company and is only available in about a third of the states in the US. Depending on where you live, Calmerry may not yet be an option.
Conclusion
Talkspace and Calmerry offer convenient access to remote therapy. Studies show that online therapy can be effective in treating certain mental health issues, such as depression, anxiety, and trauma. No matter which platform you choose, you are likely to receive effective therapy from a qualified professional.
So, should you choose Talkspace or Calmerry? Talkspace has a longer track record but Calmerry charges slightly lower rates. If you do not have insurance, Calmerry may offer the best value.
For those with insurance, try Talkspace first. Check to see if your insurance is accepted, as it may help you get a lower price for online therapy. 
You should also think about the type of service you need, as Calmerry does not offer psychiatry sessions or access to prescriptions. You may also need to wait for Calmerry to become available in your state.
The bottom line is that Talkspace and Calmerry provide the same services, but Talkspace is a larger platform with greater availability and a bigger pool of licensed therapists. It's also important to remember that you can cancel either service at any time, allowing you to switch from one to another if you are not satisfied. 
Sources
Was this article helpful?