At Safe Sleep Systems, we're supported by our audience, and we thank you. As a BetterHelp affiliate, we may receive compensation from BetterHelp if you purchase products or services through the links provided at no additional cost to you.
Thanks to online services such as Talkspace and Regain, accessing mental health is easier than ever. These services allow people to meet with therapists from the privacy of their own homes, at the convenience of working around their schedules.
There are so many mental health services out there providing telehealth services now. Some are highly specialized, providing mental health care for just one type of issue. Others are massive platforms with thousands of therapists offering all sorts of mental health support. With so many choices, it can be difficult to figure out which platform is better for you.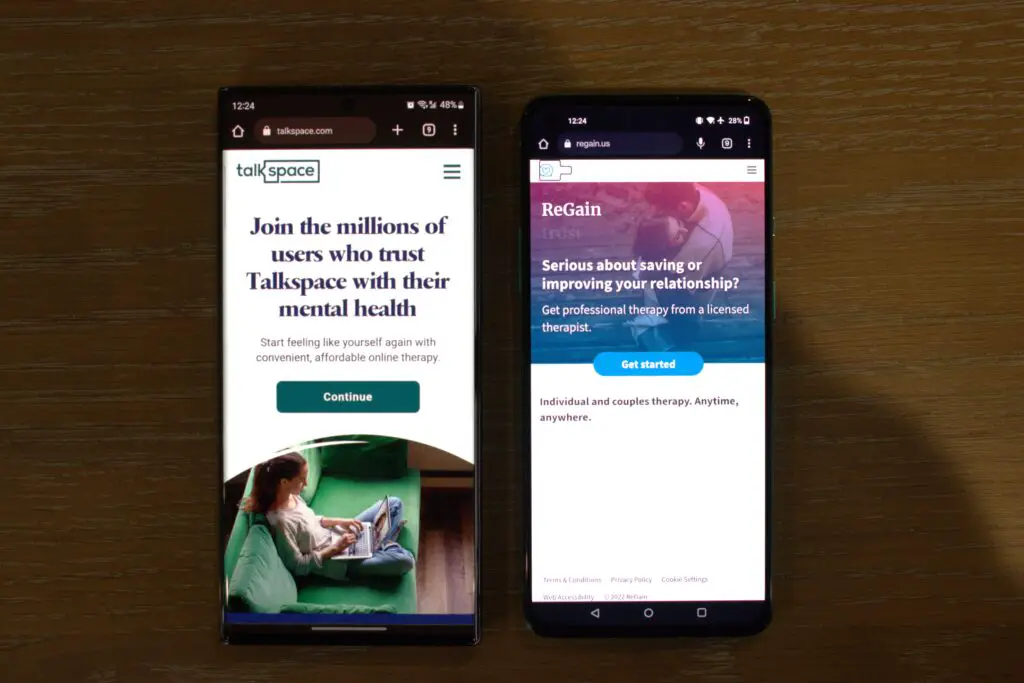 In this article, we'll compare these two major mental health providers and help you figure out which one is better for you.
Talkspace vs. Regain Quick Comparison
| | | |
| --- | --- | --- |
| | Talkspace | Regain |
| Price | $276-$516 a month, with discounts for prepaying  | $60-$90 a week ($240-$360 a month, changes based on a few factors, including location) |
| Focus Issues | General mental health, including depression, anxiety, etc. | Couples therapy |
| Mobile App Available | Yes | Yes |
| Text Therapy | Yes | Yes |
| Video Therapy | Yes | Yes |
| In-Person Therapy | No | No |
| Accepts Insurance | Sometimes | No |
| Access to Prescriptions | Yes | No |
| Age Range | 13 and older | 18 and older |
What Is Talkspace?
Talkspace is one of the biggest online mental health platforms, similar to its main competitor BetterHelp. It is one of the oldest platforms specializing in providing online mental health care, as it was founded all the way back in 2012. 
In the past ten years, Talkspace has grown to become one of the largest providers of online mental health. It has over one million users and thousands of therapists. The vast pool to choose from means that it is easier to find therapists specializing in whatever you need or ones that share your demographic.
Talkspace offers a few different plans that have different price ranges and services offered. The primary form of communication is texting. Patients have access to unlimited texting with a therapist, although therapists are not obligated to respond right away. Other plans offer live chats, when you know your therapist will be online and responding in real-time, and video calls that are closer to what you would expect from traditional therapy.
What Is Regain?
Regain is an online therapy platform that is actually a spin-off of the parent company BetterHelp. Regain offers couples therapy and relationship counseling. It is more specialized than other therapy platforms that offer general mental health. However, that means that when you sign up for Regain looking for couple's therapy, you know that the only therapists you find will be specialized couple's counselors.
Regain has a website and a mobile app through which patients can access therapy. Once couples make an account, they are matched with a therapist. They talk to the therapist via scheduled video and phone calls. Regain therapists also respond to text messages, usually one per day.
Regain does offer individual therapy, but the focus is on relationships, even in those individual sessions.
How Talkspace Works
Accessing help through Talkspace starts with signing up. When you sign up, you indicate which type of therapy you're interested in. You also fill out a questionnaire that gives the app insight into what you are looking for. Then, you are connected to an agent who follows a script to match you to a therapist.
Once you are matched with your therapist, Talkspace creates a virtual room, which acts as the space for you and your therapist. You can message your therapist in this virtual chat room at any time, although they only guarantee a response within one business day. You can access this virtual room from any device you use to access Talkspace through the website and mobile app.
Besides the chat room with live text, you can use other forms of communication with your therapist if you pay for extra plans. One add-on is a live video option, which is similar to traditional therapy because you schedule calls once a week. You can also pay extra to access Talkspace's psychiatry platform, through which you can get medication.
If at any point you are confused about how Talkspace works, the platform has how-to videos that you can access through the user portal. Stopping Talkspace is easy, as is switching therapists.
How Regain Works
Like Talkspace, you start using Regain by signing up for an account. You can do this through the website or the application. Once you make an account, you fill out a questionnaire that evaluates what you are looking for from a therapist. Then, the service uses the questionnaire to match you to one of its thousands of licensed therapists specializing in relationship issues.
The next step is inviting a partner. Regain is focused on relationship therapy, but you can choose to work through relationship issues on your own or access couple's therapy. You add your partner to the account, and it becomes a completely shared account. This means that both partners see all communication with the therapist, can schedule appointments with the therapists equally, and more. 
Once you set up Regain, you can schedule 30-minute sessions with your therapist. You aren't limited to how many you can have a week, although you are limited by your therapist's availability. Both partners can schedule individual sessions as well as couples therapy. In between sessions, you can message your therapist at any time, although therapists are not obligated to respond earlier than one business day. 
Advantages of Talkspace
Talkspace is one of the biggest online mental health platforms, and that is also one of its advantages. It has so many therapists on demand that it is easy to find someone who is offering the type of support you are looking for. You can find therapists who share the same demographics as you or ones that focus on your challenges.
The size of the Talkspace platform means you have more options in terms of treatment. You can access some medication through the separate prescription platform. Talkspace also has some therapists specializing in teen mental health, which is a gap often present in online mental health services that focus on adults. 
Talkspace is also flexible in its offerings. You can choose the plans based on your budget. You can also choose the plans based on the type of therapy you would like. While some people like the option to video call their therapist as it is the closest to traditional therapy, others are nervous about opening up to a person over the camera. For those people, live texting sessions are some of the best options because you get immediate feedback from a therapist without the vulnerability of turning on the camera.
Advantages of Regain
The biggest advantage of Regain is its specialization. If you know that what you need the most help with is relationship issues, then it's clear that the best thing you should do is find a platform that specializes in those issues. Instead of hunting through different platforms looking for therapists specializing in relationship issues, you know that Regain has great couples' counselors all in one place.
The therapists are one of the best parts of Regain's platform. All are certified therapists with advanced graduate degrees and specializations in relationships. Therapists also need three years of experience providing couples counseling before joining the platform, ensuring they are in the best hands.
Regain also makes it easier to communicate between all parties. A couple shares one communication platform to talk with a therapist. That makes it easy for both parties to see scheduled appointments and availability instead of going back and forth.  
Signing Up with Talkspace or Regain
The process of signing up with Talkspace or Regain is actually very similar. For both platforms, you start by making an account. Then, you fill out a questionnaire that analyzes your needs and wants out of therapy. The platform then matches you to a therapist.
The process of therapist matching is slightly different. After you fill out the questionnaire, Talkspace connects you to a matching agent. This agent is following a pre-set script they cannot deviate from, but it is a real person who helps you match to a therapist. Talkspace also gives you the option of talking to a therapist who can walk you through filling out the questionnaire. 
On the other hand, Regain matches you to a therapist based just on your questionnaire answers and an algorithm. You sometimes have to wait a few days to get your therapist matched. At any point during the sign-up process, you can invite your partner to join. Your partner cannot make a separate account, but you need to have a shared account if you want to access couples' therapy because the platform doesn't support three-way calls yet.
Talkspace vs. Regain—What's the Difference?
Talkspace and Regain operate on a very similar principle. You sign up, then have the option to talk to therapists via chat or phone. However, the platforms differ significantly in terms of the type of service they provide.
Type of Mental Health Support
The biggest difference is that Regain is a highly specialized mental health platform that provides couples therapy and support for relationship issues. If you know that is what you are looking for, Regain is the better platform. However, if you want support for other issues, such as anxiety that is unrelated to your relationship, Regain is not the best place for you.
Talkspace offers relationship support and options for couples therapy, but it also offers support for many other issues, such as anxiety, depression, grief, eating disorders, and more.
Range of Services
As Talkspace is the bigger platform, it also has a much wider range of services. Besides regular talk therapy, you can get some prescriptions filled through the associated psychiatric platform. 
Talkspace also offers support for teenagers in the form of talk therapy. Regain has conflicting information about the age range for its services. In some places, it says that it is for people 13 and older, while in others, it explains that it is not the best place for mental health support for minors.
Affordability
The sticker price of the two services is around the same. However, Talkspace has a wider range of prices. You can choose plans based on your budget and needs. Plus, Talkspace takes insurance in some cases and offers discounts if you can prove financial need. Regain does not accept insurance and is not as flexible with pricing.
Talkspace vs. Regain—Pros and Cons
Here is a quick snapshot of the pros and cons of each platform.
Talkspace Pros
Wide range of services, including couples therapy
Prescriptions possible
Accepts insurance
Many different plans available depending on your treatment preferences
Talkspace Cons
Have to pay extra for a plan that includes video calls
Size of the platform is sometimes overwhelming
Regain Pros
Specializing in couples therapy, so if that's what you want, it's easy to find
Clear communication with all parties in one place
Other resources available to help you, such as group webinars and worksheets
Regain Cons
Only helpful for relationships and couples issues
Does not take insurance
Both partners see all communication, making privacy difficult
How to Choose the Right Online Therapy Platform
There are so many options for online therapy because everyone has different mental health challenges. Before signing up for a single platform, you need to think about what you want from your mental health journey as well as the resources you have at your disposal to make that happen.
If you know you want help with relationship issues, Regain is the clear superior platform. You know all the therapists you match with are specialized in couples therapy. Plus, with Regain, all plans include video chatting, which is not what you can say for Talkspace.
If you want broader help, Talkspace is the better choice. It offers therapists with many specialties as well as a wider range of services, including medication. The downside is that you have to pay extra to get plans that include those services.
Conclusion
Both Regain and Talkspace are great options for online therapy. The trick is selecting the right one for the type of support you are looking for.
Sources
Was this article helpful?