At Safe Sleep Systems, we're supported by our audience, and we thank you. We may receive compensation if you purchase products or services through the links provided at no additional cost to you.
Talkspace and Cerebral both offer online therapy and remote mental health services. However, the prices and available services vary on each platform. Talkspace offers convenient online therapy at relatively low prices, while Cerebral charges a little more for more in-depth services. 
Choosing between the two depends on what types of mental health services you require and the condition you seek treatment for. The following article provides a detailed comparison of these two therapy platforms to help you figure out which is best for you. 
If you want access to on-demand therapy 24/7, Talkspace may be the best fit. If you want an ongoing treatment plan, you may want to try Cerebral first.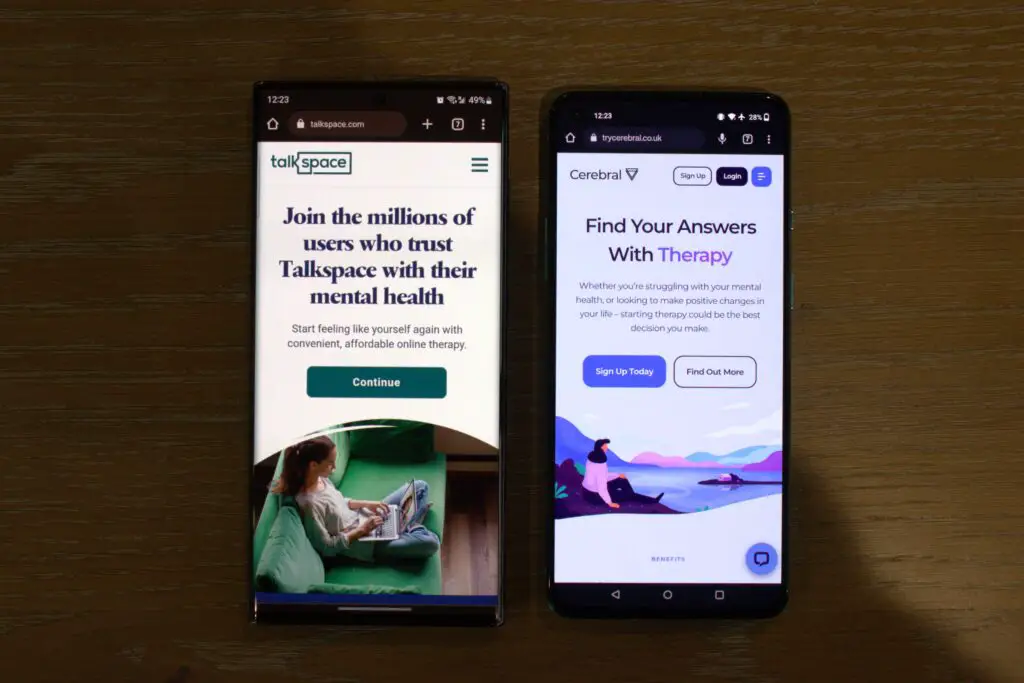 Talkspace vs. Cerebral Comparison Table
| | | |
| --- | --- | --- |
| | Talkspace | Cerebral  |
| Price | Starts at $69 per week | $259 per month |
| Mobile App Available  | Yes | Yes |
| Text Therapy | Yes | Yes |
| Video Therapy | Yes | Yes |
| In-Person Therapy | No | No |
| Accepts Insurance | Yes | Yes |
| Access to Prescriptions | Yes | Yes |
| Age Range | 13 and older | 18 and older |
What Is Talkspace?
Talkspace is one of the most recognizable online therapy platforms. It received increased interest during the height of the pandemic as more people searched for mental health services. However, Talkspace has a decade of experience in the telehealth industry.
Talkspace was established in 2012 to provide counseling services to married couples. The company eventually expanded its services to include individual therapy, group therapy, and other mental health services. 
Talkspace was one of the first companies to take advantage of the remote healthcare concept. The company enlisted the help of professional swimmer Michael Phelps to help promote its services. It has now helped over 69 million people receive affordable mental healthcare services. 
You can also arrange psychiatry services if your mental health treatment may benefit from the use of prescription medications. Talkspace offers virtual therapy over the web or a mobile phone. You can use text or video chat to communicate with a licensed therapist.
How Does Talkspace Work?
Using Talkspace requires you to choose a membership. The plans start at about $276 per month, which is $69 per week. Here is a quick look at the available plans:
$69 per week—text-based therapy
$99 per week—video-based therapy
$109 per week—live workshops
The most expensive plan includes text and video therapy, along with access to live workshops. You may save on the costs by submitting your insurance information. Talkspace currently accepts insurance from several of the largest insurers, including Cigna and Optum. 
Signing up for Talkspace requires you to complete a short assessment. After answering some basic questions about your needs, Talkspace creates a list of potential therapists. You can browse the recommendations and pick a therapist that you feel comfortable talking with. 
Talkspace allows you to arrange therapy sessions using the mobile app or website. All appointments and billing are arranged through your account. 
Along with therapy, Talkspace now offers psychiatry services. You can use a Talkspace Psychiatry account to book virtual psychiatry appointments and receive prescription medications as part of your treatment plan.
What Is Cerebral?
Cerebral has a website and mobile app for arranging therapy and psychiatric services remotely. The sessions are completed over the phone or via video with licensed professionals in the United States and the United Kingdom. 
Cerebral started in January 2020. It is one of the youngest online therapy platforms but has already made a large mark in the industry. The company went from 5 employees in early 2020 to over 5,000 employees in less than two years. 
Cerebral focuses on treating specific mental health issues, including anxiety and depression. The company has over 400,000 current members and works with employers to provide mental health services to employees. 
How Does Cerebral Work?
Individuals who are interested in arranging mental health services through Cerebral need to choose a plan. Cerebral offers several options for patients in the United States and the United Kingdom.
In the UK, members can choose between individual sessions and recurring sessions. The individual sessions start at £79. 
In the US, members can choose online therapy, online medication, or both. Cerebral offers access to therapists and psychiatrists. Online therapy costs $259 per month. Medication management, which allows you to obtain prescription medications, costs $325 per month.
The plans require you to complete an evaluation before you select a therapist or psychiatrist. Cerebral bills patients monthly. You also have the option to cancel at any time. 
Along with therapy and psychiatry appointments, Cerebral helps you develop an ongoing care plan. The company works with you to create a plan for achieving your specific goals. 
Why Choose Talkspace?
Talkspace is a recommended option for anyone who wants convenient access to remote therapy. You can choose text-based or video-based therapy and connect with a licensed therapist in less than 24 hours.
Talkspace also has a streamlined process. You can sign up using a web browser or the Talkspace mobile app. Text-based therapy from Talkspace is one of the most affordable remote therapy options available. It also offers unlimited text messaging, which is not something that you get from other platforms.
Some people may also feel more comfortable starting with text-based therapy. You can maintain greater privacy compared to a video chat. Yet, you can also upgrade to the video-based therapy plan at any time.
Why Choose Cerebral?
Cerebral is a good fit for anyone who wants personalized mental healthcare for treating a specific issue, such as anxiety or depression. You get to work with a licensed therapist or psychiatrist to address your biggest concerns and develop a treatment plan.
Talkspace focuses on on-demand therapy, while Cerebral focuses on recurring sessions with the goal of addressing specific mental health issues. You receive many of the same options available from Talkspace but with more of a personalized approach. 
Talkspace vs. Cerebral—The Initial Process
Using Talkspace or Cerebral for the first time includes several of the same steps. Here is a closer look at the initial process for both platforms. 
Signing up for Talkspace takes just a few minutes. You need to create an account and choose a plan through a web browser or the Talkspace mobile app. 
You can choose between text-based or video-based therapy. If you choose video-based therapy, you still get access to text messaging. Talkspace also offers a third option that adds live workshops along with video and text messaging. 
After you answer a few questions, Talkspace searches its database of licensed mental health professionals to find the best match. 
Cerebral also requires you to create an account and pick a plan. You choose from virtual therapy, online medication management, or both options. You can always change your plan later if your needs change. Cerebral then searches its database to pair you with a therapist or psychiatrist. 
After receiving a match from Talkspace or Cerebral, you can schedule your first appointment. Both platforms allow you to manage everything from a mobile app. You can schedule appointments, message your therapist, and pay your monthly bill through the app. 
Talkspace vs. Cerebral—What's the Difference?
Talkspace and Cerebral both offer access to remote text-based and video-based therapy. You can schedule weekly video therapy sessions using either platform. You can also text message your therapist at any time. However, the pricing and availability are different.
Affordability
Cerebral is slightly less expensive compared to Talkspace, especially if you want video therapy sessions. Online therapy starts at $259 per month at Cerebral. 
Text-based therapy from Talkspace costs $69 per week, which is about $276 per month. Upgrading to video therapy costs $396 per month. You can save close to $140 per month with Cerebral compared to the video plan from Talkspace. 
Keep in mind that your insurance may cover some or all of the costs of your therapy sessions. Many insurance providers include a limited number of out-patient mental health appointments per calendar year.
Ease of Use
Talkspace offers one of the most streamlined solutions for obtaining telehealth services. You can access everything through the mobile app. 
If you dislike complex signup processes or confusing pricing models, you are likely to enjoy the user-friendly experience that Talkspace provides. 
Cerebral is also relatively easy to use. The mobile app is simple to navigate. You should have no problem scheduling appointments and setting up video therapy sessions. 
Customer Service
Talkspace and Cerebral have dependable customer service departments. You can reach the Talkspace customer service

team via email or phone. You can also submit an online form or find answers to questions using the company's online help center. 
Cerebral allows you to get in touch via email, phone, or an online contact form. You can contact the Cerebral customer service

department Monday through Friday between 6 am and 6 pm (PT) and 7 am and 4 pm on Saturdays and Sundays. You can expect a response within 24 hours.
Availability 
Cerebral and Talkspace are both available throughout the United States. Both companies operate in all 50 states and Washington, DC. Cerebral also has offices in the UK. 
The minimum age requirement varies between the two. Talkspace is available to individuals aged 13 and older. Cerebral is only available to those that are at least 18 years old. 
Talkspace vs. Cerebral—Pros and Cons
The following pros and cons provide a quick overview of Talkspace and Cerebral. Review the strengths and weaknesses of each service to better determine which one fits your needs. 
Talkspace Pros
Unlimited text messaging is included with all plans
Available in all 50 states 
User-friendly experience
Talkspace Cons
Costs a little more compared to Cerebral
You need to pay for a separate plan to add psychiatry services
Cerebral Pros
One of the most affordable options for psychiatry services
Available in all 50 states
The first month is discounted 
Cerebral Cons
Not available for dependent children (must be 18)
24/7 text messaging is not always available
Talkspace vs. Cerebral—How to Choose the Right Platform
Choosing the right online therapy platform may depend on a variety of factors, starting with availability. Both platforms operate in all 50 states. However, the number of therapists available in each state can vary. 
After signing up for one of these services, you may find that you only have a few options when it comes to picking a therapist. If you are unhappy with the selection, you can always try the other service. 
You should also consider the type of therapy you seek. If you only want text-based therapy, Talkspace may be the right choice. It offers one of the most affordable remote therapy solutions, as plans start at just $69 per month. 
Talkspace also provides access to a wider range of options, including group therapy and marriage counseling, which are not available through Cerebral. 
Cerebral also lacks a text-only plan. You can choose between online therapy with video sessions, prescription medication management, or a combination of both services. 
You can obtain prescription medications through either service, but it is likely to cost more through Talkspace. You need to pay to add the Talkspace Psychiatry plan. The prescription plan through Cerebral is more cost-effective and can be bundled with online therapy for a greater value. 
Talkspace and Cerebral also have different approaches to assisting people with mental health issues. Talkspace is more hands-off. You arrange weekly sessions with your therapist. Developing a care plan or a treatment option are details that you can discuss with your therapist. 
With Cerebral, you receive a complete care plan. You also get ongoing monitoring, access to self-care resources, and regular check-ins with your prescription provider over the phone or through additional video sessions. 
Conclusion
Talkspace and Cerebral are both legitimate telehealth platforms. You can use either website for remote therapy over the phone or video chat, but there are differences between the two.
Talkspace is more user-friendly. You can download the mobile app and connect with a therapist quickly. The text-based therapy plan is also one of the most affordable remote mental healthcare services. 
Cerebral becomes more cost-effective if you require psychiatry services. The online medication management plan includes virtual psychiatry appointments to incorporate prescription medications into your treatment plan.
The bottom line is that you are likely to receive quality care from either platform. However, if you want access to on-demand therapy 24/7, Talkspace may be the best fit. If you want an ongoing treatment plan, you may want to try Cerebral first. 
Sources
Was this article helpful?