At Safe Sleep Systems, we're supported by our audience, and we thank you. We may receive compensation if you purchase products or services through the links provided at no additional cost to you.
The demand for mental health care is growing as more and more people are overcoming the stigma and realizing that it's okay to need help to be happier. Traditional therapy, where people have to go through insurance providers and chase down therapists hoping for availability, isn't enough to meet the demand anymore.
That is where online mental health platforms come in. Giants like Talkspace promise users the same experience they would find through in-person therapy for a slightly lesser fee. Slightly smaller sites, such as 7 Cups, have been plugging along for just as long, creating supportive communities for people dealing with mental health challenges.
If you want therapy and have the money to pay for it or the insurance coverage, Talkspace is better. If you want a supportive environment to work through some stuff but don't have the money for much, 7 Cups is a very valuable resource.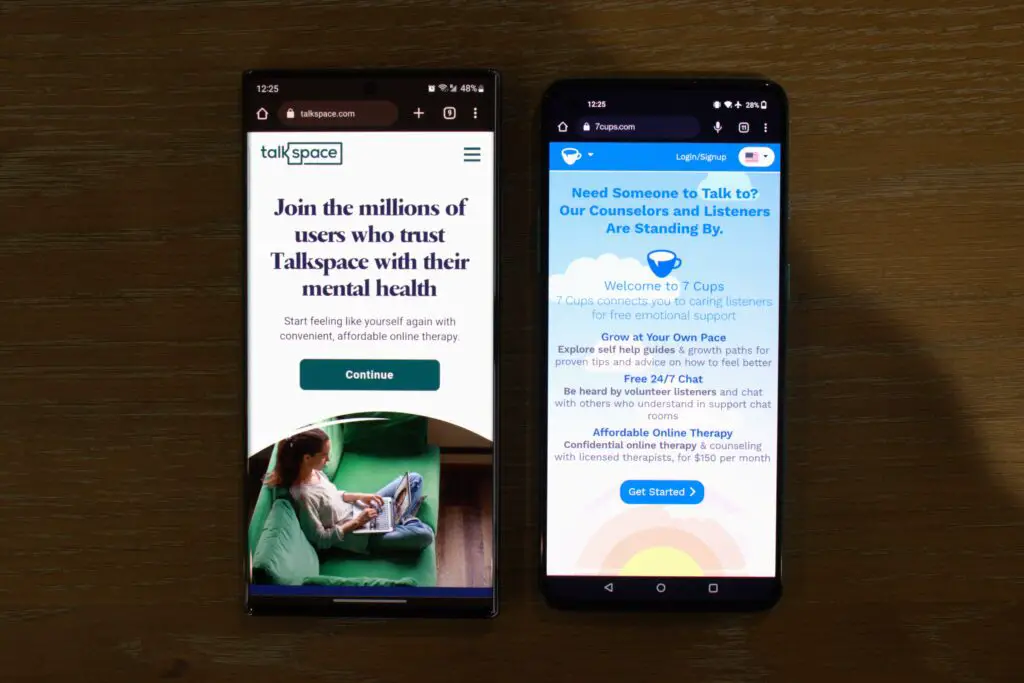 With so many names out there, you might be wondering which one is better. Here is your side-by-side comparison of 7 Cups and Talkspace to decide which is better for you.
Talkspace vs. 7 Cups Quick Comparison
| | | |
| --- | --- | --- |
| | Talkspace | 7 Cups |
| Services | Therapy with a licensed therapist | Therapy, Volunteer support, Forums |
| Price | $69 to $109 per week | Free for the forum, $150/month for therapy |
| Mobile App Available | Yes | Yes |
| Text Therapy | Yes | Yes |
| Video Therapy | Yes | No |
| In-Person Therapy | No | No |
| Accepts Insurance | Yes | No |
| Offers Prescriptions | Yes, with an add-on plan | No |
| Age Range  | 13 and older | 12 and older for the forum, 18 and older for therapy |
What Is Talkspace?
If you've heard of one mental health telehealth platform, you've probably heard of Talkspace or its biggest competitor, BetterHelp. Since its launch in 2012 as an online couple's therapy platform, Talkspace has been one of the primary resources for people who need mental health support.
Talkspace provides people with online therapy that is very similar to the type of therapy they can access in person. People can have live texting sessions with a therapist or communicate via video chat.
The main goal of Talkspace is to make therapy accessible to more people. The prices are lower than for most out-of-network therapists, and meeting from home is easier for people with busier schedules or those who are worried about stigma.
What Is 7 Cups?
7 Cups has been around almost as long as Talkspace. Originally known as 7 Cups of Tea, the website launched in 2013 to provide a place where people can safely and anonymously express mental health concerns and get support from other people who are going through similar things.
The basis of 7 Cups was peer-to-peer support. People could join group chats or post in forums, meeting people who are going through similar things.
Although the basis of 7 Cups is still the forum culture, the company has expanded to offer more personalized support. People can connect with a trained listener or a volunteer who guides them through their mental health challenges. Paid members can access live texting sessions with therapists.
How Does Talkspace Work?
The way Talkspace works depends on the plan that you choose (hence why there is such a wide range for the company's weekly pricing). For the most affordable plans, you get matched with a therapist after signing up. Then, you communicate with this therapist via text.
You can message your therapist any time, but the therapist is only obligated to respond within 24 hours on a business day. You can also schedule live texting sessions, where the therapist can respond in real-time.
For a slightly more expensive plan, you get access to video chatting with a therapist. This plan is the most similar to traditional therapy. You meet with a therapist once a week via a video call, building a strong patient-therapist relationship.
Finally, you can pay for an additional plan that allows you access to Talkspace's separate psychiatry platform. You can get some prescription medication through this platform.
How Does 7 Cups Work?
Many people are hesitant to use 7 Cups because the website and app are set up in a pretty complex way. Once you get the hang of it, it is easy to access the support you need.
The initial steps are easy. You create a user account with some basic information, staying as anonymous as you would like. Then, the platform takes you to your dashboard.
The dashboard has many options, including chatting with a therapist or live volunteer, joining group chats, downloading resources, and more. Many users report that this dashboard is overwhelming.
Once you sign up, you can look at the different group chats and discussion boards available to you. You can join group chats based on your interests and support needs to chat with other people going through similar things. 
If you want one-on-one support, click the buttons to chat with a listener. Active listeners are trained volunteers who are there to provide support to 7 Cups users, although they don't have any formal qualifications. You can also text with a therapist, but that requires paying extra.
Advantages of Talkspace
Talkspace's biggest advantage is that, along with BetterHelp, it is one of the closest things to traditional, in-person therapy you can get without leaving your home. All of the people you connect with through the platform are licensed therapists with advanced degrees and several years of experience providing therapy. The platform does a good job of vetting the qualifications of people who work through it.
The level of communication you get with therapists through Talkspace is very similar to the level of communication you would expect from a therapist you meet in person. Video chats are a good substitute for meeting in person as they allow users and therapists to read each other's body language.
Setting up weekly communication also builds a regular rapport that makes it easier to build trust, which is necessary to excavate some deeper-seated issues, such as trauma patterns.
Talkspace is one of the biggest platforms out there, which means it has the capacity to handle more serious mental health challenges. A common critique that therapists have of many online therapy platforms is that they are great for mild anxiety and depression but not for more severe mental health challenges.
Talkspace has therapists who are trained in a variety of issues, although it emphasizes that teletherapy is not adequate if someone is a danger to themselves or others. Patients can also access medication through the platform because talking is not always enough.
Advantages of 7 Cups
The biggest advantage of 7 Cups is the community feeling that arises when people sign up for the platform. Mental illness is an inherently isolating phenomenon because diseases such as depression convince patients that nobody else will want to talk to them.
This phenomenon is made worse due to the mental health stigma that is still present. With 7 Cups, people immediately get access to supportive communities via moderated group chats and forums, showing them that they are not alone.
Another advantage of 7 Cups is its anonymity. People sign up with completely anonymous profiles. Even when they text with active listeners or therapists, they stay anonymous and don't have to call or video chat. For people who are worried about people finding out about their mental health challenges, or teens still living in unsupportive homes, anonymity is key to safety.
7 Cups is also more accessible financially than any other mental health service. Accessing the forums, group chats, and live texts with trained listeners is completely free. Although some self-guided pathways are only available for premium members, and you do have to pay extra to access trained therapists, those memberships are still much more affordable than most forms of therapy.
Finally, 7 Cups has a vast number of resources available for people that want their mental health journey to be self-guided. There are plenty of helpful blog posts, forums, and self-guided courses teaching you important skills such as mindfulness and stress management available even without paying for the premium membership.
Signing Up with Talkspace or 7 Cups
Since Talkspace and 7 Cups have different services, the sign-up process is also pretty different.
When you sign up for Talkspace, you create an account on their website or app with your basic information and payment information. Then, you select which weekly plan you want. Finally, you fill out a questionnaire that gives the platform an insight into the type of care you need. The platform then matches you with a therapist, and you can set up an initial appointment.
Signing up for 7 Cups is a lot easier. All you have to do is make an account, create a username and password, and then the platform creates a dashboard for you. From your dashboard, you can decide to join group chats, download resources, or look into therapy. If you choose the option to chat with a therapist, the platform will prompt you to enter payment information.
Talkspace vs. 7 Cups—What's the Difference?
There are a few big differences between 7 Cups and Talkspace. Here are the major ones.
Community Feeling
7 Cups emphasizes the importance of community. While people can talk to therapists or active listeners, the biggest support comes from group chats and forums. For many users, this community is the most important thing because it helps them feel as if they are not alone. Talkspace does not offer any group therapy options, making some people very isolated.
Who You Talk To
For most of its history, 7 Cups relied on volunteers. Volunteer listeners would communicate with people via live texting and support. These same volunteers also heavily monitor the forum posts, removing any harassment and bullying.
While these volunteers go through the platform's training, they don't have any formal training in psychology. Some therapists criticize this approach, saying a supportive ear is not enough for more severe mental health conditions.
On the other hand, when you sign up for Talkspace, everyone you talk to is guaranteed to be a licensed therapist. For some people, this professional support is necessary as they unpack difficult topics.
Communication Style
On 7 Cups, all communication happens over text. Even when you contact a volunteer listener or therapist, all communication is text-based. For therapists, there isn't even a guarantee when the person will respond, with some people reporting that their therapist only responded once a day.
Text communication is easier for some people, for example, those struggling with social anxiety. For others, it makes it harder to build trust and rapport.
With Talkspace, you have the option to text your therapist at any time. However, you can also video chat with most plans. Even the most basic plan gives you the option to schedule live texting sessions, which are more responsive.
Affordability
One of the biggest differences is affordability. While Talkspace is more affordable than in-person therapy and does accept insurance, it still costs hundreds of dollars a month. 
Most of 7 Cups is available completely for free. Even access to therapists only costs about $150 a month.
Talkspace vs. 7 Cups—Pros and Cons
Here is a quick side-by-side comparison of the two platforms and their advantages.
Talkspace Pros
Great patient-therapist rapport
Option to text or video call
Thousands of highly trained therapists with many specialties
Talkspace Cons
Expensive 
Not many resources for self-guided work or group support
7 Cups Pros
(Mostly) Free
Anonymous
Group support through chats and forums
Plenty of self-guided resources
7 Cups Cons
Volunteer listeners are not therapists
No option to video call
No prescriptions or support for more severe mental health challenges
Frequent complaints that it feels impersonal
Talkspace vs. 7 Cups—Which One Is Right for You?
If what you're looking for is therapy, then Talkspace is the better platform in almost every way. Everyone you talk to is guaranteed to be a professional therapist. You have a few communication options, including video calls. 
Talkspace offers support for more mental health challenges. It has the capacity to guide people through more serious issues than just anxiety and depression, thanks to its many specialized therapists and personal support, including psychiatry.
However, 7 Cups offers one major advantage that Talkspace cannot beat—it's free. For someone who is going through a tough time but may not have the money for a therapist, the free group support and active listeners of 7 Cups are a valuable resource.
Conclusion
Deciding between 7 Cups and Talkspace depends on two important factors—what you're looking for and your resources.
To recap, if you want therapy and have the money to pay for it or the insurance coverage, Talkspace is better. If you just want a supportive environment to work through some stuff but don't have the money for much, 7 Cups is a very valuable resource.
Sources
Was this article helpful?