Building the perfect backyard yoga meditation space is much easier than you think. This tranquil outdoor space can provide you with a breath of fresh air, a rejuvenated spirit, and more time to understand the true you – it's what we all want. It's also affordable, easy to set up, and if built correctly it will last you through the seasons.
We already understand the major benefits of an indoor sensory room

, but being outdoors gives you freedom, vitality, and closer to nature – even if it's your backyard. Seeing, smelling, hearing the outdoors can have surprising effects such as reduced pain

, and less stress.
While there are no doubt limitations to these studies, there is enough evidence to support the benefits of being outdoors, and combining that with something as relaxing as mindful meditation, or a focused outdoor yoga session can intensify the benefits.
As with all of our product reviews, we like to take an approach that the average person would, we like to understand how easy it is to acquire and setup these items, and what the best products are out there – we love testing them!
At Safe Sleep Systems, we're supported by our audience, and we thank you. When you purchase through links on our site, we may earn an affiliate commission, at no additional cost to you. Learn more

.
We've done all of the research so you can skip through to the best of the best when it comes to setting up a backyard meditation or yoga environment. We look at pods, tents, yurts, screen houses, and all the kit you'll need to get set up quickly (you can thank us later!).
It's entirely up to you to pick and choose what works for you, whether in your backyard, a camping trip, perhaps your local park, or a longer retreat into the wilderness. We want you to be armed with the information you need to create a stress-free environment and escape the high-pressure and fast pace of life.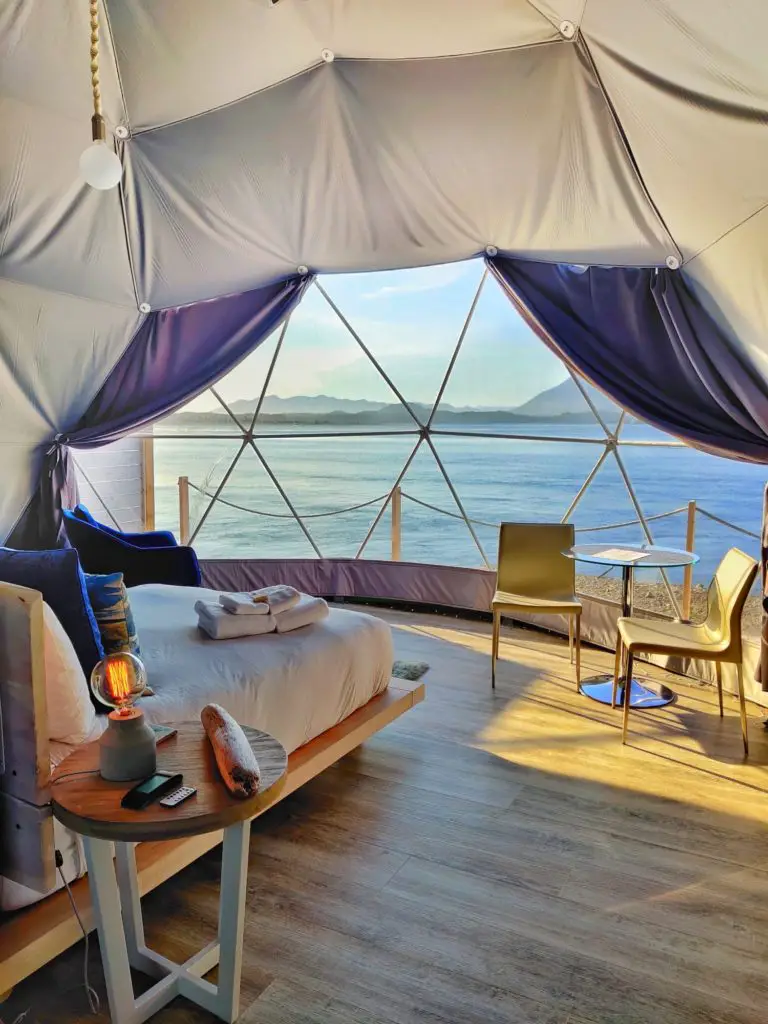 Alvantor Outdoor Screen House ⛺
"From zero to zen in just a few minutes – bug-free!"
Safe Sleep Systems Rating:⭐⭐⭐⭐⭐
Alvantor Screen House Room Camping Tent Outdoor Canopy Pop Up Sun Shade Hexagon Shelter Mesh Walls...

☀Highlight: design patented Lightest Pop Up Screen Room for 4-6 adults is only 15 lbs, 1/3 weight...
☀Spacious space & ventilation: Alvantor Breezy Hexagonal Screen house is 10'x10'x7', ...
☀Patent design: fabric top provides an all-day UPF...
Last update on 2023-09-15 / Affiliate links / Images from Amazon Product Advertising API
What We Like ✅
Super quick assembly and stow-away
Spacious
Excellent ventilation
Protects against bugs and mosquitos
UV 50+ Protection
2 zip door entrances
Things to Improve ❌
Not ideal for wet weather conditions
Alvantor is one of our top brands to work with, for good reason. Not only do they provide affordable and consumer-focused products, but their online reviews are always fantastic. Our readers often get in touch to tell us their success stories after reading the popular 'Autism Bed Tents for Kids

' article that features the Alvantor bed tent.
The team who make this product are tent experts and have over 50 products in their line-up. This new, innovative design caters to all who want to build a relaxing and spacious environment to find calm and serenity for yoga and meditation.
We know that having a routine, and planned meditation or yoga is ideal, but it's not always that easy! Having the ability to put up a screen house within seconds to sit cross-legged or in child's pose can be the break you need from the stresses of your day.
Most importantly, this screen tent is purpose-built to protect you from distracting and intrusive bugs. We've all had outdoor waves of calm interrupted by a mosquito zap and it can be hard to regain concentration.
"Research in a growing scientific field called ecotherapy has shown a strong connection between time spent in nature and reduced stress, anxiety, and depression."

Harvard Health Publishing
We all understand the importance of getting outdoors for our mental health

, but it's not always easy to find tranquillity without going far. If you have space in your backyard, or even nearby park, the portable and easy to set-up outdoor yoga screen-house is ideal.
We did however notice a downside to the screen house, which is that it's only really ideal for days without rain. The roofing is flat and therefore will create a heavy pool of rain or precipitation which may cause the outdoor screen house to cave in unless propped up creatively.
Although it's fair to say that if you're using such lightweight and ventilated backyard yoga equipment then it's probably not raining!
Products made by this brand have been ideal for children with autism, especially their easy to set up bed tents. In a similar fashion, this outdoor yoga equipment can be great to introduce your child with autism or learning difficulties into the world of stretching and finding inner calm.
You can decorate the backyard yoga tent to be as welcoming as you like so that your loved one recognizes and matches the patterns of calm and feeling good with yoga. But it's not limited to just children, if you're pregnant and looking to strengthen and relax your muscles yoga can be great in your third trimester

.
Ultimately, this screen-house is an ideal purchase for anyone that wants a hassle-free and affordable setup to meditate, practice yoga, or have a calm-space outdoors and easily accessible.
As noted by John Cottrell, Ph.D, both yoga, and meditation complement each other to positively change your personality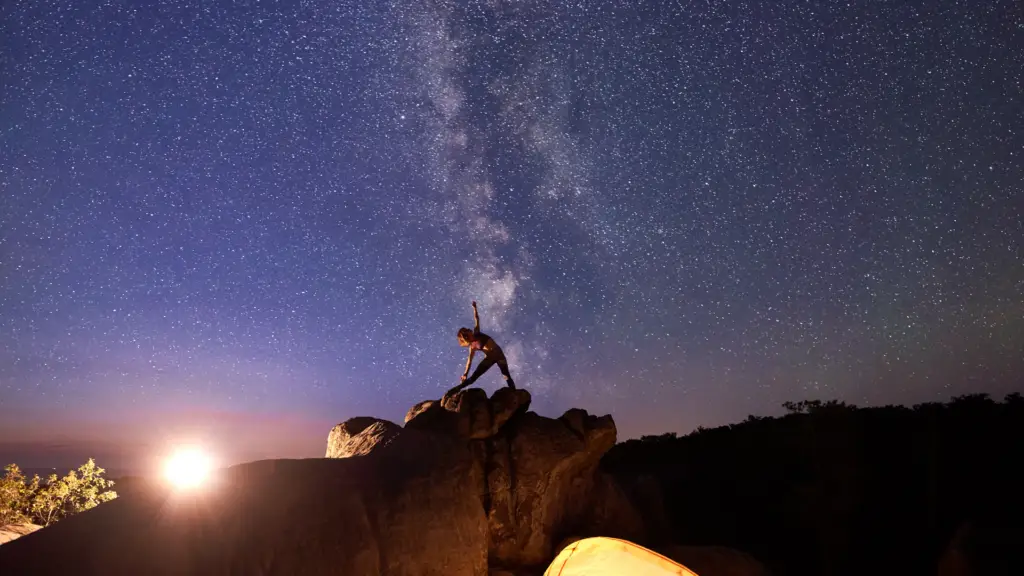 🥇 Best In Class Overall ⛺
"Take Complete Control Of Your Calm Zone"
Safe Sleep Systems Rating:⭐⭐⭐⭐⭐
DANCHEL OUTDOOR Waterproof Cotton Canvas Yurt for Family Glamping, Durable Bell Tent with Removable...

🔸2-4 PERSON CAMPING: Dia. 4m /13ft, top height 2.5m/8.2ft, wall height 1.97 ft. door height...
🔸WATERPROOF&HEAVY DUTY: Made of waterproof 285GSM(10oz) 100% canvas khaki fabric. (Not have the...
🔸YURT TENT FOR LIVING:Ample interior space provides you with ideal outdoor living. One 5inch hole...
Last update on 2023-09-15 / Affiliate links / Images from Amazon Product Advertising API
What We Like ✅
Very durable cotton canvas
Waterproof treated fabric
Spacious, perfect for decorating and interior-design
Great for all seasons
Ability to remove sides for summer
When it comes to designing your own space to practice yoga or meditate without distraction, the ambiance, the atmosphere, and the energy must be perfectly aligned with your spirit.
Building this environment isn't easy, but the time and effort spent can reap rewards through personal growth. Keira Shepherd, our Certified Yoga Instructor, has explored the different benefits between indoor and outdoor yoga.
While indoor yoga may help you feel less self-conscious and very quick to perform, outdoor yoga can help us feel more connected to nature and the outdoors.
This 13-foot tent is without a doubt the best in class to begin creating your dream environment to relax, compose, and be your best self. This design not only feels more luxurious but doesn't remind you of a camping tent or a garden party due to its unique teepee design.
The fabric is without a doubt built to last with 540GSM PVC flooring, which is significantly thicker than your average tent, and almost double the thickness of your average garden furniture cover, so you won't have concerns of its ability to last you over the years.
Once you have found a great spot in your backyard for this outdoor yoga tent or meditation room, it's likely to stay as a semi-permanent fixture. Its durability means it'll last through summer and can handle cold weather climates too.
Just imagine the pitter-pattering of rain as you sit listening to your thoughts, feelings, and sounds around you.
Especially in the summer, trying to find freedom in tranquillity can be difficult with bugs and mosquitoes pestering you. We've done a lot of camping and outdoor activities and know the hands-down best option is to use a mosquito/bug net when you want to keep your body bite-free and mind free from distraction.
A big net style cover can easily be attached to your tent with cable ties, bungee cord, or even strong tape depending on your setup.
Your alternative options are the new age ultrasound insect repellents that have been well tested and have solid reviews or the classic and reliable bug spray on your clothing, your tent, and nearby area to ward off those pesky insects!
🥇 Best In Value Meditation Pod 🧘
"The Perfect All-Round Meditation Pod"
Safe Sleep Systems Rating:⭐⭐⭐⭐⭐
Last update on 2023-09-15 / Affiliate links / Images from Amazon Product Advertising API
What We Like ✅
Great value
Easy to set up and take down
Convenient size
Lightweight
Portable
Amble ventilation
Great for all weather conditions
Things to Improve ❌
Better suited for meditation than yoga
One of the most important aspects of building a yoga or meditation space is the ease of access. If you always need to shift things around in your garden before setting up your outdoor yoga tent, it can be just the excuse you need to avoid taking the time to find calm through meditation or yoga practice.
With that said, the Vidalido is without a doubt one of the easiest to set up, and practical in the space it takes up in your garden or outdoor setting. In just 15 minutes, you can be underway and begin your outdoor yoga practice – bringing you that alone time to reduce stress and lower your anxieties.
This particular tent design is perfect for all weather conditions. It has plenty of ventilation for summer, as well as the ability to completely open the front to let in gentle breezes, light, and panoramic views of your outdoor space, which can be great to watch the clouds as part of your meditation practice.
The 150D Oxford fabric material offers ample protection from the winter rains. If you've never been cozy and snug within the comfort of a tent during the rain, you should try it! The ultimate sensory feeling of raindrops falling on the canvas, while you're safe, warm, and peaceful inside.
Design is always essential when finding the right outdoor meditation tent as it will make you feel good before your practice. This teepee style design is the perfect blank slate for you to begin designing and adding accessories to spruce up the feeling inside.
We have more information below on the best accessories and sensory equipment to maximise your experience.
The one downside here is that this teepee design may not be ideal for yoga if you're tall. Measuring 12 feet in length, it is possible to stand straight in the middle, but sun salutations and long poses may have you touching the edges. However, if you're slightly shorter, you should have no problems.
Having stayed in several outdoor glamping pods, I completely understand the feeling of being in a large enclosed environment that feels cozy, comfortable, yet homely.
Camping is great, but building your bespoke pod that uniquely designed to your taste is a rewarding feeling, and this tent is precisely for that.
The most exciting and personalized part of this is the way you kit your outdoor pod out. Check out the styles and must-have accessories below to inspire your meditation pod design – even better if you have a view!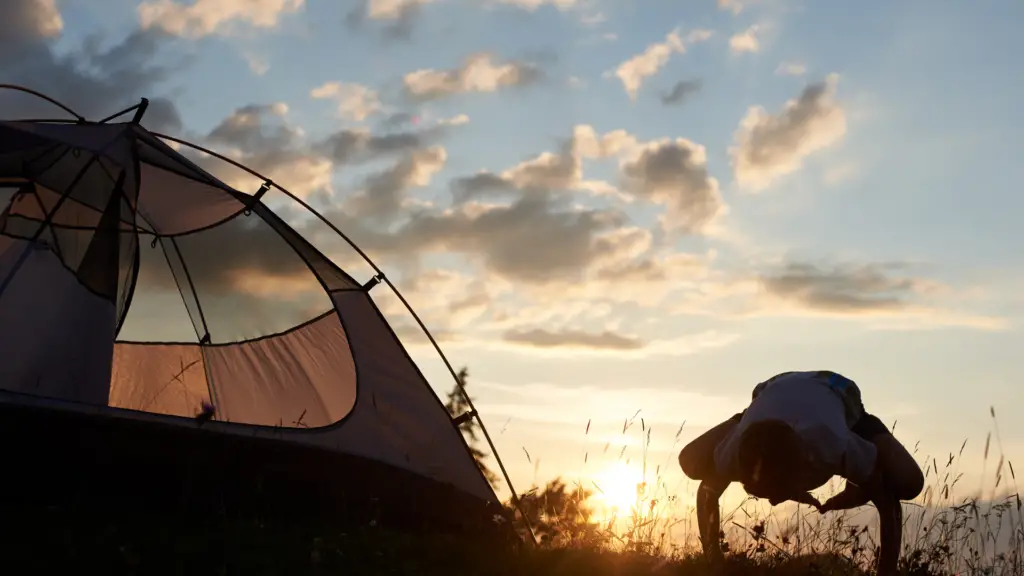 🏅 Best Accessories For Outdoor Yoga Tents ⛺
Without a doubt, you will need some extra accessories to make your outdoor yoga space or meditation zone feel bespoke and unique to you. There are several easy and cost-effective ways to do this to ensure you're able to feel gratitude and find peace.
Outdoor Yoga Flooring
At the top of your list, you'll need to invest in something for the ground beneath you. Depending on whether you plan on using this outdoor tent for yoga or meditation, you'll want to factor in the type and size of the material needed.
For yoga, depending on how good your yoga mat

is, you will want to place a yoga mat directly on top of the tent fabric to ensure there's enough friction to stop any movement.
If you look online there's an endless amount of yoga mat options for your outdoor yoga tent, but we've tested tens of different products and we've found the best in the "non-slip" category.
If you want to be more environmentally friendly and believe in sustainability then Manduka yoga mats

will not only recycle your old mat in a sustainable way, but their mats are manufactured in a way that doesn't emit toxic emissions into the atmosphere. They also have awesome colors!
Last update on 2023-09-15 / Affiliate links / Images from Amazon Product Advertising API
If you're building your own outdoor meditation space and would like to pad the flooring with something more comfortable, then a slightly larger padded mat and a throw are ideal.
This gives you both the comfort to move around, sit, or lie down without feeling the hard surface under the tent – this can take away from the chilled out environment you're trying to create.
Doubling up on both a large throw as your base layer with a meditation cushion to sit on is ideal if you plan on meditating for longer periods of time.
Often beginners in meditation find discomfort in sitting in a full lotus for more than 10 minutes, so a soft booster cushion can help alleviate that stress and tightness from your lower back and hips to allow for a more comfortable outdoor meditation practice.
The Florensi meditation cushion is by far one of our favorite items to have – it's excellent for indoor use too. The buckwheat filling makes it soft yet sturdy, and the outside touch is velvety and smooth. I sometimes stroke the material and find it can induce feelings of calm – try it!
Last update on 2023-09-15 / Affiliate links / Images from Amazon Product Advertising API
Outdoor Yoga Lighting 🧘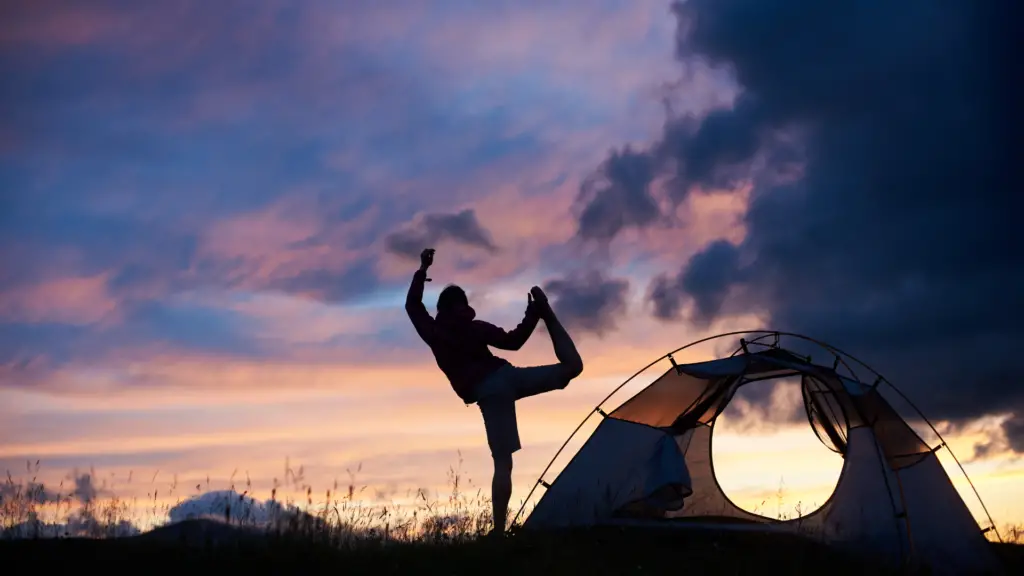 Create the perfect ambience in your outdoor yoga tent by furnishing it with idyllic lighting.
Without a doubt, fairy lights are exactly what you'll want to start with. They are affordable, hassle-free, and so versatile for anywhere in the home – but especially for outdoors. The LED lights are warm, calming, and add an element of vibrancy without being intrusive.
You can grab a lot of different ones online, but the perfect options are the ones we've found below.
A gorgeous LED curtain light can be used both on the inside or outside of your tent or pod depending on the weather (some are not waterproof). These highly-reviewed lights come with 18 different strands and will cover most windows so your pod should be fine.
If you're trying to pin these to the inside of your tent you can easily use strong tape or even eco-friendly, reusable cable fasteners

to apply on the tent poles. We've seen great images on social media of using LED curtain lights to divide the tent for two people – amazing!
Sale
Lighting EVER Curtain Lights, 306 LED 10×10 ft High Density Plug in Window Hanging Fairy String...

[High Density Hang Down Fairy Lights] With 18 vertical strands, the spacing between each vertical...
[Measuring 9.84 ft (118 inches) in width & height] Our fairy lights are ideal for covering a...
[8 Lighting Modes] Featuring 7 blinking modes and a "Stay On" option, you can easily cycle through...
Last update on 2023-09-15 / Affiliate links / Images from Amazon Product Advertising API
I recommend you make things as special as you can, and a little more weather-proof! Amazon's choice for outdoor lighting is your sure-fire way to a heart-warming atmosphere with globe lights. The set we've linked below are commercial quality but at retail price.
If you're not a fan of the globe design then a standard weather-proof fairy light set with a remote control should be what you're after. Your outdoor yoga or meditation pod will love you for it.
Battery operated and remote-control means you don't have to worry about a solar panel to keep the lights on, or an extension cord back indoors – perfect for a retreat.
Last update on 2023-09-15 / Affiliate links / Images from Amazon Product Advertising API
The final piece to tie the bow on your yoga or meditation space is the ultimate in creative lighting, the projector lamp. We've recommended these multiple times in other articles, especially for children with autism.
Projector lamps can provide the perfect sensory relief through gentle waves of visual stimuli to facilitate presence and absorb the fluid animations in the now.
By including this in your outdoor yoga tent, you can light up the space to create your perfect atmosphere to be in a state of free movement and free-thinking. By removing the idea of even being in a tent or a pod can create a transformative feeling that can only be experienced live.
Also, if you tend to meditate with your eyes open, or want to lay down and gaze at moving shapes and colors, this projector lamp will make the experience much more vibrant.
It's affordable, great value for money, and battery-operated, which is exactly what you need for an outdoor space for yoga or meditation.
LUCKKID Night Lights for Kids Multifunctional Night Light Star Projector Lamp for Decorating...

Provides Relaxation - It is ideal for mounting on the wall. Its different film shapes project light...
Multifunctional - You can either use the night light as a projector by removing the cover or use it...
5 Rotatable Optional Films - The star night light for kids comes with five optional films. These...
Last update on 2023-09-15 / Affiliate links / Images from Amazon Product Advertising API
If battery-operated items and LED lights aren't for you, and you prefer a more traditional approach, our preference is an unscented candle that doesn't weigh heavy on your senses but can light up the room with its custom-printed Buddha artwork

.
I love the artwork, but whenever I'm feeling naughty, I will indulge in a Jo Malone diffuser to light my senses. The orange blossom diffuser

creates a sparkling scene with its shimmering garden oasis and notes of clementine and orange blossom – truly fabulous.
Sensory Yoga Sounds
Meditating or practicing yoga with music in the background can be such a liberating experience. The right music will transport you into a zone of total harmony and freedom for your busy humdrum day that can be non-stop!
You can find lots of great free yoga music on YouTube or Spotify in just a few clicks. I used to use Bluetooth headphones but found that they often run out of battery quickly, and it can ruin a great outdoor meditation session in the tent if this happens.
I now use an Anker's Bluetooth speaker that's perfect for outdoors and has 12 hours battery life (although sometimes it runs for much longer). Affordable, waterproof, excellent sound quality, very highly rated, and has over 9,000 reviews. I would recommend this over any name-brand every day of the week.
Upgraded, Anker Soundcore Boost Bluetooth Speaker with Well-Balanced Sound, BassUp, 12H Playtime,...

Mighty Music: Energize your dance tracks with BassUp intensifying the beat—instantly. Soundcore...
Titanium Drivers: Soundcore Boost Bluetooth speaker reproduces sound with treble that stretches up...
Fully Waterproof: IPX7-rated protection defends Soundcore Boost Bluetooth speaker against all kinds...
Last update on 2023-09-15 / Affiliate links / Images from Amazon Product Advertising API
Not all people want to hear music or calming sounds during meditation or yoga. On some days, I prefer to block everything out and be totally at one with my thoughts, as tough as that can be.
Using ear defenders or earplugs is the best way to block out all external noise – totally reducing your auditory senses and hearing just you, your thoughts, your feelings. Sometimes, a moment of pause is what we need.
I use these earplugs for sleeping when it's noisy (those darn crows!), but also for meditation. However, sometimes they can feel awkward in my ear, and I find ear defenders are super quick and easy to put on and jump straight into practice.
3M is high quality and won't break the bank, while if you're looking for something less bulky, the moldable earplugs are a dream. Mindfulness training and meditation for children has shown some scientific benefits on attention

, and we've also reviewed the best ear defenders for children

who want to reduce auditory stimuli and find their calm.
Last update on 2023-09-15 / Affiliate links / Images from Amazon Product Advertising API
Outdoor Yoga Temperature Control 🧘
Any tent in summer can get stuffy and uncomfortable without the right temperate controls. But you shouldn't have to break the bank to be comfortable.
Why not try a USB rechargeable Flexi-tripod fan that has up to 20 hours of cool air while you stand in tree pose or sit and meditate the day away.
This can be placed on a small table, or easily clipped onto the tent poles as it only weighs 0.75 lbs! Not only is this fan ultra-portable, but it's very quiet too so that it won't distract you from your practice.
In a similar fashion, if you can easily hang fans in your tent or pod – we've listed a highly rated fan that has more than 40 hours of battery life – hassle-free and cost-efficient.
Our clear favorite is the portable neck fan – although it looks silly, it can be perfect at a lower speed.
You can meditate with the sun shining and feel the contrasting sensations of the warm rays and cool breeze, to transport you to another dimension and feel one with the Earth.
Last update on 2023-09-15 / Affiliate links / Images from Amazon Product Advertising API
While portable fans are great, nothing is more important than staying hydrated during the hotter times of the year. Keep a bottle of water nearby to ensure your body's internal temperature is regulated, and your thirst is quenched.
During my outdoor yoga meditation practice, I like to keep my all-time favorite water bottle

close to me while my eyes are closed. Because of the spikey and new exterior, I know exactly where it is while I sip away.
Time to Reflect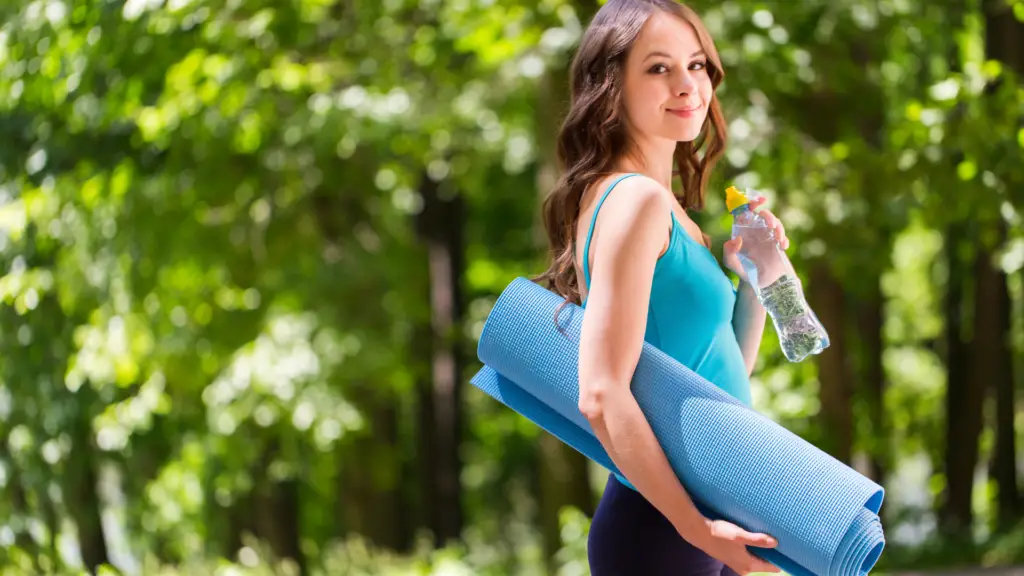 We've covered all you need to know about setting up a suitable outdoor yoga and meditation pod for you to relax and find comfort.
Without going over budget, you can build a long-term safe space with ease that's uniquely accessorized to lift your day, brighten your mood, and bring you peace. Namaste! 🙏 😊
Was this article helpful?