Quality sleep every night is vital for all toddlers

, but even more critical, especially for children with special needs

. As good sleep helps a toddler's body grow and develop, the logical brain gets a rest from the day's activities and helps calm down the toddler, and makes them feel relaxed when they wake up.
Whether it's a fun vacation abroad, camping locally, or even visiting grandparents, traveling away from home can be tough for children with special needs.
Your main concern is for your toddler to sleep safely and sound in their home away from home in a comfortable environment, and ensuring you have the right bed is paramount to a good night's sleep. For peace of mind, read on to find out the best travel beds for toddlers with special needs!
Leaving home can be a stressful experience for parents or carers, but it can be especially tough for children with autism. We've covered all the ways you can prepare to safeguard your child, so they can sleep better while you're away on vacation.
To ensure you have all avenues covered, we've created this guide to help you navigate the confusing marketplace of portable travel beds for toddlers and babies who have special needs; read on to find our top picks!
At Safe Sleep Systems, we're supported by our audience, and we thank you. We may receive compensation if you purchase products or services through the links provided at no additional cost to you.
Our Top Pick: The Best Travel Beds For Toddlers With Special Needs 🌌
"Family Owned Business, Supreme Quality Build, Practical"
Safe Sleep Systems Rating: ⭐⭐⭐⭐⭐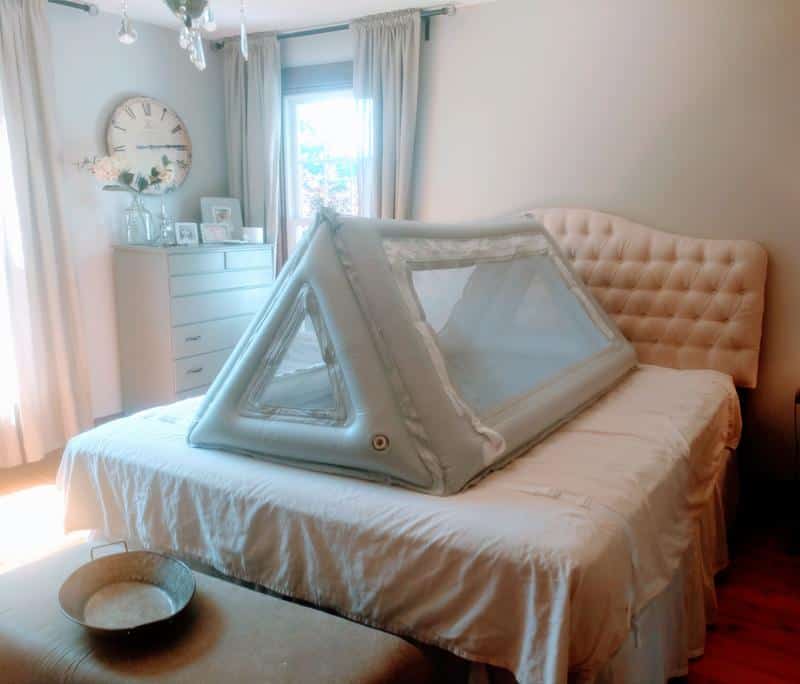 Reasons to Buy ✅
Super easy to put up and take down
Easy access via two entry/exit points
Includes bed & straps
Transparent netting for visibility and circulation
Undergone Certified CE Safety Testing
Thick material to withstand bites and scratches
Reasons to Avoid ❌
Manual pump (if you choose that option)
Without a doubt, the Safe Place travel bed takes the award for the best portable travel bed for toddlers. Firstly, it's a perfect sized twin bed that can easily be attached to another bed with the straps fitted on every model. This is especially ideal if you're in a hotel and only have a larger bed to secure the traveling tent.
This is one of the only safety beds

we've encountered that's undergone rigorous CE lab safety testing and passed. The build quality clearly demonstrates this too. Especially during summer, you'll want a bed tent that not only gives your loved one the security they need but also the comfort through the transparent side netting.
We also know some kids can get quite feisty at night and may kick (I know from experience!), so the side netting can come down to give your toddler some room for their legs to hang out.
You can find this product in the "bed only

" form, or a "bundle

" which includes a travel bag, electric air pump, and straps.
As of June 4th when writing this, there's currently a great offer if you buy the "bed only" version which comes with a free manual pump, travel bag, and incontinence pad

.
Read the detailed testimonials

from people who have purchased this tent.
Best In Class Runner Up🌌
"Lightweight, practical, portable, and well-reviewed"
Safe Sleep Systems Rating: ⭐⭐⭐⭐⭐
Guava Family Lotus Travel Crib | Certified Baby Safe Portable Crib with Mattress | Folding Portable...

【CERTIFIED SAFE & LOW-VOC】It's surprising, but some baby products, including play yards, still...
【WORRY-FREE AIRPORT TRAVEL】3D Z-Fold Technology allows it to fold compact enough to carry...
【BUILD A BETTER BOND】Quietly and easily unzip the lockable side door to help your baby fall...
Last update on 2023-11-15 / Affiliate links / Images from Amazon Product Advertising API
Reasons to Buy ✅
Super lightweight
High-quality materials used
Comfortable portability backpack
Airport friendly backpack
Prestigious GreenGuard Gold Award
No Flame Retardants. No PVC. No Phthalates. No Lead. No Heavy Metals. Low-VOC
Reasons to Avoid ❌
Not many colors to choose from
The Lotus Travel Crib presented by the Guava Family is hands-down your best option for a portable toddler bed. Each baby travel bed comes with a 2-year warranty, so you'll have peace of mind. However, the reputation of this product will already put any doubt aside.
A super lightweight build weighing on 13lbs means either parent can easily carry the entire bed independently. Taking less than a minute to set up altogether means less hassle and more time for your little one to rest easy.
This toddler travel crib comes with a zipper flap, which allows you to have open access through the side, a useful feature when it's playtime or storytime with your gorgeous little one.
The crib is roughly 42″ in length and 25″ in width, supporting most toddlers and babies aged 0-3 years old. The travel backpack is excellent also and can quickly be taken on flights, which is ideal if you have any layovers or even extra legroom on the plane to fold it open.
Although the sheets are not included, you will receive a mattress and a travel bag with this, so it's a great offer. Guava Family also offers organic cotton fitted sheets, which you can find below.
Sale
Luvberries 100% Organic Cotton Sheets for The Guava Lotus Travel Crib (Set of 2) - Baby and Toddler,...

Luvberries Fitted Crib Sheets for the Guava Lotus Travel Crib
Designed with the 4 safety tab slots (NOT DESIGNED FOR THE OLD MODEL WITH 6 TABS)
Super Soft Jersey Knit with premium, fully encased elastic - Washer and Dryer friendly
Last update on 2023-11-14 / Affiliate links / Images from Amazon Product Advertising API
The Easiest Portable Toddler Bed To Set up
"Super portable and incredibly easy to set up"
Safe Sleep Systems Rating: ⭐⭐⭐⭐
4moms breeze plus Portable Playard with Removable Bassinet and Baby Changing Station, Easy...

Opens or closes in one step
Quick set up
Includes removable bassinet & changer
Last update on 2023-11-14 / Affiliate links / Images from Amazon Product Advertising API
Reasons to Buy ✅
It takes seconds to setup
Highly portable
Secure frame to protect babies and toddlers
Solid build – long-lasting
Supports up to 30lbs
Lifetime guarantee
Travel bag included
One of the other most successful products on the market that is ideal for both babies and toddlers is the 4moms Breeze Plus. It ticks all the boxes for portability, practicality, and ease of use. This is ideal for any vacation, short trips, or just a sleepover at their grandparents.
Familiarity with toddlers' sleep time is essential to ease them into a comfortable state of mind to fall asleep and rest well. This is why something like this can be used at home every often to have your little one recognize and adapt to the sleeping style.
With just one push, you can have this baby travel bed up and running, ready for your little one to sleep in – those precious saved minutes means you can get the much-needed rest and recovery too! The Breeze Plus comes with a bassinet too, which is handy – we've also reviewed the best portable bassinets

separately.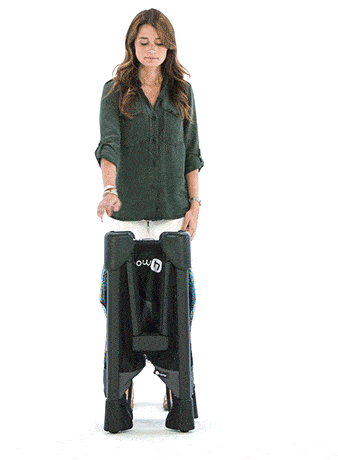 Ideal For Smaller Toddlers and Babies: KidCo Peapod
"Small, quirky, and comes in lots of colors"
Safe Sleep Systems Rating: ⭐⭐⭐⭐
Reasons to Buy ✅
Great airflow and ventilation
Light and compact
Great for outdoor use
Portable and easy to use
Passes the Consumer Product Safety Commission (CPSC)
Reasons to Avoid ❌
Not as durable as larger playards
The Peapod comes with a unique portable design made specifically for parents or carers who travel a lot or spend a fair amount of time in the outdoors. It's the ideal lightweight travel cot for toddlers with smaller dimensions, foldable, and weighing only 2.5lbs (1.13 kg).
Its design is perfect for hotel stayovers, camping, the beach, trips to grandparents, or any vacation trip. This toddler bed can very easily be transported and set up for your little one to nap or sleep.
The biggest sell for the KidCo Peapod is just how easy they've made it. A hassle-free design that's easy to carry, easy to assemble, and ready whenever you want to go. It'll fit in the car no problem and can easily be tucked away in the house when it's not in use.
It's effortless to open, which means that you can put your baby to rest quickly and smoothly. No more last-minute cursing simply that the bed cannot be set faster. It's also a relatively cheap purchase compared to more popular brand name products.
Due to its portability, it's great for the outdoors. But it also has UV protection, an airy mesh to protect against bugs and insects but also allowing for a gentle breeze to flow freely in the bed – keeping your loved one happy and healthy.
The Most Stylish Portable Toddler Bed: BabyBjörn Travel Crib
"Sleek, stylish, but comes with a price tag"
Safe Sleep Systems Rating: ⭐⭐⭐⭐
BabyBjörn Travel Crib Easy Go, Greige

BABYBJORN Travel Crib Easy Go, Greige
Easy to set up in just one move
Removable and washable fabrics. High-resilient PU foam mattress
Last update on 2023-11-14 / Affiliate links / Images from Amazon Product Advertising API
Reasons to Buy ✅
Looks great
Stylish travel bag
Easy to wash and clean
Reasons to Avoid ❌
Doesn't include fitted mattress cover
Baby Bjorn's travel bed is light, weighing only 11lbs (5 kg), including the compact transport case. Taking only a minute to assemble and re-pack, it's practical, portable, and superb on the go. One of the other great benefits is that it takes up little space in the car when packed away.
The quality of this bed is excellent, that is, it should take several children and always be available to go to a friend. For the price you pay, the time you'll save, and the years you'll keep this – it's a resounding 'Yes' from us.
For babies from 0 – 36-month-old toddlers, the Bjorn crib is not only open and airy so you can keep an eye on them, but also so they don't feel too enclosed and claustrophobic.
The baby bed Bjorn travel is effortless to put – which is essential when it's time for an impromptu nap or when your little one is feeling very tired. The cotton fabric mattress cover is breathable, and the cradle is also detachable and machine washable in case of any spills or accidents.
This bed's quality is excellent, which means that it should last through several children and can always be passed down to a friend. The fabric is nice and soft; it would feel good against the skin of the baby. Also, all materials that come into contact with your baby's skin are free from harmful substances.
The Best For Low Budget: Delta Children Viaggi Playard 🌌
"All the practicality without the price tag"
Safe Sleep Systems Rating: ⭐⭐⭐⭐
Delta Children Viaggi Playard, Mosaic

Recommended for children unable to climb out, less than 35 lbs. and up to 35"
Overstuffed mattress pad
Convenient slim fold and carry bag make travel and storage easy
Last update on 2023-11-14 / Affiliate links / Images from Amazon Product Advertising API
Reasons to Buy ✅
Affordable
Stylish travel bag
Easy to wash and clean
Quick to set up
Very light
Overstuffed mattress pad
If you're looking for a low-cost option or entry-level toddler bed, then the Delta Children Viaggi is the one. It definitely won't match the high-quality build as seen in the previous bed tents, but it'll tick most of the boxes—super light, open space, easy to assemble, and easy to store.
Some toddler beds come with superior build quality and features, but if you're looking for an entry-level playard to figure out whether it'll work for your child, then this is your best bet. In some cases, it can be difficult for a toddler with autism to adapt to something like this, and therefore a low-cost option can be a more practical option.
The Lightest Portable Toddler Bed: Phil & Teds Traveller Crib
"All the practicality at a fraction of the weight"
Safe Sleep Systems Rating: ⭐⭐⭐⭐
Last update on 2023-11-14 / Affiliate links / Images from Amazon Product Advertising API
Reasons to Buy ✅
6lbs – the lightest bed
Zip to open
Global Safety Certified
Yoga mat sized portability
Amazon's Choice
While this is a great travel crib, compared to some of the other higher quality and better-built products, it doesn't hold up as well. A similar open, mesh design, and very easy to pack away into a yoga mat sized bag, which is perfect for families on the go. The build quality isn't the best, especially given the price point.
There is plenty of room to move around. Full mesh walls mean that you can see your child at any time, whether playing or sleeping. You can close a zipper side into a large playground during the day. A unique front zipper design allows your baby to play outside and sleep in it fully closed.
This cot is also UV protected, which means it's great for the outdoors. Complimented with a 100% cotton cloth gives that perfect amount of coziness that your little one needs for a beautiful sleep. The ability to fold it up into a small yoga mat sized bag is ideal, perfect for the car, and perfect for carrying by hand!
Highest Price Point: Nuna Sena Aire Travel Cot
"Sleek, stylish, but comes with a price tag"
Safe Sleep Systems Rating: ⭐⭐⭐⭐
Nuna - Pack-N-Play - Sena Aire Mini Iron W/Sheet

Sets up and folds with one hand
Mattress's zip-off design is machine washer and dryer safe
Ventilated mattress panels easily remove for deep cleaning
Last update on 2023-11-14 / Affiliate links / Images from Amazon Product Advertising API
Reasons to Buy ✅
Looks great
Stylish travel bag
Easy to wash and clean
Reasons to Avoid ❌
Doesn't include fitted mattress cover
Nuna has won over 154 awards worldwide

for its products, which says a lot! The Nuna Sena travel cot has been built with both the parents and child in mind. A super easy "one-hand" assembly playard can be transported very quickly from one location to another. This is a brilliant option, and if you are looking for a playard that is nice and aesthetic, it is an excellent go-to product.
While the Nuna Sena might look similar to other travel beds for toddlers, the thought and design behind it stand out. It is four times more porous than the acceptable level for baby cots.
This means the amount of airflow that travels through the mattress is significantly higher than other products on the market, allowing for more fresh air and more relaxing sleep for your little one. It's also built with a super sturdy aluminum frame, meaning it's lightweight as well as long-lasting.
Nuna Sena Aire has taken the time to test and re-test, ensuring that your baby is comfortable. The mesh design is triple layers to allow for both a relaxing and supportive sleep for your toddler. Not only that, but the accompanying organic cotton sheet

is Global Organic Textile Standards (GOTS) certified.
The upper part of the fabric is also machine washable, cleaning made easy for you as you will be able to use the washing machine and keep the bed always clean for a warmer and cozy sleep. The cot's feet are also skid-proof so that the cot doesn't move while your baby might be playing or fidgeting during their sleep.
Was this article helpful?